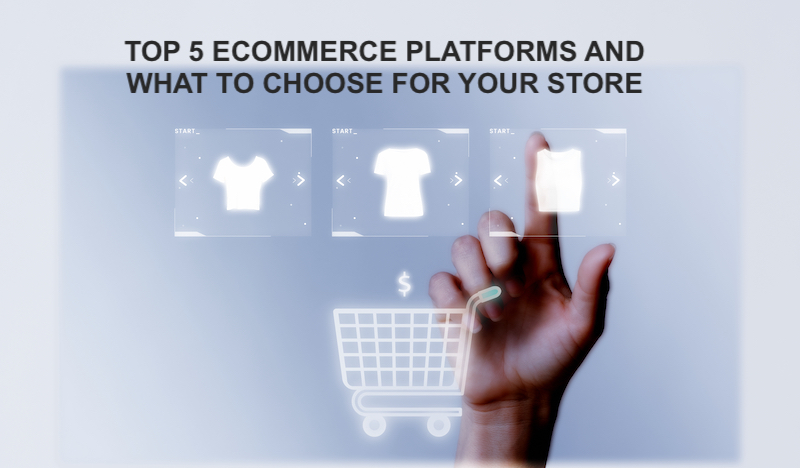 E-commerce platforms provide the foundation for online stores. These platforms allow companies to set up, run, and expand their online storefronts. The success of every online company depends on selecting the best eCommerce platform since it directly influences the browsing experience, client happiness, and, ultimately, sales. Businesses may need help choosing the finest eCommerce platform with various options available.
In this article, you'll find a detailed overview of the top 5 eCommerce platforms, along with things to consider when selecting one for your online business. We'll examine Magento, Shopify, WooCommerce, BigCommerce, and Volusion in greater detail and discuss their features, price, and overall advantages and disadvantages. This content will assist you in selecting the finest eCommerce platform for your company, whether you're launching a brand new online store or wanting to switch platforms.
Five eCommerce Platforms to Consider
Of course, there are many good eCommerce platforms, yet we've prepared a description of the five most popular ones. Let's dive deeper into the features of the best eCommerce platforms worth your consideration.
1. Magento
Magento Commerce, currently called Adobe Commerce, is an eCommerce system designed for major web shops. It provides inventory and sales management for more effective store administration. Additionally, it has a page builder, so you can easily construct and customize your websites.
The latest iteration - Magento 2, is an updated version of Magento 1. It's an eCommerce system that works with PHP7. Compared to Magento 1, this speeds up loading time. Additionally, it enables automated upgrades for users' eCommerce websites. Magento 2 software makes your website more mobile and SEO-friendly, enhancing user experience.
There is a premium version of the platform called Magento Commerce and a free version called Magento Open Source. Magento Open Source provides all the features required to launch an online store. On the other hand, Magento Commerce offers you more advanced security and capabilities to create and manage your online store.
For startups and small enterprises, Magento Open Source is a perfect choice. Such businesses typically embrace Magento's customizability options. Thanks to the platform, they can scale quickly with both user traffic and the webstore catalog.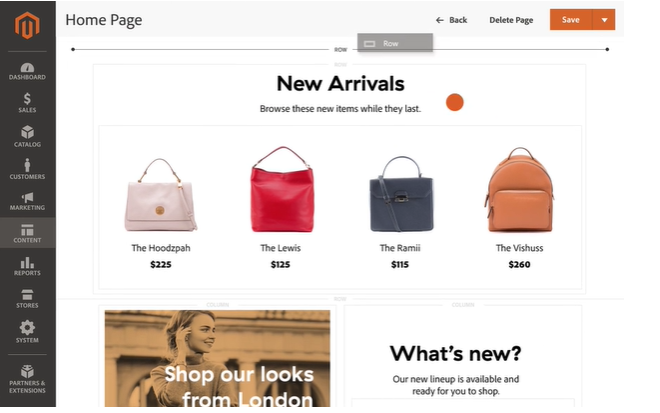 Screenshot was taken on the official Adobe website
Magento Pros
More than 3720 extensions;
Complete personalization;
A vast international Magento user base;
Advanced security;
Several payment channel choices, including PayPal and Venmo;
Rapid loading of pages;
Easy Google Analytics and Search Console integration;
Enhancing search engines;
Several currencies support.
There are thousands of themes available for a premium, and a few are available for free.
Magento Cons
Magento Commerce price depends on store requirements but is the most expensive amongst all featured in this review.
2. Shopify
Shopify has a ton of helpful features, and its creators regularly solicit customer input to produce upgrades and new items that address their demands. Additionally, it offers a great online business network for entrepreneurs, partners, and company owners.
Because of its attractive user interface, affordable prices, and adaptability to many kinds of retailers, it has gained appeal. It's one of the most excellent eCommerce systems for completing orders rapidly and inexpensively, and it's unquestionably the best option for managing your whole business in a single place.
Due to its user-friendly design process, it is especially suitable for small enterprises. Due to its comprehensive reporting, automation, and international selling features, it can scale to meet the demands of mid-sized and large organizations.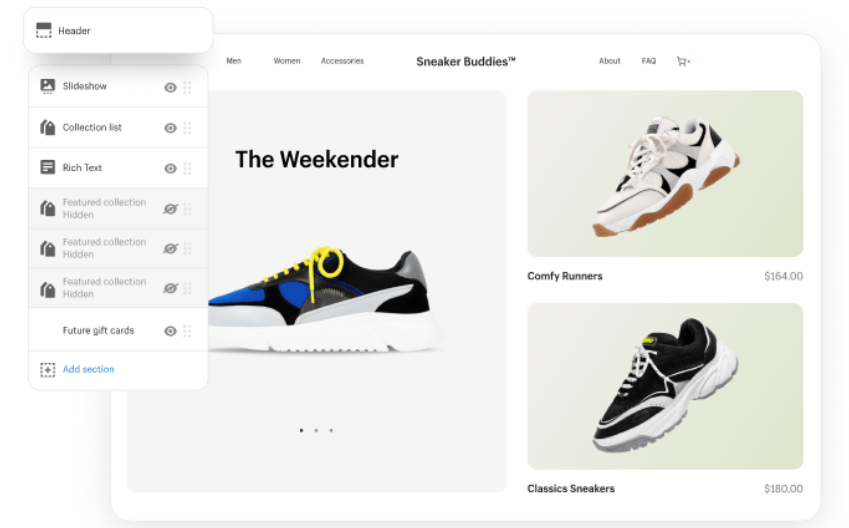 The screenshot was taken on the official Shopify website
Shopify Pros
Shopify often releases new features in response to feedback from clients.
Users have access to the abandoned cart recovery tool, which can boost sales, even with the Basic package.
Shopify delivers marketing automation and eCommerce, streamlining user procedures.
With Shopify, you may employ drop shipping or buy things in bulk via an app while having Shopify handle all of the fulfillment.
Shopify Cons
Although Shopify's website builder is easy to use, it lacks the same level of customization as other platforms' drag-and-drop builders.
Shopify offers a wide range of app subscriptions, which creates a risk of spending too much money.
The minimal monthly payment for Shopify is $5, yet the most popular plan is 'Basic.' It costs $39 per month if paid annually. It's perfect for business owners starting a legitimate online store with a checkout section and shopping cart.
3. WooCommerce
Any WordPress website may become an online store thanks to WooCommerce. WordPress is free and open-source. It functions effectively, but bigger online businesses require extra extensions for full operation.
WordPress provides the greatest blogging platform available. It's great for content production, but you need to know how configurable it is. WooCommerce is the top option for online shopping if you're comfortable developing content on WordPress or already have a WordPress-powered website.
Developers and retailers willing to complete control over their website customization are big fans of WooCommerce.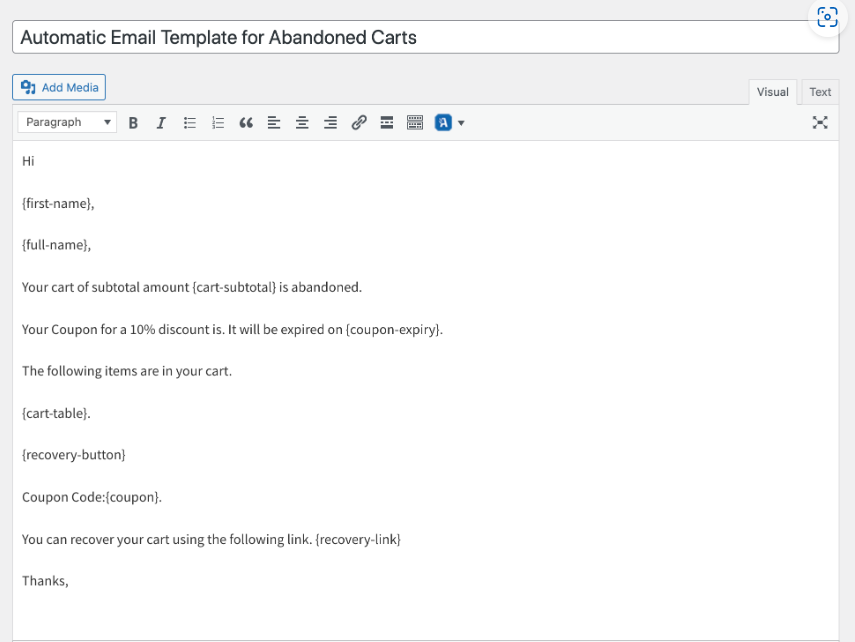 Screenshot taken on the official WooCommerce website
WooCommerce pros
This plugin is free;
Themes and add-ons are commonly available and reasonably priced;
A robust community and a wealth of documentation are present;
Full access to site files and code areas, limitless customization;
Sync with any of the widely used payment gateways;
Superior protection;
Reliable reporting and inventory control.
WooCommerce cons
Extras are almost always necessary;
Extra costs can build up, whether it's for development fees or extension subscriptions;
Pretty complicated;
You can't easily sync with marketplaces like Etsy or Amazon;
Speed and performance are heavily reliant on your host.
4. BigCommerce
BigCommerce is a well-known software-as-a-service e-commerce platform that gives retailers the tools they need to launch, develop, and expand their online stores.
BigCommerce is a wonderful option for creating and managing your online store since it has integrations with sites like Amazon, Google, Walmart, and more. It also has features like an e-commerce web host, security, and payment processing. Their adaptable and scalable platform makes it a fantastic choice for companies of all sizes.
BigCommerce is best suited for mid-sized and large enterprises since users have to modify their plans as their companies expand. High-volume e-commerce sites adore BigCommerce for its flexible workflows, extensive library of built-in features, and checkout module that is geared for conversions.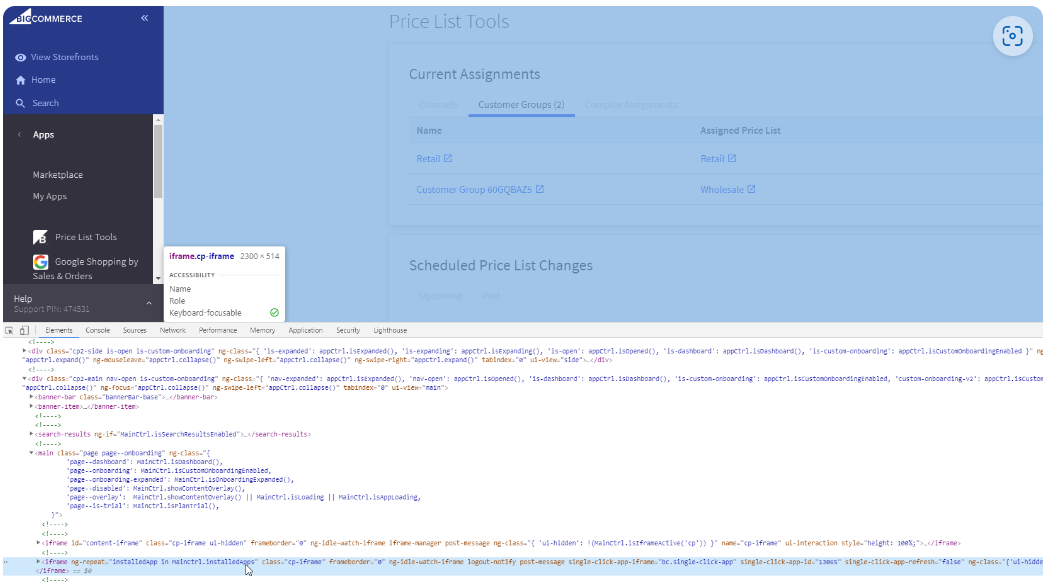 The screenshot was taken on the official BigCommerce website
BigCommerce pros
Rather than putting together various programs, it is a platform that depends on built-in functionalities;
Multiple instruments for selling internationally;
Regardless of your plan, you get shipping costs set by third parties;
Detailed reporting is present in every strategy;
It provides the opportunity to use a blogging interface or integrate with WordPress;
Wonderful eCommerce themes.
BigCommerce cons
For the functionality of abandoned cart recovery, you need to upgrade to the Plus plan;
When you hit a specific annual income threshold, they force you to upgrade your plan;
Restricted shipping reductions;
There are no smart rules for classifying products.
The minimal payment for BigCommerce usage is $29 per month, billed annually. The most popular plan costs $79 monthly.
5. Volusion
Volusion is cloud-based eCommerce software based on the VOLT platform, which is a versatile block-based system that enables even inexperienced users to create an online store. Volusion offers a simple drag-and-drop website builder with in-page editing. There are several pricey themes, as well as 11 free ones.
Volusion services offer the essentials that the majority of small businesses use to build effective online storefronts. Many users, however, could discover that the program lacks certain crucial advanced functions.
The folks who are just starting out in eCommerce and don't want to pay a large monthly fee should choose Volusion. It's perfect for people with a limited number of items and who need more direction and assistance with how the platform functions.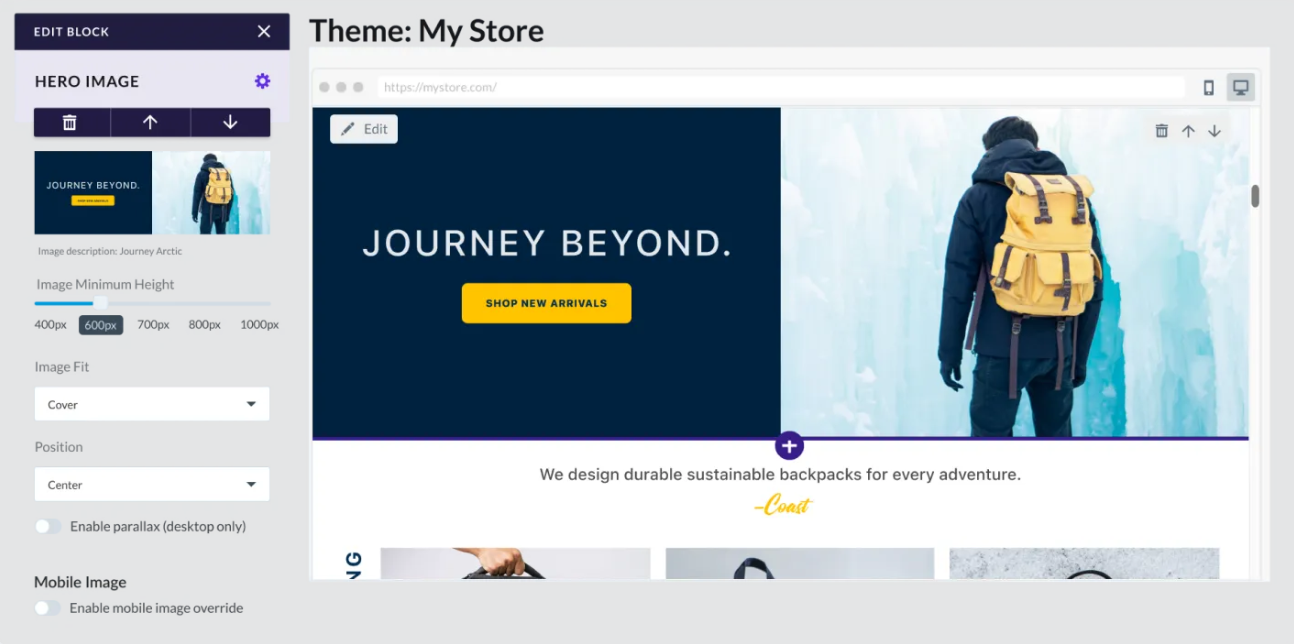 The screenshot was taken on the official Volusion website
Volusion pros
Excellent onboarding and support center;
Sitemaps provide a lot of freedom;
Built-in recurring/subscription payments;
Well-designed dashboard;
Transparent marketing and inventory system.
Volusion cons
Has no cross- or up-selling features;
Many websites have messed up URLs;
Quite slow;
There is no built-in blogging capability.
The minimal monthly payment is $31.50 if billed annually.
Final Word
Shopify estimates that 23% of all worldwide sales will be done online by 2025, demonstrating the enormous potential for businesses to prosper in this sector. But in order to thrive in such a competitive industry, you need a solid eCommerce platform that can cater to your unique company requirements and provide your clients with a first-rate purchasing experience.
It's crucial to take into account aspects like your budget, the size of your company, the degree of customization and scalability you want, and the kind of items you offer when selecting the best platform for your shop. Additionally, it's critical to seek a platform that enables easy integration with third-party applications and services, has top-notch customer care, and has security protections to safeguard your clients' private data.
The eCommerce platform you select will ultimately determine the success of your online store. You can create a successful online store that draws in and retains consumers, boosts sales, and promotes business growth by carefully evaluating your alternatives and selecting a platform that aligns with your business objectives.
Share this post
Leave a comment
All comments are moderated. Spammy and bot submitted comments are deleted. Please submit the comments that are helpful to others, and we'll approve your comments. A comment that includes outbound link will only be approved if the content is relevant to the topic, and has some value to our readers.