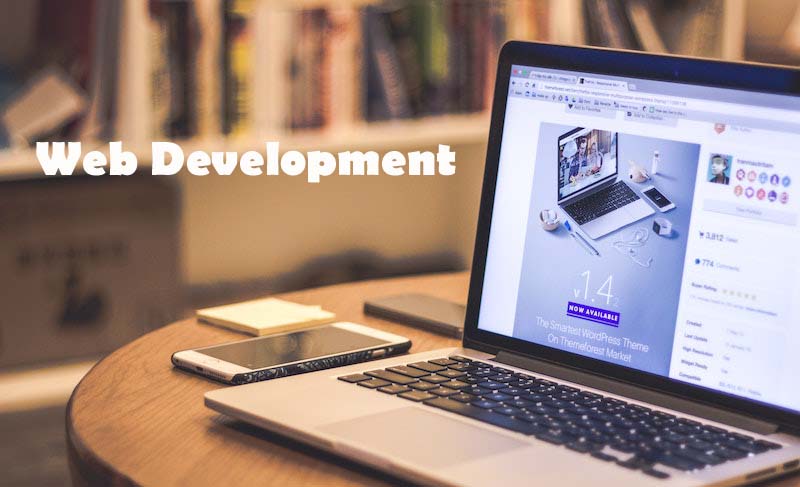 The importance of a company's internet presence has dramatically increased in the modern world. Therefore, having a well-designed website is an absolute must for every full-fledged company that wants to succeed in today's e-commerce market.
It might be challenging to design and create a successful website. For this purpose, you can hire a web development firm. These firms know what they're doing when it comes to designing and developing a website. As a result, the websites not just look good but also perform faultlessly.
In this blog post, we will know everything about the best web development firms in 2023. These firms have established themselves as leaders in their field. In addition, they are known for providing reliable and high-quality web development services.
List of Top 10 Overseas Web Development Companies
1. eSparkBiz
eSparkBiz is a web development firm that works with clients in over 20 countries. The company has an incredible 95% client retention rate and a team of more than 250 experienced developers. In addition, for more than 12 years, they are giving great customer service that goes above and beyond their expectations.
The team of experienced developers at eSparkBiz uses cutting-edge technologies to create custom web development solutions.
They know how to use programming languages like PHP, Node.js, Python, and more. During the development process, the company does a lot of testing to make sure that the final product is the best one possible.
The company's ISO 27001 certification makes sure that its clients' data is safe and kept secret. Their high ratings on both Clutch (4.9) and HubSpot (5.0) show that they are known for giving the best service.
eSparkBiz also has a CMMI Level 3 certification, which shows that the company has well-defined systems that can deliver high-quality results consistently.
Their long history of doing great work makes them a top choice for businesses looking for reliable web development services.
| | |
| --- | --- |
| Clutch Rating | 4.9 |
| Established On | 2010 |
| Projects Completed | 1000+ |
| Price | $15 to $25 / hr |
| Time Zone Availability | GMT, ECT, MET, IST, JST, ACT, AET, NST, PST, CST, EST |
| Min Project Size | $5,000+ |
| Employees | 300+ |
2. Azuro Digital
Azuro Digital is a fully-fledged web development company that stands out for the way it thinks about web design and development. They use both creativity and technology to come up with new ways to help businesses. They work on web design, development, eCommerce, and digital marketing.
They're proud of the websites they make because they have creative UI and UX. Their team of experts use the latest tools and technologies, like Agile and Scrum, to make sure projects are finished on time and on budget.
Azuro Digital keeps its clients up to date on the development process. They also provide ongoing support and maintenance to make sure that the websites and apps they build for their clients keep working well.
| | |
| --- | --- |
| Clutch Rating | 5.0 |
| Established On | 2018 |
| Price | $100 to $149 / hr |
| Time Zone Availability | PST, CST, MST, EST |
| Min Project Size | $10,000+ |
| Employees | 10+ |
3. UpQode
UpQode is a company that designs and builds websites and offers services that are made to fit each client's needs. Key areas of expertise are web design, web development, e-commerce, and digital advertising.
Clients appreciate them for how much they care about their customers and how often they get in touch with them. But UpQode stands out because its designers are skilled in User Experience (UX), mobile responsiveness (RWD), and Search Engine Optimization (SEO).
They use the most up-to-date tools and technology so that they can find custom solutions to their client's problems.
| | |
| --- | --- |
| Clutch Rating | 4.9 |
| Established On | 2015 |
| Price | $100 to $149 / hr |
| Min Project Size | $5,000+ |
| Employees | 50+ |
4. Polcode
Polcode is a top web and mobile app development company that works with clients from many different industries. For over 15 years, they've helped businesses in multiple fields by offering cutting-edge solutions in services like website design, making mobile apps, and more.
The agile development strategy that Polcode uses makes them stand out because it guarantees that projects will be finished on time and on budget.
Designers, developers, and project managers all work together to make solutions that go above and beyond what the client wants.
| | |
| --- | --- |
| Clutch Rating | 4.9 |
| Established On | 2006 |
| Projects Completed | 1400+ |
| Price | $50 to $99 / hr |
| Min Project Size | $10,000+ |
| Employees | 250+ |
5. B-Works
B-Works strives to provide the highest quality support and service to its customers in all aspects of web development. Websites, e-commerce platforms, and digital marketing are some of their strong suits. B-Works has a team of expert designers and coders working together to create reliable products.
They use the newest hardware and software for development. B-Works carefully investigates the nature of their client's company and their desired outcomes before beginning work on a unique website. With this information, they are better able to aid their customers.
| | |
| --- | --- |
| Clutch Rating | 4.5 |
| Established On | 2016 |
| Time Zone Availability | GMT, ECT, PST, EST |
| Min Project Size | $50,000+ |
| Employees | 10+ |
6. Walt Digital
Walt Digital is the place to go if you want a creative and engaging website. Their team's excellent programmers and designers devote themselves completely to every project.
They offer various web services, including development, design, e-commerce, SEO, and more. All of Walt's website digitals are both aesthetically pleasing and functionally useful.
As a company, they take great pride in their ability to cater to the specific requirements of each client.
| | |
| --- | --- |
| Established On | 2018 |
| Price | $150 to $199 / hr |
| Min Project Size | $5,000+ |
| Employees | 10+ |
7. Quantum Mob
Quantum Mob outperforms everyone else when it comes to creating cutting-edge software and websites. The success of their clients is extremely important to the developers and designers at the company. As a result, before offering solutions, they try to understand their business and demands.
Quantum Mob's portfolio of services includes software and UX design, as well as web and mobile app development.
All of their products are put through rigorous testing before being made available to the general public since they place a high value on quality assurance.
| | |
| --- | --- |
| Clutch Rating | 4.7 |
| Established On | 2016 |
| Price | $100 to $149 / hr |
| Time Zone Availability | EST |
| Min Project Size | $25,000+ |
| Employees | 50+ |
8. Glueglue
Web development firm Glueglue works with companies to create distinctive websites, mobile applications, and e-commerce platforms.
They work closely with clients to create websites that satisfy all of their needs. They have a team of talented developers and designers.
Glueglue offers many more services apart from SEO and web development. They take great pride in paying close attention to even the smallest details and finishing projects on schedule and under budget. Giving their clients the greatest solutions is another commitment they have made.
| | |
| --- | --- |
| Clutch Rating | 4.8 |
| Established On | 2007 |
| Price | $100 to $149 / hr |
| Min Project Size | $10,000+ |
| Employees | 10+ |
9. Ester Digital
Ester Digital is a digital solutions company that makes websites that are unique to each business. There are people on staff who know how to make websites, online apps, e-commerce solutions, and mobile apps.
Ester Digital offers a wide range of services that have to do with the internet, like development, design, branding, and marketing.
They make sure that each project fits the needs of the customer when they design it. They are dedicated to giving great service because they can make unique solutions for each customer.
Clutch Rating
4.9
Established On
2015
Price
$50 to $99 / hr
Time Zone Availability
GMT, ECT, EET, PST, PNT, MST, CST, EST, IET, PRT, CNT
Min Project Size
$10,000+
Employees
50+
10. Moze Studio
Moze Studio is a web development firm that builds websites and focuses on making custom solutions for clients.
Additionally, they have a great team of engineers and designers to back them up. Moze Studio's services include building websites, designing websites, making logos, and advertising online. For each project, they work together as a team, talking to customers and coordinating with them to make individual plans. Moze Studio is known for making work that looks good, is useful, and is easy to use.
| | |
| --- | --- |
| Clutch Rating | 4.9 |
| Established On | 2012 |
| Price | $100 to $149 / hr |
| Min Project Size | $5,000+ |
| Employees | 50+ |
Conclusion
Choosing the right web development company is essential for any business that wants to have a strong presence online. There are so many available options that it is sometimes hard to choose the right one. But companies can be sure they are in good hands if they choose one of this blog's top 10 web development firms. These companies have a history of providing excellent web development services. They are known for their expertise, professionalism, and focus on the customer.
Share this post
Leave a comment
All comments are moderated. Spammy and bot submitted comments are deleted. Please submit the comments that are helpful to others, and we'll approve your comments. A comment that includes outbound link will only be approved if the content is relevant to the topic, and has some value to our readers.