An IP address is a number that is assigned to a computing device to identify it within the network. The IP address used in the Internet must be globally unique so that the "postman" can find the device correctly. The private networks such as a home or an office network can utilize a private IP address that is not globally unique. Think of an IP address as a postal mailing address of a computer, so that other devices can find yours.
How do you obtain an IP address?
When you connect to the Internet, your Internet Service Provider (ISP) assigns you an IP address. When you surf the web, view emails or download a movie from the Internet, your activity can be tracked with your IP address. An IP address can be used to locate a person (although not precisely without a warrant), and trace the Internet activity. To surf anonymously and protect your privacy, you'll need to hide your real IP address.
What happens if two computers have the same IP address?
Each IP address is assigned to an ASN so that routers can find the best route to the device. So, if you assign a random IP address to your device chances are it's not going to work on your end, and it's not going to cause any harm to the owner of the IP address. However, if an identical IP address is assigned to two computers in the same network, it will cause various network-related issues and disruptions. The most immediate issue will be an IP address conflict, and two devices will experience network connectivity problems.
Why would you hide your IP address?
You may have your very own reasons for hiding your IP address, but here are a few popular reasons why people would want to hide their public IP address.
Hide your identity from your competitors - You may be commenting on your or competitor's products on various forums, and using your IP address will reveal your identity.
Hide your geographical location - Certain networks prevent users from a specific geographical location, and use of proxy IP address will circumbent this problem.
Prevent Website Tracking - Every website or webpage you visited is tracked by the server hosted by the website owner. By hiding your IP address, your web visits cannot be tracked.
Work around Internet Censorship - Some countries like China implements strict Internet Censorship for a variety of laws and regulations. By hiding your IP address and obtaining a new IP address from a different geolocation, you may bypass Internet Censorship and unblock websites such as Google, YouTube and Facebook which otherwise blocked.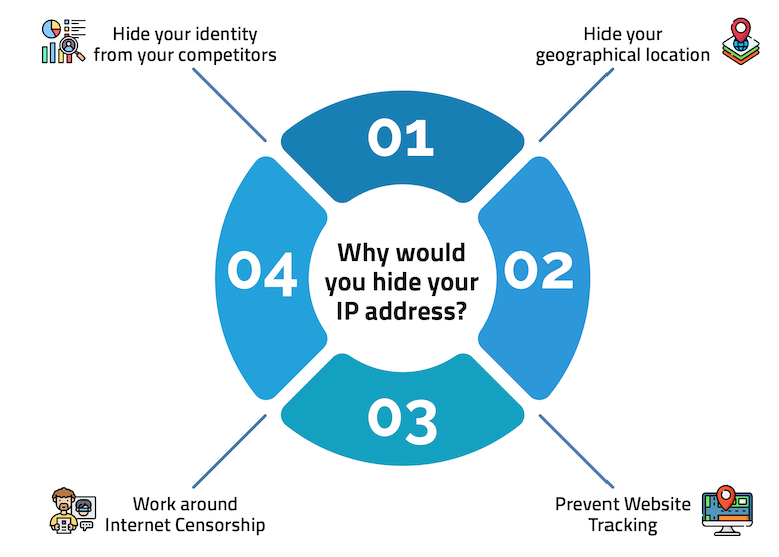 If you navigate on the Internet with your IP address, your privacy and sensitive information about you can be monitored. With an IP address, your location, your ISP and your privacy or security can be breached. There are full of suspicious people on the Internet, and you need to protect your identity by hiding your IP address and use someone else's instead. There are many tools available to mask your IP address (free and paid), and use 3rd-party IP addresses offered by public companies.
Conclusion
For the best approach to hiding your IP address, a reputable VPN stands out as the optimal choice. VPNs offer a compelling combination of robust encryption, high-level anonymity, and enhanced security. By masking your IP address and routing your traffic through secure servers, VPNs ensure your online activities remain private and protected from eavesdropping and cyber threats.
Their user-friendly apps and reliable performance make them suitable for various online tasks, while the ability to choose server locations enhances their versatility. While some premium VPN services may have associated costs, many providers offer free versions with limitations. Ensuring you select a trusted VPN provider with a clear privacy policy and a commitment to not logging your data is essential. Ultimately, a reputable VPN strikes the right balance between privacy, security, and usability, making it a recommended choice for safeguarding your online presence.