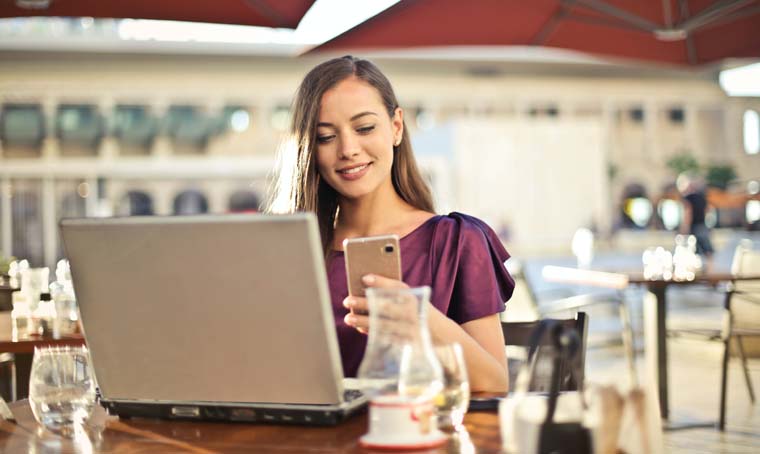 Improving your website's effectiveness can be as easy as connecting to social media or investing in a good hosting service. However, there are major Google search engine updates that are rolling out regularly and changing user expectations.
This means that you have to regularly improve your website if you're to be found in search engine results. It could be that you're not sure of where to start and neither do you know what needs to change. That shouldn't worry you because we'll inform you.
Maybe you only need to improve your website on the technical end. It could also be that you want to produce more engaging content or you're looking for website improvement ideas in general. Whatever the case, you'll find your solution here.
Improving a Business's Website's Effectiveness
Without a website, there's a large portion of the market that won't even consider you as an option when they're looking to buy. People will easily write you off as an option and their view of you will diminish.
That's considering that 97 percent of customers starting any search for retail or service businesses use the web. 30 percent of them wouldn't do business with you if you don't have a web presence. That's because it gives the impression that your business is poorly managed.
So read on as we tell you how to go about improving your site's effectiveness.
1. Get Quality Backlinks
Backlinks are hyperlinks from other websites leading to your website. Trustworthy and authoritative websites that link to a page on your website give you their vote of confidence. As such, website visitors and search engine, bots get to acknowledge and appreciate your work.
Brands need to ensure that they utilize white hat link building since it's a great way of boosting your domain authority. Backlinks are a top-ranking factor and they'll remain so for a long time to come. That's because building high-quality backlinks are critical in increasing your organic rankings for difficult words.
Remember that white hat link-building techniques can produce great results for your search engine optimization. Thus, you must avoid shady techniques and private blogging networks. Instead, focus on creating high-quality content and doing a lot of outreach to distribute that content.
You must also note that quality backlinks differ by industry. If your website is about catering services, for instance, it will not make sense for an automotive dealer's site to link to yours. They aren't related so they're not useful to each other.
To ensure you have quality backlinks, you must identify authoritative websites in your niche, for which you'll use a domain authority checker to confirm. You must also find some kind of offering that's beneficial for the other site. Finally, pitch your idea to that website.
2. Have a Consistent Theme on Your Website
A consistent theme across your website is important as it gives visitors confidence. High quality sites leverage the organization's brand guidelines. However, mismatched fonts, text sizes, and color schemes will cause your website to look unprofessional.
A visitor can complete reading your web page and click on a link only to find a completely different looking page. This will have them feeling confused and thinking that they have left your site. That's why consistency is important in navigating your website.
Having the search bars at the top right side on one page and the top left on the next page will also have users getting confused. But by maintaining consistency in terms of styling, color, font size, layouts, and navigation, you make a better impression on users. It also serves to keep them on your site for much longer.
3. Use Original Content and Keep Fresh
One mistake that some brands make is to have plagiarized content on their website.
Creating unique and high-quality content can be time-consuming. But copying and pasting from another website is not a shortcut you want to ris-taking. According to Google, every search result is supposed to be unique. There shouldn't be a situation where users click on 10 links only to find similar content because it results in a bad user experience.
As such, Google resulted in filtering out identical or extremely similar content. This means that your web page will not appear in search results if you copy a competitor's web page.
You must also note that a great website is filled with current information. Imagine opening a website in October only to find information about this year's New Year's Day sale. Chances are that your confidence in that site will decrease.
4. Concise Messaging
Consumers have a different mindset and level of attention when reading a website compared to when reading a print document. In most cases for print, there will be long blocks of text and nothing turns off a consumer more.
For online messaging, you need to quickly get to the point. Remember that site visitors are coming to you to find answers to their problems. As such, you should be able to quickly and easily solve their problems through your site.
If you're selling women's running shoes, show your clients what they are looking for and why there's value. Let them know why they should buy from your site and if there's free shipping. You should also inform them in case of a special offer and have your messaging followed by a call-to-action.
Don't take visitors through a situation where they're figuring out things for themselves. This will make them leave to shop elsewhere.
5. Layered Landing Pages
Driving traffic to your homepage is great. However, directing them to landing pages that drill down deeper into the site is more valuable.
A lot of brands provide a variety of products and services. As such, they need landing pages for every category of the product or service. That's because it's the best way to build a presence in the market.
In our previous example of women's running shoes, that website may be selling different types of shoes. But you can't have them all on the homepage as it's a terrible idea aesthetically. It can also cause you to miss out on opportunities if a visitor does a specific search.
You need to have a category of shoes within that category. You must also have a specific landing page for the running shoes. If you happen to run a pay-per-click campaign on Google, be sure to take visitors to that landing page. The page must have effective messaging and a call to action.
The title of the user's search must also be in a header on your landing page. This will help your site to rank organically on search engines.
Conclusion
To stay competitive in today's market, you must make your website a place that users enjoy visiting. You may be opening a new store or revamping your website. Whatever the case, take advantage of the tips discussed here to reach out and engage with your clients in a manner that they'll appreciate.
Improving your site can seem like a daunting task. However, it's one of the most worthwhile projects to tackle for your brand. After all, a well-designed website pays dividends. It sells you and your brand to potential customers that you didn't know were looking.
Leave a comment
All comments are moderated. Spammy and bot submitted comments are deleted. Please submit the comments that are helpful to others, and we'll approve your comments. A comment that includes outbound link will only be approved if the content is relevant to the topic, and has some value to our readers.