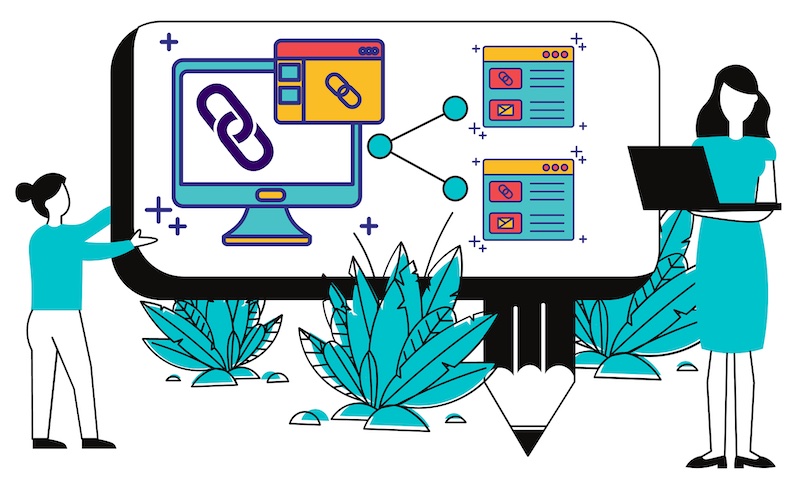 A successful site has stable traffic, and users spend a lot of time on it. The more time a person spends on a resource, the more likely they are to buy the product or service offered by the company. Usually, when searching for the site they want, users look through the first 3-10 pages. They study them one by one or open them in new tabs. Based on this, the site owner needs to get into the top 10 pages of search results, which are viewed by most users.
Search engine algorithms are responsible for search results. They analyze web resources according to many parameters. One of the parameters is the presence of backlinks. For search engines, it is an important criterion for the use of the content on the page. If a page is linked to many other sites, it is fascinating. Really?
That is why it is very important to use backlinks in SEO. You need a lot of them. Dozens, hundreds, thousands, and even tens of thousands. It is rational to use special online tools, services, or platforms to complete this. Manually gathering a directory of backlinks is very difficult. Therefore, you have to resort to the help of various services.
This article is about such services. They help to analyze and place backlinks. Recall that backlinks are hyperlinks to third-party resources that refer to your site. Backlinks, among other things, are embedded in the main, promoted site.
Best Link Building Tools
Each specialist in marketing and Internet promotion uses its own methods and tools. Below is a selection of, in our opinion, the top 10 tools for building quality links.
CheckMylinks for Google Chrome
This tool is very easy to use. It helps identify "broken" links on third-party web resources. It is used to check the status of each of them on the page, and non-working ones are marked in red (working ones in green, respectively). "Reds" signal the potential for backlinks to be implemented. That is, you will be able to fix the link, or install a new one to replace a damaged or missing one. This is a handy tool for finding sources of backlinks.
We have also prepared an overview of other link building tools for you. Read on to the end. It will be interesting and useful!
Sitechecker
Sitechecker is an all-in-one SEO platform for performing SEO audits and monitoring websites. This platform includes many useful tools for link building. For example, one such tool is Backlink Checker. This tool will help you perform a detailed analysis of your website's backlink profile. You can also use the Backlink Checker tool to analyze your competitors' link-building strategies.
Pitchbox
This platform is designed to find famous people in the product area and connect with them. People's coverage is personalized and customized, and unresponsive potential customers are tracked. This data subsequently helps make decisions about building a referral system with different Influencers. After all, many companies prefer to place backlinks only on the pages of famous people or brands.
Whitespark
This tool is for local SEO. It adapts to local search conditions in a specific area in a specific region. The tool looks for opportunities to build links in blogs, local directories, ads, and more. It is great for beginners who are starting out with backlinks. The feature of this tool is a simple and functional interface.
Linkoy
Linkoy is a comprehensive solution for tracking and building links. The tool allows you to identify broken and lost links. It also gives you the ability to monitor backlinks and check the content to which most of them lead.
Ahrefs
Ahrefs generates reports on incoming links. The reports list the number of visitors per month, the number of visitors per month, and the number of clicks per link. This helps you prioritize partners and collaborations and set up an in-house or outsourced SEO department. The tool is also capable of creating links, researching keywords on external resources, monitoring rankings and conducting SEO audits.
LinkStant
LinkStant is designed to track new backlinks to a user's website. The tool instantly lets you know about each new link without waiting weeks or months. Linkstant helps you get to know the most interested partners. Quick is needed to see if the site has any popular items generating a lot of backlinks. Identifying the post is necessary to further promote it on Instagram, Facebook, and other social networks.
BuzzStream
BuzzStream saves time and effort by helping to track emails and remind departments of tasks. The platform optimizes company work, improves e-mail communication, and structures work processes. This approach to business has a better chance of success. Especially since BuzzStream has a wide range of functionality. The platform is designed not only for working with backlinks but also for other marketing tasks.
Accessily
Accessily has handy functionality with link-building tools. This platform includes a marketplace with good sites that are willing to put up a guest post with a backlink for a fee. You can also store and manage guest blogs. It is very convenient!
Raven
Raven Tools is a paid program that provides access to an extensive amount of data. The built-in LinkManager helps with partner research, information retrieval, and messaging. The tool is excellent in terms of interaction with it.
Link Research Tools
Link Research Tools has programming capabilities to help you create backlinks. This tool also displays other useful data:
Why rankings get lost;
When to pay attention to brand links;
Whether to create them;
When to clean up spam links, and so on.
Conclusion
Link-building tools make our lives easier. Is it possible to create links without any fancy tools? Yes, you can. But without special tools, you will be wasting your most valuable resource - time. Not using link-building tools will mean that it will take you twice as long to create the same number of links as your competitors. This means you will never be able to get ahead of them. They will always be one step ahead of you. So be sure to use link-building tools. It's also recommended that you use a project management system to track events. For example, Trello, Google Sheets, or others. This will help you be more organized and efficient.
Share this post
Leave a comment
All comments are moderated. Spammy and bot submitted comments are deleted. Please submit the comments that are helpful to others, and we'll approve your comments. A comment that includes outbound link will only be approved if the content is relevant to the topic, and has some value to our readers.