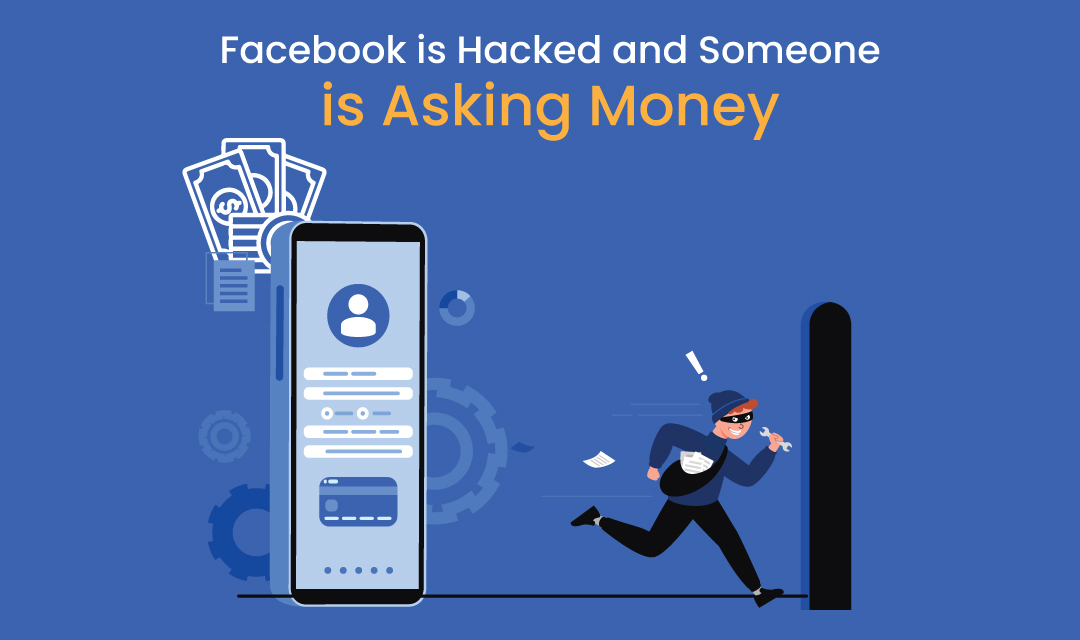 We often hear a Facebook account is hacked, and someone is using the stolen account to ask for money from friends, family, and business acquaintances. If you become a victim of a stolen account, there is a good chance that you'll not be able to access your Facebook account as the hacker probably changed your password. You'll have to let your friends and family know that your Facebook account is hacked, but you will have to contact them individually as you have no access to your Facebook account.
The hacker who gains access to your account will reach out every everyone on your friends' list via Facebook messenger and ask for money for various reasons. If you have business pages, the hacker may also reach out to your vendors and clients and ask for money for different reasons. The first thing that you may want to do is contact Facebook for help or call Facebook customer support number at (877) 398-6240. Facebook will not know if you are who you are claiming to be, so they will go through some verification process to confirm the account belongs to you.
The motivation for hacking someone's Facebook account is to scam someone and earn money. It is more likely to receive money if you ask your friends, family, and acquaintances so that is exactly what the hacker is doing. Here are some reasons for asking for money we often cannot resist.
Your son in college may be contacting you to send money to replace his broken laptop. He needs to get his school work done, but the laptop is broken so he needs it immediately. The scammers are always using urgency to get paid quick and run.
Your business vendor is asking you to pay for the invoice urgently. They are telling you that there was an accident in their facility, and need money urgently to repair the issues. They are also asking you to make the payment in an alternate method and provide you with a new bank account.
Your friend is asking for quick money because he got into an accident overseas, and needs money immediately to get out of the trouble.
The list goes on and on, and they all look legitimate.
How did hacker steal your Facebook account?
The hacker may have found your account from breached data shared on hacker's forum or dark web, and if you're using the same username (or email) and password combination on other accounts like Facebook, the hackers will gain access to your non-compromised accounts from the information found from breached account. This is the reason why you would never want to use the same username and password combination on more than one account. This is the easiest way to compromise your accounts.
A hacker may also steal your account data through malware or virus existing on your computer. It is important to keep your computing devices virus-free, and keep updated with the latest patches and updates.
Another popular method hackers use to steal your data is by sending you a phishing email and pretending to be legitimate organization asking to verify your account information. We should always follow cybersecurity best practices and protect our accounts safe from hackers.
How do you protect yourself from scammers?
Whether it's a Facebook, Instagram, TicTok or any other accounts that you may use, you should always use a strong password, and Two-Factor authentication (2fa). We are vulnerable to cyberattacks, and we should follow online best practices.
If someone is asking for money, never send money without verifying the identity of the person by a phone call or facetime. It is too easy for someone to disguise your friend via electronic media, so it is always a good idea to follow up in real-person.
Conclusion
There are too many cybercriminals looking for ways to scam ordinary people like us by hacking into our Facebook accounts. They will reach out to your friends, family, and business acquaintances to send money to help your urgent situation. Not securing your Facebook account may cause your relatives to fall for scams, so please help yourself and your friends by securing your online accounts with a strong password and two-factor authentication.
Share this post
Leave a comment
All comments are moderated. Spammy and bot submitted comments are deleted. Please submit the comments that are helpful to others, and we'll approve your comments. A comment that includes outbound link will only be approved if the content is relevant to the topic, and has some value to our readers.