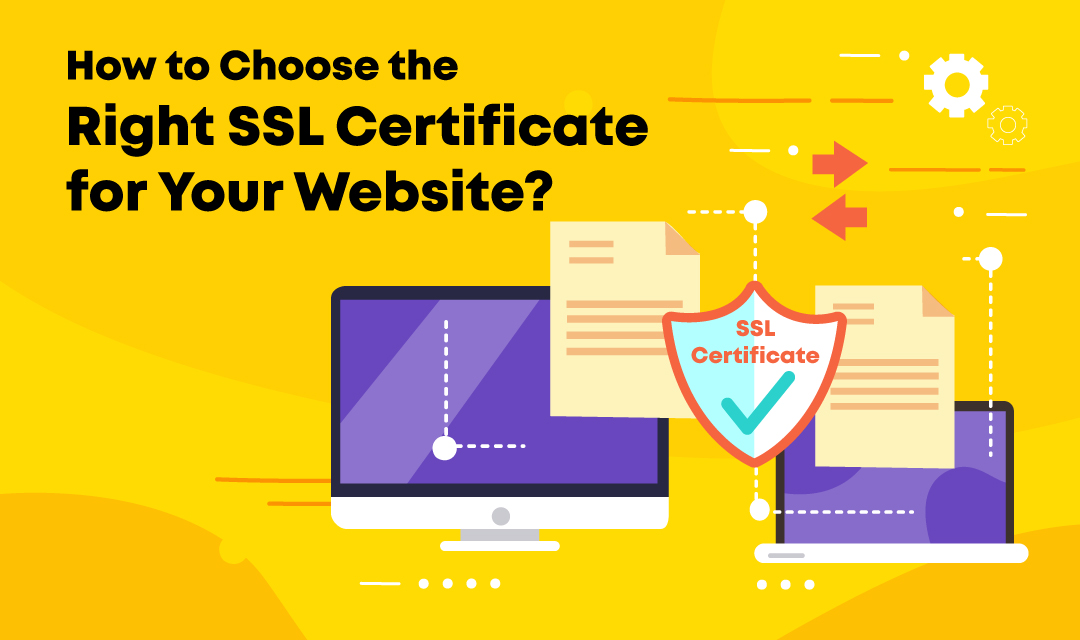 In the tech race of today, a website serves the prime necessity of any company! Most businesses conduct all aspects of business, from client acquisition and product delivery to financial transactions, solely on their websites. A good conversion rate and a feeling of trustworthiness on your website are both essential. The most frequent and rapidly expanding option for website owners and operators worried about internet security is to install an SSL certificate.
Any online business that wishes to boost sales and build consumer confidence should use an SSL security certificate. Encrypting data transferred between a browser and a server is the exclusive responsibility of an SSL Certificate. The certificate may be handed out when the verification process is finished. The CA monitors the process and may request documentation or proof from the issuer throughout.
What is an SSL Certificate, and Why to Use it?
What is an SSL Certificate?
Secure Socket Layer (SSL) certificates are those, which are used to verify the domain's legitimate owner and encrypt data in transit between the server and the user. Browser security warnings, hacking, and consumer identity theft are growing concerns. Do not let the absence of a proper SSL certificate risk your organization's reputation and online transactions. Implementing a suitable SSL certificate today ensures your clients' confidence remains intact.
You can also gain a secure online experience by using this efficient SSL technology. SSL (Secure Socket Layer) protects your valuable data by implementing strong encryption. This ensures all communication between your web browser and the server is kept completely secure. Rest assured that your valuable information is safeguarded as it traverses the extensive network of the internet.
SSL guarantees encryption of user data before transfer to the website! Say goodbye to worries about possible hackers or unauthorized organizations gaining access to your valuable information. With cutting-edge technology, your data becomes incomprehensible to anyone trying to breach its security.
How to choose the right SSL Certificate from its different types?
Multiple types of SSL certificate options are available. To assist you in deciding how to choose the right SSL based on your needs, we have compiled this handy rundown of the several available options. However, your specific needs will determine the required SSL certificate type.
1. Domain Validation (DV) SSL Certificates
Domain Validation (DV) SSL Certificates are the best option for Small and Midsize Enterprises (SMEs). These require affordable security measures that first establish the confidence of site users. A DV certificate can be issued with just an email validation showing that you are the legal owner of the domain name connected with the certificate.
Domain Validation certificates take a little time the issue and they allow for HTTPS and have prominent browser indicators like the padlock. Sites that deal with sensitive information or conduct online transactions can use DV certificates. However, many internal sites, test servers, and test domains benefit significantly from their use.
2. Extended Validation (EV) SSL Certificates
With an Extended Validation (EV) certificate, clients know they are dealing with a legitimate business. This is why these certificates have become more generic for online businesses. High-security web browsers will show a verified company name once you click on a padlock if an EV SSL certificate has been installed. They also include the identity of the issuing CA.
The identity of the website and its associated organization are verified using a stringent vetting procedure that has been proven effective over the course of more than ten years of actual use in accordance with the tight industry requirements established by the CA/Browser Forum.
3. Organization Validation (OV) SSL Certificates
OV certificates are similar to DV certificates in that they both require verification of domain ownership, but here in the OV Certificates, the verification of information is stringent. By verifying several information, such as the company's name, location, and address, including the incorporation or registration data, the issuing Certificate Authority (CA) of an OV SSL certificate ensures the domain name's associated business is authentic. Because of this degree of verification, the OV certificate is preferable for publicly accessible websites representing enterprises or organizations.
4. Single Domain SSL Certificates
Customers can protect a single subdomain (Fully Qualified Domain Name) with this single-domain SSL certificate. It prevents information theft and improves your security in general. SSL certificates for a single domain can encrypt communications between the server and the browser.
5. Wildcard SSL Certificate
A business can protect several first levels of sub-domains under a single domain with a single Wildcard SSL certificate. A wildcard certificate ensures the future security of any subdomains added to your website. An asterisk (*) against the main domain can secure the first level of subdomains.
6. Multi-Domain SSL Certificate
Website owners may protect several domains with a single Multi-Domain SSL certificate, and they can add or delete domains at any moment. Instead of maintaining track of several certificates, they must only remember to renew one certificate that applies to all domains.
Conclusion
Any company conducting business online or with an e-commerce website must invest in consumer security and trust-building measures. Website security is essential, and TLS/SSL certificates are a tried-and-true method of gaining visitors' trust and assuring them of website security. You need to choose the right one among the various types of SSL certificates, which aligns with your needs and specifications. Ensure to select an SSL certificate (domain, organization, or extended validation) that meets the requirements of your website.
Share this post
Leave a comment
All comments are moderated. Spammy and bot submitted comments are deleted. Please submit the comments that are helpful to others, and we'll approve your comments. A comment that includes outbound link will only be approved if the content is relevant to the topic, and has some value to our readers.