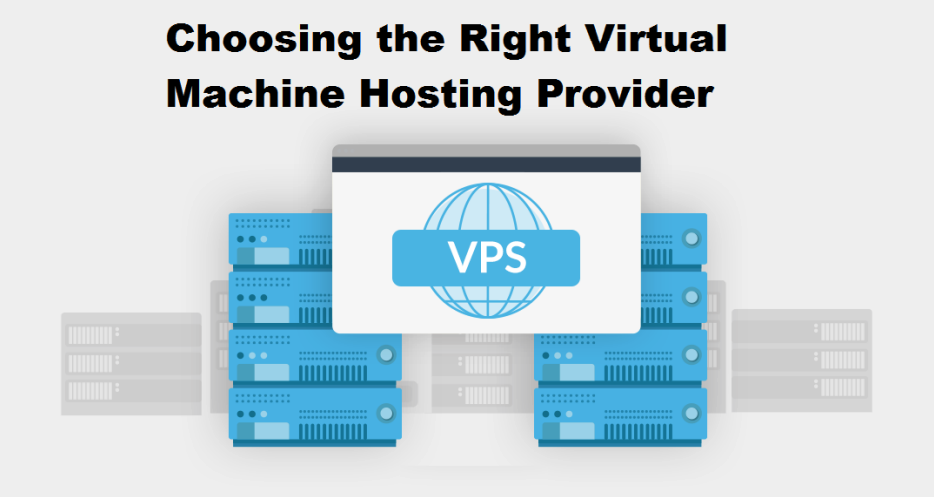 Virtual machine hosting, also commonly known as VPS hosting, is a type of web hosting service that allows users to host their websites on virtualized servers. Instead of having a physical server dedicated to a single user, virtual machine hosting enables multiple virtual machines to run on a single physical server. It is extremely important to select the right virtual machine hosting provider as it directly impacts your website's performance, security, and availability.
You'll find a wide range of virtual machine hosting providers in the market today which makes it difficult to select the one that fits your requirements. That's why we're discussing the key considerations for choosing a virtual machine hosting provider in detail today.
Understanding Virtual Machine Hosting
Before moving forward, let's understand what virtual machine hosting is and the advantages that it offers.
1. What is a Virtual Machine (VM)?
A Virtual Machine or a VM is a virtual server environment built over a physical server called a host. It gets all its resources from the physical machine but is fully independent of this hardware. Thus, a VM has its individual memory, CPU, storage, and network interface.
There is a software called hypervisor that separates a server's resources from its hardware and allocates them to different virtual machines.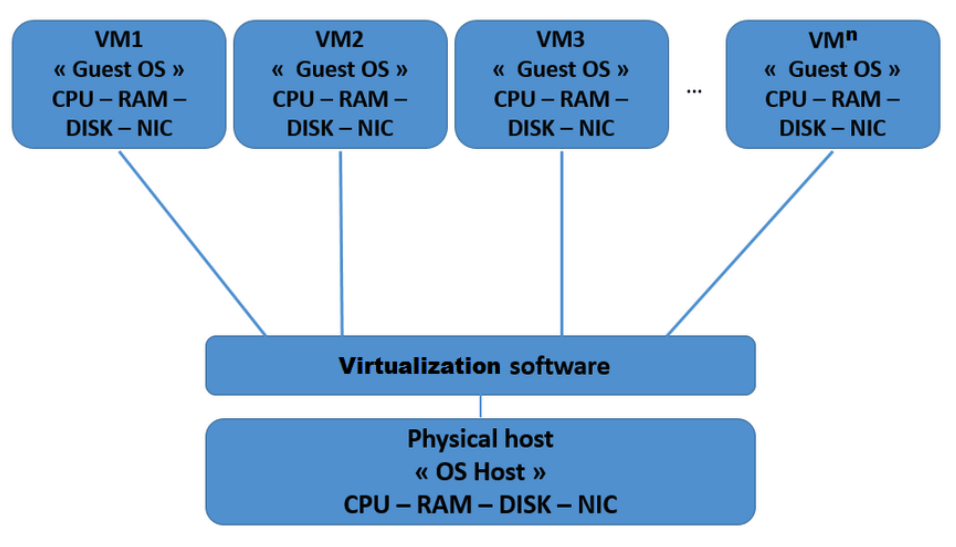 2. Advantages of Virtual Machine Hosting
Virtual machine hosting offers a lot of benefits:
It provides you with an isolated and secure hosting environment that is not shared with other website owners.
It comes with dedicated server resources that are available only for your website.
It is quick and easy to deploy a virtual machine, so you can expect to begin working on your VM as soon as you purchase your hosting.
VM hosting offers immense scalability with fast provisioning of additional server resources whenever needed.
It is easy to back up and restore virtual machines in cloud environments which comes in handy during system failures.
3. Types of Virtualization Technologies
With virtualization becoming popular, many different technologies came into existence, including:
Full software virtualization: This technology simulates all server hardware with a software program. The device drivers and processes of each virtual machine believe that it runs on a separate physical hardware although, in reality, it is a software program. The popular Kernel-based Virtual Machine (KVM) is an example of a full virtualization solution.
OS-level virtualization: This technology splits the operating system of a server to build several isolated virtual machines. These multiple instances of an operation system are known as containers. OpenVZ is the most popular OS-level virtualization solution used in the market today.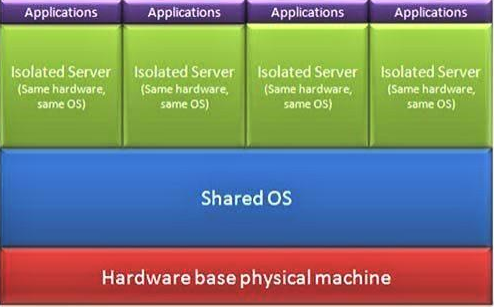 Key Considerations for Choosing a Virtual Machine Hosting Provider
Now that you know choosing the right virtual machine hosting provider is important for a stable website, let's look at the key considerations to select one:
Performance and Scalability
Evaluating the performance that will be delivered by a virtual machine is extremely important. It will help you determine whether the server will be able to run all the applications and processes you plan to perform.
Additionally, you must also take into account the scalability offered by your hosting provider. Your virtual hosting plan must be capable of providing you with instant access to additional server resources whenever you need them.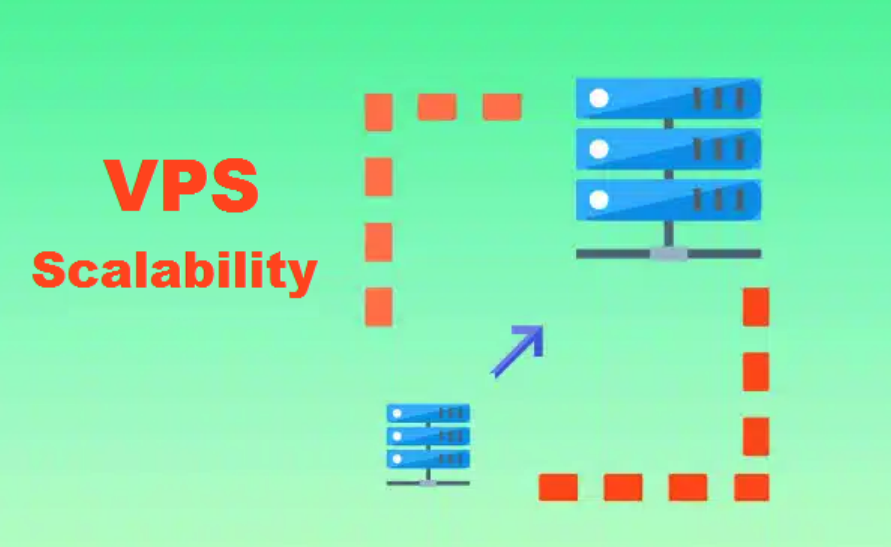 Consider the following performance and scalability-related aspects when selecting a virtual host:
1. Evaluating Hardware Specifications
A VM must be supported by the hardware with the right specifications to ensure excellent user experience and performance. These hardware resources include memory, processor, and storage of the physical server.
RAM: Random Access Memory or RAM determines the multitasking capabilities and responsiveness of a server. More RAM can handle more concurrent users and leads to faster data access.
CPU: Central Processing Unit or CPU manages server operations and executes all the computing tasks. A powerful CPU has a higher clock speed and multiple cores to ensure excellent server performance.
Storage: Server storage is responsible for all read/write operations and data management. Solid State Drives (SSDs) are more reliable and faster than traditional Hard Disk Drives (HDDs). But the latest Non-Volatile Memory Express (NVMe) storage technology is even faster than SSDs. They offer reduced latency, faster data access, and improved server performance overall.
2. Understanding Resource Allocation
As discussed above, the resources of a physical server are allocated among different virtual machines. So you must understand resource allocation under your hosting plan to determine the amount of server resources available for your use.
The total RAM, CPU, and storage of the host server get distributed and only a share of these resources are allocated to your VM. Consider checking out this share of resources along with the bandwidth you are allowed to utilize.
3. Load Balancing and Redundancy
Server redundancy is the practice of setting up additional servers as backups to support the primary one. It ensures server availability at all times, thereby minimizing server downtime.
In a load-balancing system, the hosting provider creates an image or replica of the main server. Each redundant server can write, read, and update files. So if any one server becomes non-functional due to any unforeseen reason, the others will remain operational to handle your website.
Additionally, such load-balancing systems also improve the overall server performance by equally distributing read/write tasks. These can be used in combination with a backup mechanism to create and store regular server backups.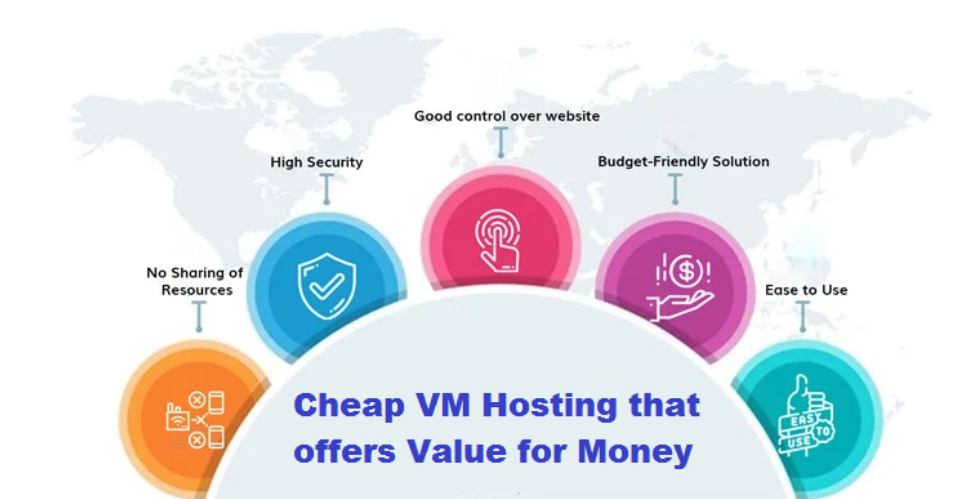 Pricing and Cost Structure
Choosing the right virtual machine hosting provider involves a major consideration concerning its cost structure. Getting your hands on the cheapest VMmight be suitable for many but not for all. Instead, it is advised to look for the value you receive in exchange for the money you spend.
Here are the key cost considerations in selecting the right host:
1. Transparent Pricing Models
Hosting providers offering transparent pricing models are more reliable than the ones hiding costs at every step. Thus you must choose a host who is open about the cost structure of its virtual hosting plans. It is your right to know what you are paying for and how much it will cost you initially and during renewal as well.
Also, a transparent pricing model allows you to plan your hosting budget. You can choose to go with a host offering a "pay as you go" model initially if you plan to use a VM for a very short duration. On the other hand, a fixed pricing model will help you save more when your server will be in use at all times and you have long-term usage plans.
2. Hidden Costs to Watch Out For
Some hosting providers might charge you for services that are not explicitly discussed in advance. It leads to higher hosting expenditure than expected. Thus, you must watch out for all hidden costs that a host can charge you for later.
Consider checking the virtual machine maintenance cost, bandwidth overage charges, backup maintenance cost, backup recovery charges, and server management charges. Most importantly, look for the renewal price of your hosting plan since most companies charge cheap promotional prices for the initial terms to attract new customers.
3. Value-added Services vs. Extra Charges
All hosting providers offer value-added services with their virtual machine hosting plans. These include control panel add-ons, server security solutions, application installers, third-party plugins, spam protection, website themes, software add-ons, billing systems, third-party apps, and server management solutions.
Many of these value-added services are worth your money but some might only lead to extra charges. For instance, paying for Secure Sockets Layer (SSL) certificates, automatic server backups, DDoS protection, a Content Delivery Network (CDN), or a security firewall is only an additional expense since you can get these services for free with a lot of hosts.
Support and Customer Service
One of the most important aspects of choosing the right virtual machine hosting provider is considering the support and customer service it offers. Using and managing a VM is a difficult task and requires the utmost diligence. You might face an unexpected server issue even when being careful in handling one. This is where efficient customer service comes in.
A host with good support staff can guide you in achieving the desired results when designing your website. It also helps in solving technical problems and ensuring smooth server functioning without any major downtime.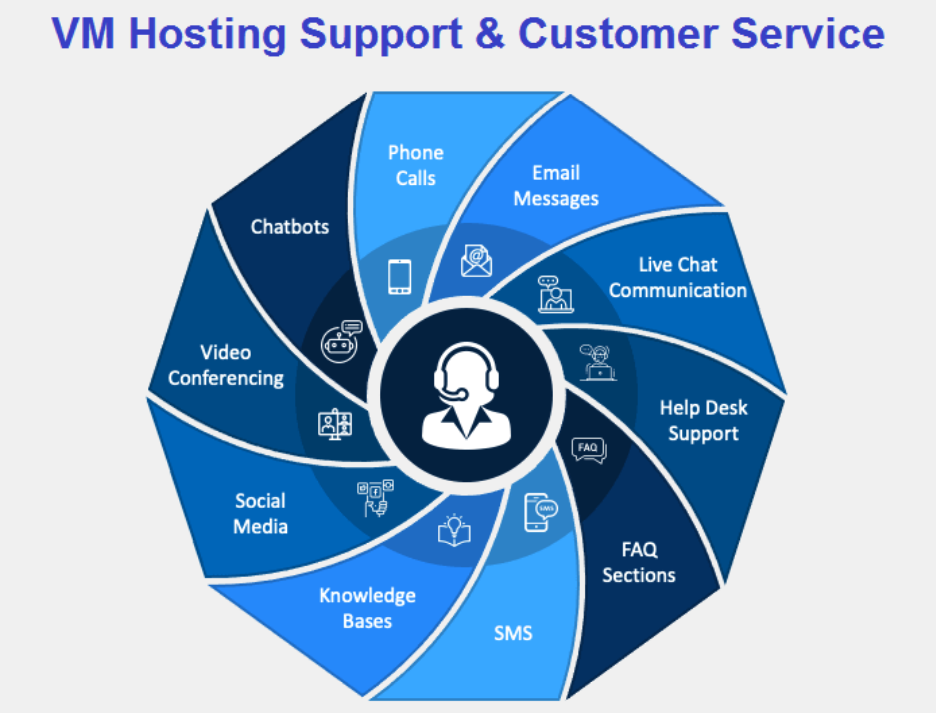 Here are some key support-related aspects to look out for when choosing a virtual hosting provider:
1. Availability of Support Channels
Different hosts offer different support channels through which you can get in touch with their customer care executives. You will see a wide array of options, including email, phone number, live chat, and support ticket. Some companies also solve your issues over their social media channels. Additionally, many hosts maintain a knowledge base carrying a variety of topics related to using their services and solving common server problems that serve as valuable assistance.
It is always good to have more options to connect with your hosting provider. Also, look for the availability of 24/7 support against the one that is offered only during office hours. It will help you get out of any server problem quickly even during the odd hours, thereby preventing any website downtime and the resultant business loss.
2. Response Times and SLAs
Response time refers to the average time that a host initially takes to answer a customer complaint or general query. A host that cares for its customers will try to help them as soon as they face an issue. So lesser response time is better than a long wait for receiving a reply to your query.
Choose a virtual machine hosting provider responding quickly to its customers to get an excellent user experience. It will also improve your website performance as it will run smoothly without any major downtime.
SLAs expand to Service Level Agreements which are contractual commitments undertaken by your hosting company. These can relate to service quality or server availability. Most hosting providers offer uptime SLAs to ensure server availability at all times. If the host fails to deliver its SLA promise, it will bear the consequences and compensate you for the deficiency. These SLAs ensure the reliability of a virtual machine (uptime SLA) or the hosting provider itself (service quality SLA).
3. 24/7 Monitoring and Troubleshooting
Another critical aspect to consider when choosing a virtual host is the availability of server monitoring services. These are generally a part of managed hosting plans but might also be available separately.
24/7 network and server health monitoring ensures maximum uptime for your website. It alerts the host's technical team of potential server issues before they turn critical.
Troubleshooting refers to the identification of faults in a server and correcting them. When server administrators monitor your VM continuously, they can troubleshoot the server for any fault as and when it arises. Even if it is impossible to repair a certain server component, the 24/7 monitoring service will ensure minimal downtime since the experts will find a quick solution to fall back upon.
Data Backup and Disaster Recovery
Data stored online might get completely erased due to some server failure, security attack, or administrative mistake. And losing your website data can negatively impact your business. That's why it is extremely important to choose a virtual machine hosting provider offering efficient data backup service along with a disaster recovery feature.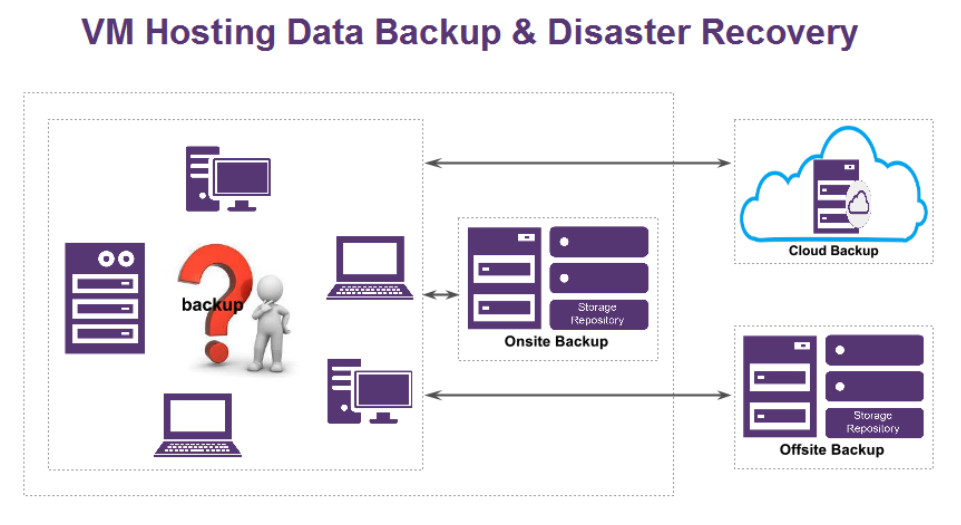 Let's discuss some of the most critical server backup and recovery aspects to look for in a host:
Backup Frequency and Retention Policies
The backup frequency of a VM refers to the number of days after which the host creates a server backup. Checking the backup frequency provided by your hosting company is crucial to prevent data loss.
Choosing the right backing frequency: You will find daily, weekly, and monthly backup frequencies when searching for a virtual hosting plan. If you generate or modify your website data quite often, it is advised to select a VM plan with a daily backup facility. On the other hand, you can go for other backup frequencies depending on the frequency at which you change your website data.
Automatic and on-demand backups: Some virtual machine hosting plans include automatic backup scheduling while in others you are responsible for creating manual backups. Also, having a facility to create an on-demand backup is important for the times when you will be making major website changes.
Backup retention policy: Apart from the backup frequency, you must check out the retention policy of the host before purchasing a plan. The backup retention policy refers to the number of days for which a backup is stored by the hosting provider. Some hosts might have a policy in terms of the number of backup versions they keep instead of the number of days or weeks.
For instance, a host might be offering a daily backup frequency with a 48 hours retention period. In that case, it is storing only 2 backup copies of your server which is too less! Always look for higher backup frequency and more retention period or number of backup copies to be on the safe side.
Disaster Recovery Plans and Procedures
Generating disaster recovery plans and procedures is essential for a host to recover your virtual machine from any unforeseen problem. A disaster can lead to complete data loss and server downtime. That is why choosing a hosting provider with a good disaster recovery plan is very important.
Check for the preventive, detective, and corrective measures that a host undertakes for server stability and recovery. It is best to select a host maintaining off-site server backups for greater redundancy. In such a case, you won't experience any substantial data loss and have minimal website downtime.
Redundancy and Data Center Locations
Server redundancy is a practice of setting up backup servers to fall upon when the primary server fails. It is quite beneficial during full or partial data loss and when the primary server becomes non-functional due to any reason.
If your VM provider has multiple backup servers to support the primary one, it might result in zero downtime for your website. Failure of one server system won't impact the functioning of your website since there will be other options to rely upon.
A host incorporating redundancy in its data centers will duplicate all the critical components to ensure service availability at all times. Keeping backup generators to run operations during power outages and having cooling systems are a part of redundancy at data center locations.
Companies classify data center redundancy levels into N, N+1, N+2, and more. N refers to the basic hardware requirements and doesn't involve any redundancy option. So you must look for a host that offers at least N+1 redundancy with your VM hosting plan.
Conclusion
Taking a well-informed decision is important when choosing a virtual machine hosting provider for your needs. It will help you secure a stable and efficiently performing server at a reasonable price.
At last, we recommend creating a list of server resources that are essential to host your application in advance. It will assist you a lot in selecting the right virtual hosting plan with the correct specifications. We also suggest going through the reviews and experiences of existing customers of your desired hosting provider just before committing.
Leave a comment
All comments are moderated. Spammy and bot submitted comments are deleted. Please submit the comments that are helpful to others, and we'll approve your comments. A comment that includes outbound link will only be approved if the content is relevant to the topic, and has some value to our readers.