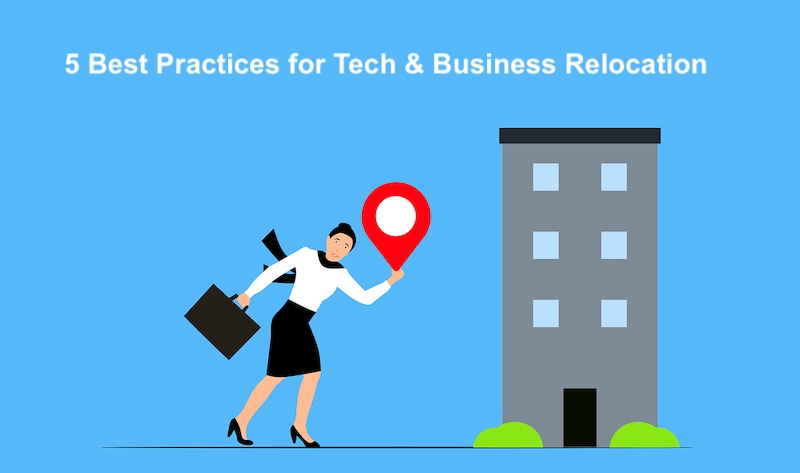 Your business is booming, and you've slowly grown out of your old office, or maybe you're looking for an area with more foot traffic to bring in customers. Regardless of the reason, your next step involves a business relocation.
You did the research, found the best location for the new office, and now it's time to move everything. But this is the most challenging aspect of a business relocation, so it's best to be wise about it.
To help smooth things out, we put together a list of best practices.
1. Plan Ahead
Every successful complex business operation requires a detailed plan of action. In the case of a business relocation, where you have to move employees and technology, planning is a crucial aspect.
Give yourself plenty of time (usually a few months) to plan and prepare. Start by creating a detailed plan that outlines all of the necessary steps and timelines for the move. Also, put together a team that will be in charge of the move to ensure everything is taken care of.
Lastly, don't forget to inform all stakeholders, such as employees, vendors, and clients, about the upcoming move. Give them ample notice and provide information on how the move will impact them.
2. Hire a Top Rated Mover
There's no way around it - if you want your move to go without a hitch, you need to work with a reputable moving company that has experience with commercial moves. Look for top-rated interstate moving companies that can provide you with a detailed estimate of costs, timelines, and services provided.
It's a good idea to get estimates from several moving companies and compare the prices and services provided. This way, you'll know which one's best for your specific needs, which is especially important when moving around sensitive technology.
Also, remember that there are other administrative tasks to take care of aside from moving physical items to your new location. Depending on the way your business is structured, you may need to hire a registered agent in the state where you are aiming to operate. They'll take care of all the documentation and ensure you're compliant with relevant regulations that apply to the region.
3. Create a Detailed Inventory
Before the moving day, create an inventory of all equipment, furniture, and supplies to ensure nothing is lost or left behind during the move. For technology (work devices, servers, mobile devices, network equipment, and so on), create a separate IT asset inventory and try to plan out their location at the new office.
This way, you can decide the order in which they'll go in the moving truck and when they'll be unloaded at the new location.
Also, don't avoid placing a label on everything, whether it's tech equipment, furniture, or files. It also helps to label boxes and furniture with the name of the person or department to which it belongs. This will make unpacking and organizing much easier.
4. Test Your Technology
Once everything is at the new location, start by testing the tech equipment. Start by installing the core of your business (which is probably the network and servers), and don't forget to set up new systems for data backup and recovery.
Make sure all technology is properly set up and functioning in the new location before you start doing business again.
5. Have a Contingency Plan
Finally, always have a contingency plan in place in case anything goes wrong during the move or after the move. This will help mitigate any potential risks and keep your business running smoothly.
Plus, it also helps to have a separate budget for when things do go wrong (there's always something that doesn't go according to plan).
Wrap Up
Once everything is set up and ready to work, you also have to take care of the smaller aspects of the move, such as updating your address with all relevant parties, such as clients, vendors, banks, and the post office.
Overall, business relocation is quite challenging, but when done right, you reduce the risks and speed up the whole process.
Share this post
Leave a comment
All comments are moderated. Spammy and bot submitted comments are deleted. Please submit the comments that are helpful to others, and we'll approve your comments. A comment that includes outbound link will only be approved if the content is relevant to the topic, and has some value to our readers.