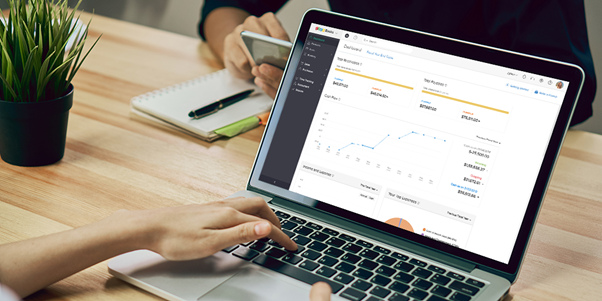 The implementation of financial software brings great benefits to companies of any type, regardless of their size, sector, or location. Financial software allows you to fully integrate all the economic processes of a particular company, greatly facilitating the adoption of strategic decisions.
With the help of financial reporting software, you can strictly control all efforts. Accounting, risk management, financial project management with integrated analysis, online banking, and e-invoicing will be integrated into the same financial software. In this way, and with all available information, a global view of the company's economic position will be obtained. Therefore, financial software development is an important element for the development and promotion of the company.

Features of the implementation of financial software
But how to implement software in a company without slowing down or interfering with daily work? Having adequate financial software will help you make future strategic decisions that ensure the company's survival as well as its success. In addition, if the appropriate software is chosen, its implementation is simple, convenient, and fast, so it does not create any obstacles.
Remember that the ideal software can adapt to your business processes, meaning you should avoid having to change your processes to adapt to new software.
Generally, the most commonly used financial software is suitable for local and international companies with one administrative office or multiple delegations. In other words, a good financial system must adapt to any type of company, from the simplest structures to the most complex ones.
Benefits of Implementing Financial Software
The main advantage of financial software is that thanks to it the company will be able to make more informed decisions. Similarly, they will be much easier to accept as they will be based on quantitative data.
In this sense, it is the ideal tool for any type of business to achieve full efficiency in financial management. In addition to providing a complete view of the economic situation, it will serve as a support for any type of process and/or management.
On the other hand, the introduction of financial software allows you to automate and digitize all economic processes. Thus, all existing data will be centralized in a single system. It will produce dashboards and reports that offer valuable insights through interactive balance sheets, budget scenarios, inspections, audits, and more.
Having a single centralized system—especially for international companies and offices, or with delegations, suppliers, customers, and competitors on a global level—helps a lot to simplify things. Thanks to financial software, among other things, rapid standardization or compliance with local and international laws and regulations will be achieved.
It should be noted that another great advantage of having financial software is that it allows you to have information always and from anywhere. In addition, it is available for both computers, smartphones, and tablets.
Main types of financial software
Before you install or use financial software in your business, you need to thoroughly familiarize yourself with all the options available.
Accounting program: This development allows you to control various financial transactions, as well as track the cost of taxes and other payments to the state;
Developments for budget management: With the help of such software, you can track waste over a certain period, analyze the budget and reduce waste;
Investment management programs: With their help, you can manage a special investment portfolio and analyze the markets;
Payment management: With their help, you can control all completed transactions, as well as make automatic payments. In addition, such a development will help to create reports and related documents about payment.
These are just some of the possible software. There may be many more. They are united by one goal, namely to establish control and management of financial transactions. With the right design, you can reduce waste, make your company work more efficiently, and automate most processes. Therefore, if you have not yet applied such technologies, it's time to fix it, because you will get a huge number of benefits.
Conclusion
The digitalization of companies is becoming increasingly necessary and highlights the importance of implementing financial analysis software that allows you to automate all the processes necessary for its transformation and is the starting point for a significant reduction in manual work thanks to new digital processes.
Leave a comment
All comments are moderated. Spammy and bot submitted comments are deleted. Please submit the comments that are helpful to others, and we'll approve your comments. A comment that includes outbound link will only be approved if the content is relevant to the topic, and has some value to our readers.