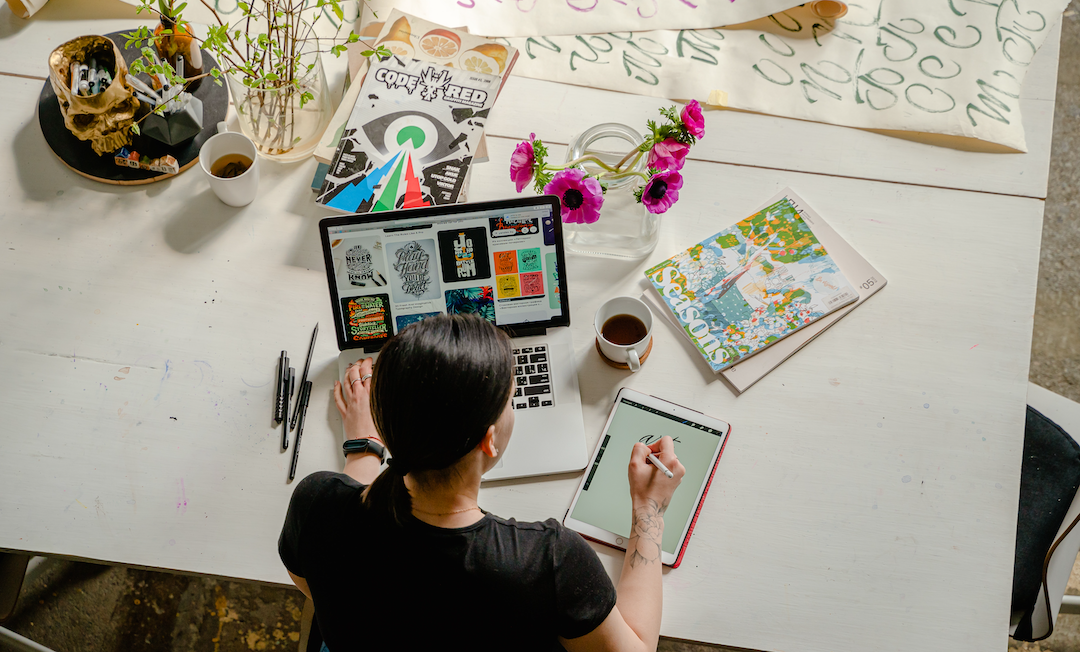 With too much technology facing the world today, aren't you wondering what's in store for many jobs like a graphic designer in 2023? With machine learning and AI knocking at their doors, wouldn't you find it challenging, especially if you're also in this creative field?
This guide is to help you avoid thinking that robots can take away your job anytime! It's a way of saying, "Bring it on!" to anything technology may throw at you.
It's handy to understand how creativity, innovation, and adaptability are shaping the path for graphic designers in 2023 and in the near future.
Master the Basics
Begin with a solid base, like mastering design principles such as balance, contrast, and alignment. Master the field and gain proficiency in using colors, fonts, and layouts to their fullest potential.
These skills will be the solid foundations you need to create excellent graphic designs. They'll help you make masterpieces and create captivating visual experiences for your audience, whether with technology or not.
Embrace Technology
Explore how you can best use technology with the most advanced design tools and software to stay ahead. Use popular programs like Adobe Illustrator, Photoshop, and PicsArt so you can make outstanding designs.
Also, never let technology overtake you; stay tech-savvy for a forward-thinking design approach. As AI increasingly takes on tasks, and though they can create collages easily and instantly design logos, graphic designers can expect a considerable shift in their roles. It's actually an opportunity to elevate your game!
Start focusing on creativity, strategy, and that uniquely human touch to outsmart machines! It's going to be an exciting evolution—a blend of AI efficiency and human creativity.
Learn Sustainable Design
Today, eco-friendly and sustainable work is the "in" thing. It's the same in graphic design and all other fields. Using materials and techniques that tread lightly on the environment is the norm for 2023 and the future.
It isn't just a passing trend; it's fast becoming a necessity in the advancing world of graphic design. Sustainable designs today help the environment and speak to people to start caring for their environment. It's also paving the way for a future where responsible graphic design is the norm.
Dive into UX/UI Design
User experience (UX) and user interface (UI) designs matter nowadays. Your user's experience and their response to your design is top priority. So, it's best to learn how to create graphic designs that are user-friendly, intuitive, and can effectively catch attention.
Try to master the psychology of interaction to understand how people react and appreciate your designs.
Adapt Personalization
Uncover the art of customizing designs to suit your clients' tastes and choices using quality customer care. It means getting honest feedback to help you understand your audience better. It'll help you create designs that will be relevant to your followers.
It's a way to ensure your designs go beyond what's seen. It will establish a genuine bond with your audience and give them a lasting impression.
Stay Social Media Savvy
Keep a tab of interesting posts, stay updated with the ever-changing social media trends, and keep your designs trending! You'll always have an opportunity to learn skills and craft content that grabs attention across the many platforms today.
People get easily impressed with what's seen, so make remarkable visuals! Look at the influence of visuals in today's digital era, especially on social media. See how social media posts make or break people? Sometimes, it's just amazing to watch!
So, mastering the art of remaining social media savvy ensures your designs will always be at the trending corner.
Explore Networks and Collaborate
In graphic design, working with others is your dynamic playground — team up with fellow designers, artists, and kindred spirits in the industry. Swap imaginative fireworks and juicy insights to paint colorful horizons together. Think of it as a design fiesta, where mingling sparks fireworks of innovation.
Continuously Learn and Experiment
The dos and don'ts of graphic design are constantly changing. So, it's best for you to stay curious, keep learning, and try new styles, techniques, and technologies. Things you don't know aren't burdensome, but they'll help you grow.
So, don't just try a little; go all in and try new things. Push your limits and discover where real design transformation happens.
Bottom Line
It may look like technology is too advanced for a graphic designer to remain in the field for long. But in 2023 and beyond, these challenges should motivate you to bring in your best efforts.
With this guide, you're sure to build yourself up and get ahead with innovations every step of the way!
Share this post
Leave a comment
All comments are moderated. Spammy and bot submitted comments are deleted. Please submit the comments that are helpful to others, and we'll approve your comments. A comment that includes outbound link will only be approved if the content is relevant to the topic, and has some value to our readers.