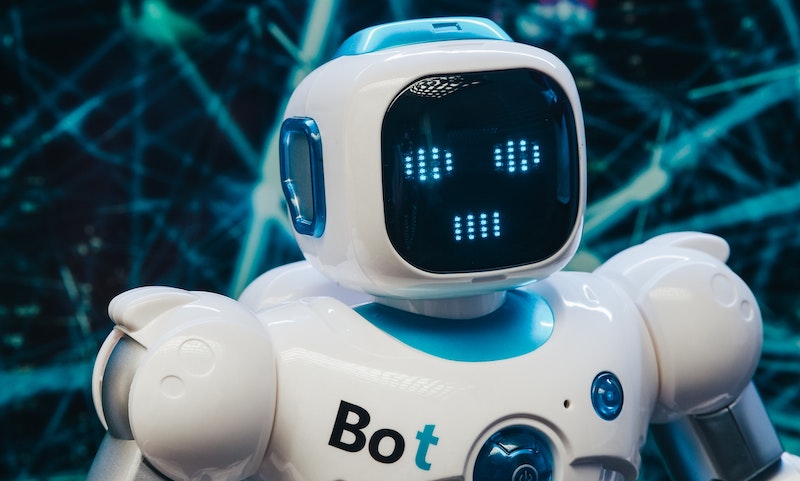 Within the past few years, AI has changed from being a technology of the future. It is now relevant across many fields. There have been serious conversations lately about Google's restrictions on AI-generated content.
Regardless, the number of people who are testing and attempting to adapt AI in their fields is increasing. Despite this truth, one question is yet to be answered: Is it okay to adopt AI-based tools for creating content for your 2023 SEO strategy? Let us discuss this question in detail.
Research methods
Sitechecker carried out an online survey and targeted 50 SEO specialists working in various fields. 6 survey questions asked about the content types the respondents created using AI-based writing tools and the top AI writing tools they preferred most. There were another 3 open-ended questions focusing on the respondent's workflows, their experience, and forecasts about AI use in SEO.
The team analyzed the data and created a summarized report using infographics. Here are the key insights revealed from the research.
Summarized findings
70% of SEO professionals have used content created using AI. Nevertheless, they still feel the content still needs refinement by a human so that it ranks high in the SERP.
72% of SEO professionals routinely leverage Jasper to create SEO content.
68% of SEO experts agree website age is a non-issue when it comes to generating content using AI.
64% of respondents leverage AI-powered tools to create blogs. 20% would rather use the tools to generate images.
The data shows the importance of AI in SEO. You can get more details on the SEO health of your site by conducting SEO analysis by Sitechecker. It's a powerful tool that helps in SEO analysis and improving your ranking by using AI modules.
Preferred age and website type for creating AI-based content
Nearly 70% of SEO professionals are certain website age is a non-issue when automating content generation. However, they point out the importance of being mindful of content quality and making it the primary focus in the SEO field.
The experts say content creators should be choosy with a niche and focus on making paragraphs more attractive. Most of the respondents said they use AI to write SEO-optimized content, edit, or generate summaries for blog posts. The research shows only a few experts use AI to generate content for social media websites, e-commerce, and forums.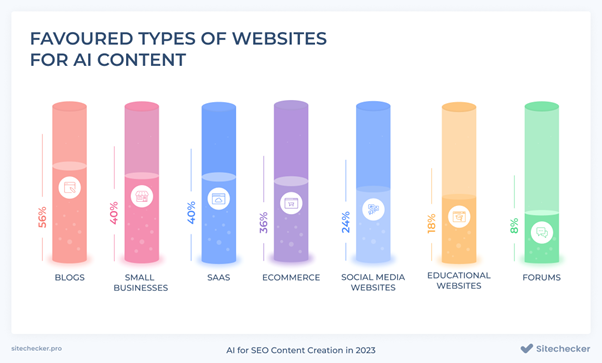 Categories of content are mostly created using AI SEO software
The respondents gave conflicting opinions on the type of content generated using AI-powered SEO tools. Some of the experts said they use the tools to generate long-form content. Other experts said they use them to generate short-form content or writing inspiration.
Some said the tools help them create meta descriptions or to add smaller paragraphs. Others use them to create content briefs but do the writing themselves. Still, other experts said they use the tools to generate images, and create outlines, and content for PNB pages.
Tricks and tips for AI tools implementation in SEO workflows
Asked about tips for AI tools implementation in SEO workflows, the SEO experts gave the following ideas:
The G.E.O strategy: The abbreviations stand for – G – Guide, E - Edit, and O – Optimize. Writers need to Guide the tools by using a predeveloped outline. The guidance should be based on what top competitors are writing. Next, Edit the content to correct grammar and other issues. Finally, Optimize content for SEO.
The keyword strategy: Create semantically related keywords based on the targeted content. Create headers and title tags using AI tools. You can use a tool like Crazy Egg to test the headers and keywords on UX. It helps determine their on-site engagement. You can now launch email campaigns and release the content to the public and analyze the results. You cannot restrict yourself to these ideas, but every content writer is free to adopt what best fits them.
Satisfaction level with the use of AI content generators
70% of the respondents said they are satisfied with using AI-based writing tools. They said the tools assisted them to think outside of the box through inspiration received from the AI-generated content.
All of them agree the content needs to be refined by a human and to be tested. Some of the SEO professionals said they are already using the tools in their workflows. The experts said it is necessary to take ample time to create the content to provide valuable information.
Testing the tool is necessary before adopting it. A writer who uses AI tools can generate more content in a short time. Nevertheless, some experts feel the tools only add unnecessary costs, yet the content they generate is awful. They agree the tools can help give insights but what they provide is just results and nothing else.
Some of the respondents said they were disappointed by the AI tools. They pointed out that they didn't save time, and the content generated was full of errors and poor quality.
Major problems with using AI content generation tools
When asked about the major problems faced with using AI content generation tools, the experts gave different ideas. The main problem recorded was that the tools lacked proper training to generate high-quality data.
No matter how well the tool worked, it still needed a human being to refine the content. When there are too many users generating content using the same types of tools, there is a likelihood the content will be the same, which poses another bigger problem of making your content unique.
Top AI tools for content generation
The SEO experts listed several types of tools that they use to generate content. They noted the tools cannot provide everything required for higher SEO ranking, but they are useful in boosting your productivity. Here are the top 10 tools mentioned.
Jasper
Article forge
Open.ai
AI Writer
Copy.ai
Rrytr. me
Copysmith
Frase
Writesonic
INK
Hyperwrite
Articoolo
The impact of AI on SEO in 2023
From the answers by the respondents, it looks that the discussion on whether to adopt AI in SEO remains controversial. Specifically, the opinions given for the use of AI in SEO in the future are diverse. The guidelines by Google still stand, but human beings can always trick machines and outsmart them. The writer retains the authority, and as long as he remains smart, AI is not going to replace human intelligence anytime soon.
Conclusion
Every writer admits that creating content takes a lot of time and remains a challenge in SEO development. The future of content creation in the SEO sector is AI. It is noteworthy to say that AI content-creation tools are useful assistants. However, they can never become a replacement for human professionals.
Leave a comment
All comments are moderated. Spammy and bot submitted comments are deleted. Please submit the comments that are helpful to others, and we'll approve your comments. A comment that includes outbound link will only be approved if the content is relevant to the topic, and has some value to our readers.