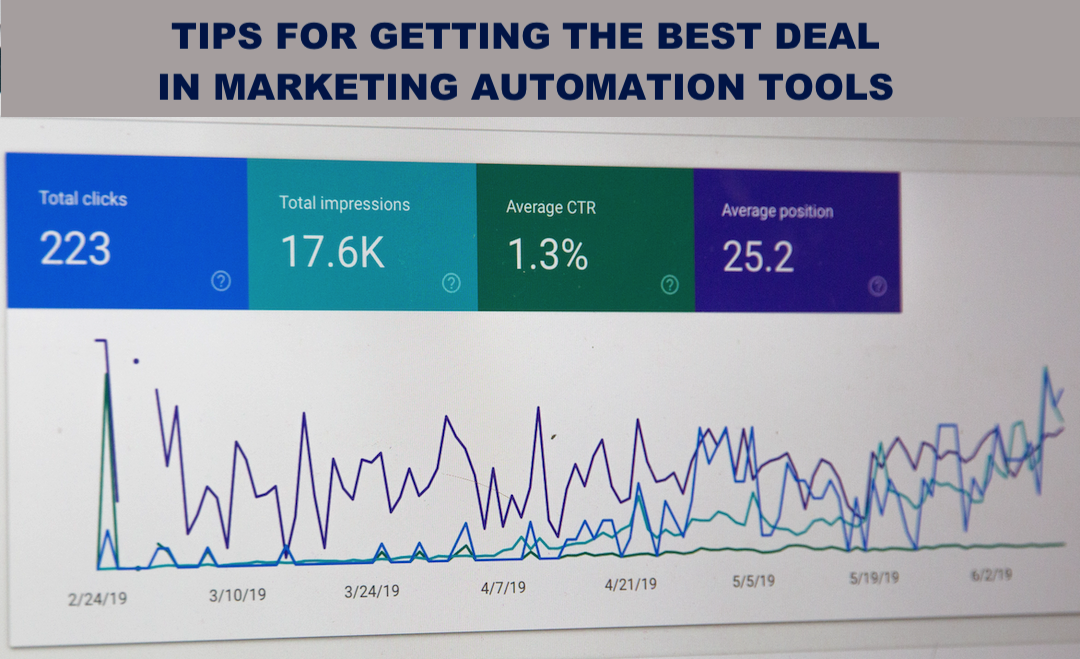 Marketing automation solutions are today deemed essential to a modern-day marketer's tech stack. By leveraging the power of technology, they help automate several repetitive marketing tasks, streamline multiple productivity processes, and moreover offer personalized and orderly customer interactions.
Investing in an automated marketing solution can be a major step in meeting organizational objectives. It yields noticeable benefits such as better lead generation, notable email campaigning, sales process optimization, increased ROI, and spotting true revenue streams. However, with numerous solutions available in the market equipped with unique features and pricing schemes, the process of choosing the best one can be quite overwhelming for users. To help you understand how to get your hands on the best deal for your organization, we've put together these tips on potentially acquiring good marketing automation tools that fit right into your budget.
1. Identify Specific Business Needs
Before splashing money into any software or service, determining precise business requirements plays an important role in selecting an appropriate tool that'll benefit most of what needs to be done. For example, if enhancing social media performance is where there's scope for growth, focusing primarily on bolstering social media campaigns will be more advantageous than implementing an expensive automation suite that handles diverse aspects. Therefore, it becomes imperative to analyze organizational goals concerning all facets of digital marketing before investing recklessly. You can check out Pardot pricing plans to figure out which one will work best for your business.
2. Trial Versions Can Clear Doubts
Most vendors offer trial versions of their software at cost-free rates for users who need services under specific circumstances requiring customizations or simply wishing to test out its features before full deployment. Investing time in testing trial versions saves the wastage of economic resources spent on unsuitable tools by comprehending key functionalities and suitability beforehand efficiently.
3. Pricing Schemes Should Be Scrutinized
One should not only pay attention to upfront costs but also to maintenance charges post-purchase when negotiating a profitable deal during procurement stages carefully – avoiding unforeseen financial obligations post-purchasing while meticulously scrutinizing contracts from vendors can secure optimal value for the money spent. It's equally important to comprehend the difference between costs incurred from a cloud-based software versus an on-premises solution. SaaS services operate on pay-per-use schemes while On-Premises are licensed upfront but usually comprehensive in features, which is more fitting for larger enterprises.
4. Customization Facilities Ensure Productivity
Vendors offering enhanced customization abilities within their marketing automation tool range make managing daily and repetitive tasks quite effortless, thus yielding ample productivity gains. Conversely, low customizability may dilute productivity levels, resulting in the unoptimized use of solutions purchased, leading to a decreased return on investment.
5. Security Features Boost Confidence Levels
While purchasing any software that could hold confidential data, security features should never be overlooked since they ensure concrete organizational data security standards and compliance regulations. Organizations dealing with sensitive client/customer information must comply with cybersecurity norms, and having appropriate safety operations ingrained in the marketing automation suite can avoid threats posed by cybercriminals, saving needless losses or damages.
6. Referral Programs Ease Decision-making
Peer references alone promote a high level of trust in vendors' capabilities; imagine how much more appealing it would be if you got your hands-on great discounts too? Most marketing automation favors subscription renewal policies among users over traditional word-of-mouth advertising – teams could leverage these referral programs to obtain price reductions or other attractive offers during purchase stages, making high-quality tools accessible and affordable even under tight budgets!
7. Negotiations Pave The Way For Discounts & Extras
Holding back while negotiating prices isn't the best move during procurement stages. Always ensure negotiations occur using precisely accurate business requirements/needs for buying the precise parts required rather than universally standard packages offered by vendors as standard fares, giving away certain add-ons, and ensuring value-for-money situations without compromising budgetary constraints.
8. Demos Show the Total Feasibility Of Solutions
Apart from trialing demo versions of available tools, understanding an automated workflow before deployment creates positives toward stakeholders staying flexible while endorsing streamlined workflows. This helps bridge the gap in communication while stating necessary requirements carefully, yields an opportunity for innovative ideas, and ensures the total feasibility of solutions tested.
Closing Thoughts
Marketing automation software is a formidable investment as it helps streamline your business processes via automated workflows, creating visible productivity gains and ROI results. Finding a suitable vendor/provider fitting right into budgets requires a thorough analysis of services or products offered, leading to exceptional value-for-money situations.
While thinking about choosing the correct one, keeping specific factors such as the ability to customize, security features, pricing schemes, peer referrals around potential value-added services proving beneficial, and commitments on maintenance charges must be looked at. Once implemented correctly, management can engage in productive use and identify performance levels, giving way to operational insights for deriving success stories!
Share this post
Leave a comment
All comments are moderated. Spammy and bot submitted comments are deleted. Please submit the comments that are helpful to others, and we'll approve your comments. A comment that includes outbound link will only be approved if the content is relevant to the topic, and has some value to our readers.