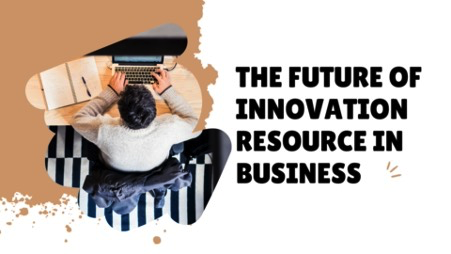 Innovation has led to a 50% increase in the USA's GDP, and this very significantly shows innovation is here to stay. The benefits innovation has shown over the years for every size of business show how important it is for a business to implement innovation.
Innovation itself is an idea or implementation of an idea that leads to new services or goods. Innovation resources can be utilized for many reasons. It can be utilized to help a business stand out among its competitors. Or, it can be utilized to generate solutions that improve customer relationships.
For example, you might see people aging fast and looking for skin products that can slow down the aging process, and when your company becomes aware of this problem, it will search for an innovative solution.
We will discuss the future of innovation resources in this article by shedding light on how innovation has evolved businesses, the benefits of using innovation resources, and other factors that will help us understand the future of innovation.
How Innovation has evolved businesses:
Digital became the new norm
During the COVID pandemic, companies that digitalized themselves came out on top as compared to companies that were not innovative enough. Since 2020, we have seen how brands that entered the e-commerce industry and used innovation resource like innovative coaching, templates, and workshops to turn their business online are still successful even after the pandemic is over.
From technological to service innovation, we've seen how each of them completely transformed traditional businesses, paving the way for a new path that has digitalized not only businesses but also ordinary people's lives.
Hack-at-thon
Have you heard of a hack-a-thon? It's an event hosted by organizations like Facebook to empower innovation, where employees sit down, brainstorm, and share ideas that end up being quite fruitful in terms of high-quality innovative solutions.
Facebook was so impressed with the results of the hack-a-thon that it extended it to 29 days, naming it hack-a-month, in which participants do nothing related to their day-to-day job and instead generate and share ideas that improve Facebook's market performance and credibility.
Automation continues making waves
Over the year, innovation led to automation that changed things for everyone, from businesses to students, by providing quick help and reducing workload. Automation can boost a company's overall performance by reducing the time it takes to complete tasks that previously took hours. The only thing that has increased since the invention of automation is the number of innovative automation ideas.
AI has completely revolutionized customer service and proven to be cost-effective, demonstrating how innovation resources, when used correctly, result in products that are here to stay.
Remote work has changed the Game!
A few years back, remote working was never this normal, but now every company has remote workers that prove to provide the same benefits or sometimes better than in-house workers. Remote jobs have proven to help businesses in many ways, one of them being cost-saving, as remote workers don't require the same benefits as in-house workers.
Benefits of Innovation resources
Innovation resources, including templates, frameworks, workshops, videos, and many more, have proven to benefit the process of innovation. These resources help the process by providing solutions for many different problems.
Innovation resources help analyze the problem. If you are unaware of the root problem, your product might fail. After all, the idea will not work if you don't know what it is providing a solution for. Innovation services can help you state the right problem, which makes the process of product generation successful.
Utilizing innovation resources will help you get past many of the challenges that may arise during the process.
These resources help build and improve focus.
Not every idea will end up a success; figuring out which idea is worth investing in is the most crucial step. Innovation resources like innovative coaching help in choosing the right idea by formatting frameworks and running early experiments.
Sometimes even a full team can be unable to execute a plan to turn ideas into actual results because they lack the right resources. Innovation resources provide a step-by-step guide that simplifies the process.
Besides innovation, businesses have other tasks that cannot be neglected. Innovation resources provide an extra helping hand in this regard and benefit the business in multiple ways.
Innovation coaching provides professional help throughout the process of innovation by


guiding the team
providing the right solution
using the right methodology
Future of innovation resources
The benefits of innovation resources prove one thing for sure: innovation is here to stay. No business can thrive without innovation, as the world faces a problem every single day that needs a solution. Further, businesses need innovative ideas to keep up with this developing world.
As more innovation is required, so is the need for the right innovation resources to increase. Businesses are looking for resources that can help them stay ahead in the innovation race while still allowing them to focus on other parts of their businesses.
According to recent research, climate change and other environmental issues will make innovation a necessity; researchers are already figuring out how to eradicate plastics and replace them with a source that does not harm sea life; customers are in search of cruelty-free products; and amid all of this, businesses will have to utilize innovation resources to meet the demand of consumers.
Beginning of a new chapter for Businesses
It is no longer an option for businesses to manipulate customers, as consumers are becoming more aware with each passing day. The increase in competition has also increased the demand for innovation.
For example, there are already millions of products on the market, and businesses need to use innovation for the production of unique products that don't get lost in a huge market.
Conclusion
Every business has to be innovative to stay ahead of the competition. Businesses can also build a successful brand identity with the help of innovation resources.
Innovation has many benefits, and each benefit proves that it is an absolute necessity. To meet future trends, businesses should use innovative resources.
Leave a comment
All comments are moderated. Spammy and bot submitted comments are deleted. Please submit the comments that are helpful to others, and we'll approve your comments. A comment that includes outbound link will only be approved if the content is relevant to the topic, and has some value to our readers.