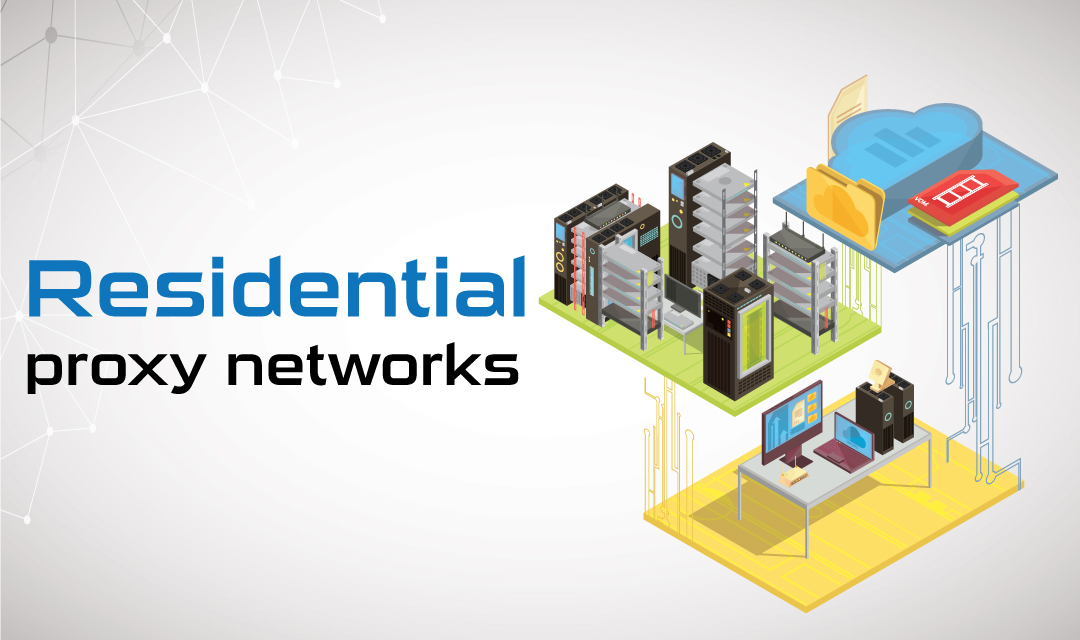 Are you tired of cookies and companies keeping track of your browsing history so they can sell you something? Do you feel like "someone is watching" every time you sign into your computer or mobile device? Have you been blocked by a website or social media platform just for doing your job, looking to see what your competitors are doing? If so, subscribing to a residential proxy network can help you gain anonymity and conduct your market research without attracting a lot of unwanted attention.
What is a residential proxy network?
A residential proxy is a go-between that provides you with an IP address that differs from your home (or office) address, letting you browse the internet anonymously, without leaving a digital trail of your activities. Residential proxies differ from datacenter proxies since the IP address they give belongs to a real mobile device or laptop. These proxies change their IP at regular intervals, which can range from every connection request to 10 minutes or more.
There are a number of reasons why you might opt for residential proxies. First, many people, maybe including you, find collecting information about a person's internet browsing and buying history to be intrusive. In addition, residential proxies let you access websites that are geo-blocked and not available to internet users in your country.
Lastly, residential proxies can be beneficial to your business if you use bots or web scraping to conduct market research and gather information about your competitors. You can get your IP address blocked by a website, network, or social media platform simply by sending too many requests to their server. Proxies don't leave a trail pointing to your identity. In addition, if your activities attract too much attention and your IP address gets blocked by a social media platform or website, you don't have to worry – you'll have a new IP address the next time you search.
Residential proxies can be used from most places around the globe, and they are compatible with most devices, including mobile phones, PCs, laptops, and tablets. Using residential proxies is completely legal. However, providers are quick to point out that a residential proxy will not protect your identity if you commit an online crime.
Residential proxies to consider
There are quite a few free residential proxy services. However, they don't guarantee your safety. These services can share your personal information with third parties and collect data about what you do when you're using them. This is why we recommend using a paid residential proxy network. As with most things, not all residential proxy networks are alike. These are the main providers in the market:
Smartproxy. According to this company's website, they offer access to a pool of over 40 million proxies. They have a variety of plans, at different prices, all of which "come with an unlimited number of connections, threads, and countries at any time". Smartproxy plans start at $75 per month. The company offers 24/7 support and a three-day money-back guarantee. Smartproxy is easy to use and gets plenty of excellent online reviews.
Luminati. Luminati is the largest residential proxy network, with more than 72 million IP addresses. They are inexpensive, though; the lowest-priced subscription plan starts at $500 per month (or $450 per month with a yearly commitment). Clearly, this isn't the company for a small business or home office user. However, if you're willing to let your IP address be put into their pool of IP addresses, you can use the service for free. Luminati offers a seven-day free trial, 24/7 support, and a dedicated proxy manager. Online reviewers note that this service isn't well-suited for small businesses and beginners as it can be somewhat complex to use.
Netnut. This is another network of IP addresses from real people and real addresses. Netnut uses 5 million static IP addresses and is the world's largest provider for this type of IP address. They offer a variety of subscription plans at various price points, starting at $300 per month. Netnut also offers 24/7 support and a seven-day free trial period. Online reviewers note that their service isn't the easiest to use, but is a good choice if you need a large amount of proxy addresses.

Subscribing to a residential proxy network can help you regain some control – and anonymity – in your internet activities. If you've been denied access to a website due to your location, are tired of all of the cookie-based advertising or have been shut out of a website or server simply for doing your job, now's the time to look into a residential proxy network.
Share this post
Leave a comment
All comments are moderated. Spammy and bot submitted comments are deleted. Please submit the comments that are helpful to others, and we'll approve your comments. A comment that includes outbound link will only be approved if the content is relevant to the topic, and has some value to our readers.