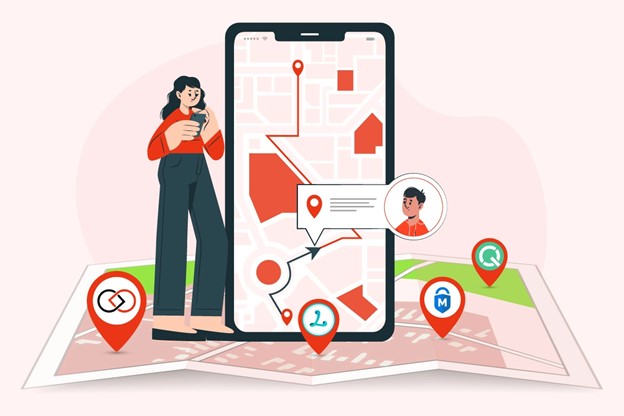 If you decide to go on a hike, your goal is likely to enjoy nature and get some exercise. However, if you accidentally choose the wrong trail and become lost or injured, your experience can quickly become the opposite of what you had intended.
Likewise, if you allow your children unrestricted access to the internet, they may inadvertently encounter inappropriate content or dangerous online predators. This can run counter to your objective of keeping them safe.
As you're likely aware, the internet isn't always a safe environment, particularly for children. While adults can generally discern right from wrong online, children may lack the necessary experience and judgment. As a result, their innocent mistakes can lead to serious problems within the home.
According to a study conducted in 2022 by Pew Research Center, 46% of teenagers who use the internet have experienced some kind of cyberbullying. Along with this, online harassment, exposure to explicit content, and threats pose other significant risks associated with internet use.
What can you do to protect your children from the dangers of the internet? One option is to take away their devices and forbid them from going online. However, this approach is not without its drawbacks. By denying your children the freedom to communicate with their friends and enjoy their favorite games and activities, you may be limiting their growth and development. Ultimately, the question becomes whether the benefits of internet use outweigh the risks and how you can help your children stay safe while online.
Is it possible to protect your children from the harmful aspects of technology by limiting their access to only what they need? It's certainly an appealing idea. However, implementing such a plan can be challenging. Fortunately, there are parental control software and IP location tools available that can help parents achieve this goal
In this article, we'll provide you with an idea for safeguarding your children's online experiences using parental control apps and IP location tools.
Before jumping into the main topic, let's discuss its ground topics first.
What are IP location tools?
There are various tools available that allow you to find the IP address of a website or server. These tools are helpful in determining the geographical location of a given IP address. By performing a traceroute, you may also trace a route of the given IP address from your location.
These tools can be useful for parents who want to track the location of their children's devices and ensure that they are safe online. However, it's important to use these tools responsibly and with respect to privacy laws and regulations.
While IP location tools, child monitoring applications, and GPS phone tracker applications may seem similar, they each function differently
Several popular parental control software options include mSpy, Qustodio, NetNanny, Kaspersky Safe Kids, Norton Family, Fenced.ai, MobileSpy.io, FlexiSpy, and others, all of which offer IP location tools.
Popular parental control Apps with IP location Tools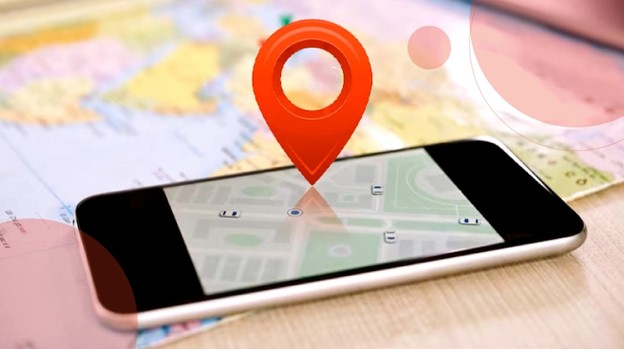 Parental control applications equipped with IP location tools can help protect children from negative experiences such as sadness, frustration, anger, humiliation, and others that may arise online.
Child monitoring software is an effective tool for parents to monitor their children's online activities, track their location, block websites, view browsing history, and limit screen time. However, it's important to use these applications responsibly and consider privacy laws..
Let's go over the popular control apps that offer location-tracking features.
1. Locategy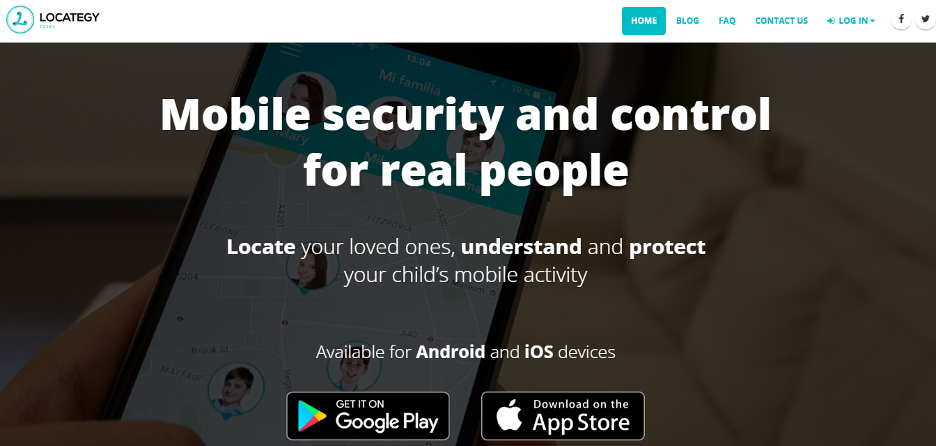 The parental control application, Locategy is a good choice for parents to keep track of their children's location and control their screen time. It offers geofencing capabilities which parents can use to track where their children are.
With Locategy parental control applications, parents can see the previous and current locations of their children.
It is available for both Android and iOS devices. This application offers location alert features that parents can use to receive an automatic alert when their kids reach a defined location (school, home, sports center, etc.).
2. Qustodio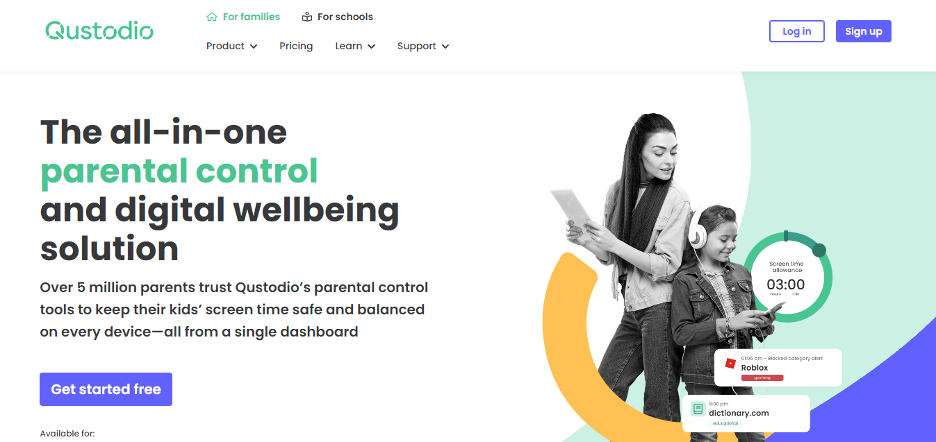 Another popular parental control application that anxious parents can use is Qustodio. It includes features such as content filtering, limiting screen time, and blocking applications.
Importantly, Qustodio Parents App offers a feature called Family Locator. With this, you can know that last know locations of your children's devices. However, to get it to work, location tracking must be enabled.
Once it is enabled, you can remotely monitor your child's internet activities. Though it is a little expensive, it is worth spending. It is compatible with Android and iOS mobile, laptops, tablets, and desktop devices.
3. MobileSpy.io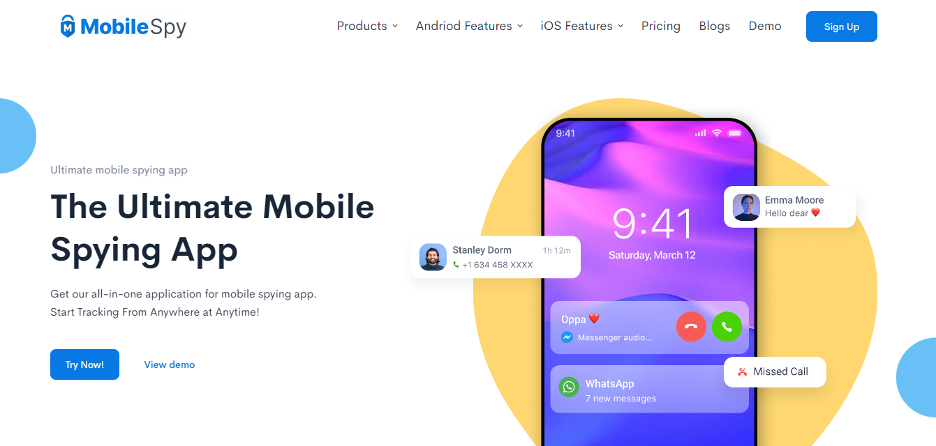 MobileSpy parental control application is not limited to just location tracking; it is filled with numerous features. It monitors every aspect of your child's device usage, from the places they visit the sites they browse, the messages they send, social media texts, and more. With this application, you can remotely monitor everything that you need.
Call tracking, SMS tracking, monitoring website history, and social media monitoring are some of the features that MobileSpy offers.
MobileSpy also offers GPS tracking with a geofence alert feature, allowing you to track the IP location of any mobile phone from anywhere using their tracking software. Additionally, you can take multiple or single screenshots of your child's device with ease.
4. Fenced.ai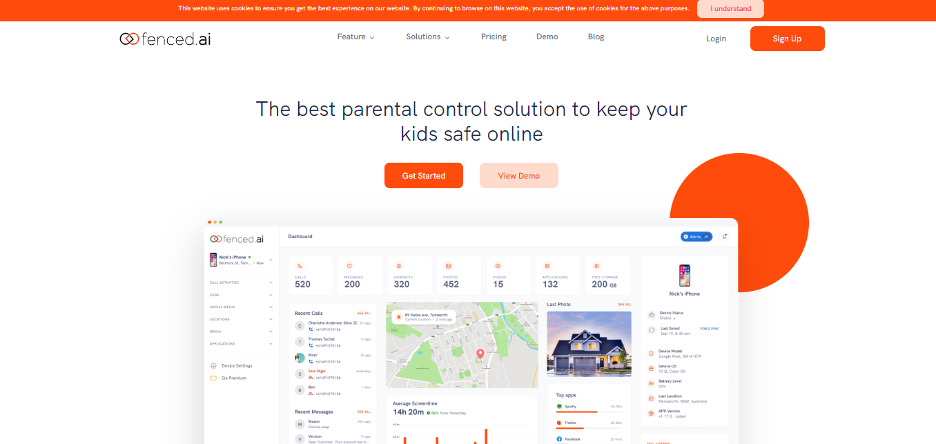 Fenced.ai is one of the best child monitoring applications available, providing you with the ability to monitor GPS location, including details such as longitude, latitude, date, and time. Additionally, you can receive alert notifications when your children enter or leave a particular location, based on this information.
It is a great application that you can use to remotely monitor SMS, calls, photos, internet usage, and social media of the target device.
With a fenced parental control app, GPS monitoring lets you trace the traveling routes and the existing location of your target. With fenced.ai, you can do so remotely and secretly.
To protect your children from getting blackmailed by sex offenders and online predators, use fenced.ai.
How IP location tools can Enhance parental control Apps
Parental control applications without location tracking features are like a ship without a rudder - they lack direction and purpose. IP location tools can greatly enhance parental control apps in a number of ways. By providing real-time GPS tracking, parents can monitor their children's whereabouts and receive alerts when they enter or leave certain areas. This allows parents to ensure their children's safety and well-being and can provide peace of mind for both parents and children.
IP location tools can help to track the device if it is lost or stolen, which can be a valuable asset for parents.
Parental control apps can use IP location tools to track a child's online activity and ensure they are not accessing inappropriate content.
IP location tools can also help parents to monitor their child's online activity in real-time and set restrictions accordingly.
By being able to track a child's online activity, parents can also be alerted if their child is engaging in risky behavior online.
IP location tools can enhance parental control apps by providing them with more accurate and up-to-date information on a child's online activity.
Ultimately, IP location tools can help to make parental control apps more effective in protecting children from inappropriate content and online risks.
Setting up parental controls with IP location Tools
With parental control with IP location tools, they can track their children's online activity and block certain websites or apps they deem inappropriate. Additionally, they can set limits on how much time their children can spend online.
By using IP location tools, parents can have peace of mind knowing they can control what their children are exposed to online. Follow the steps below to set up parental controls with IP location tools.
Choose the parental control application that offers location tracking features and download it. Select the app that is compatible with your device.
Sign up and create an account for the parental control application. Select the subscription plan and get the desired plan.
Make sure to follow the instructions provided by the app to ensure that it is properly installed and set up.
Tips for Safe and Responsible Online Use
Children who fall prey to online threats, cyberbullying, and harassment may feel helpless, sad, scared, isolated, and alone when they have no one to turn to for help
Since children get embarrassed in their school, they may lose interest in going to school, suffer academically, and participate in school activities.
Children can suffer from mental illness, and in the worst case, they may even consider suicide. So, if not taken care of properly, then the Internet can be a risky place to be.
However, by following the simple tips, you can help to keep yourself and others safe when using the internet.
Get the Latest antivirus and farewell software.
Update your internet browser
Change your password time-to-time
Don't click on the spammy link
Be wary of phishing links
Never share your password
Use a different password for different services
Be careful about what you download
Only purchase online from secure sites
Keep your personal information private
Use a secure VPN connection
Conclusion
Parents can utilize GPS location tracking and parental control apps equipped with IP location tools to safeguard their children's online activities. Additionally, these applications enable parents to locate their children when they are away from home..
With the help of the above-mentioned applications, parents can find out the exact location of their children when they go to unknown places, limit screen time and protect kids from potential dangers.
However, parental control applications with IP location tools can be inaccurate sometimes, mainly if the device is using VPN or proxy. That's why test the accuracy of the application to ensure that it provides reliable information.
Further, it is essential to remember that parental control apps are not a substitute for open communication between parents and their children about responsible internet use. By working together, parents and children can ensure that the internet remains a safe and enjoyable place for all.
Share this post
Leave a comment
All comments are moderated. Spammy and bot submitted comments are deleted. Please submit the comments that are helpful to others, and we'll approve your comments. A comment that includes outbound link will only be approved if the content is relevant to the topic, and has some value to our readers.