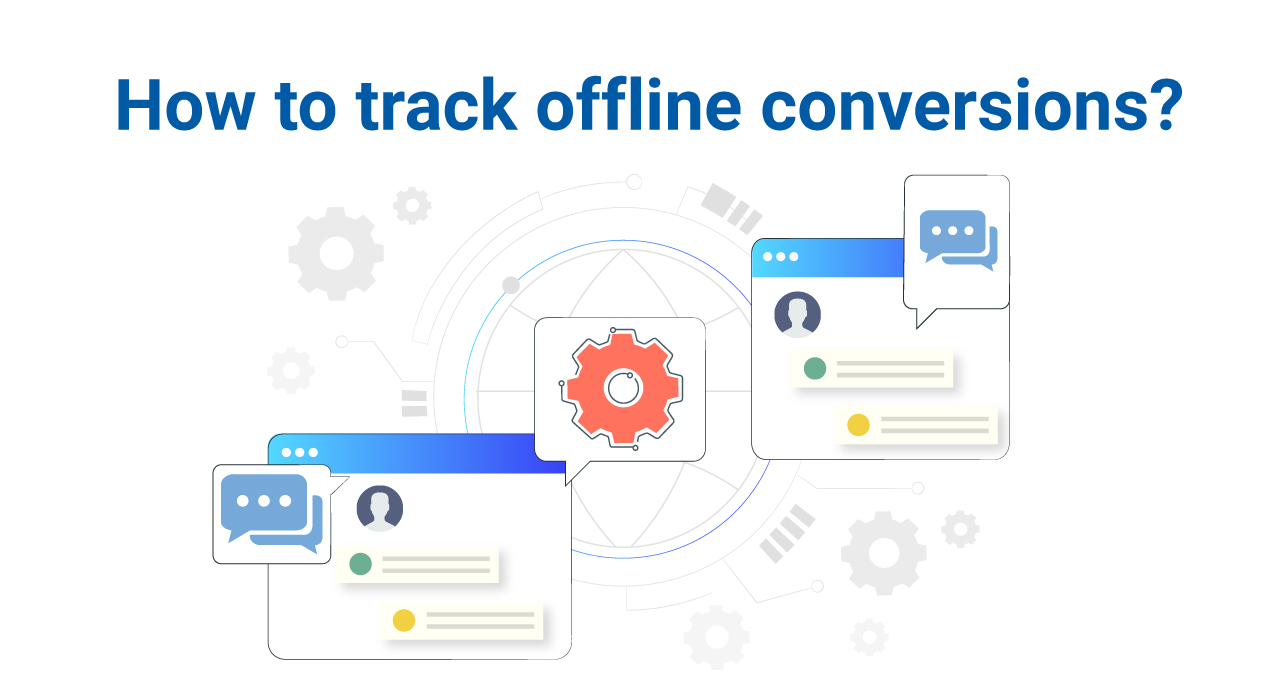 Doing business online doesn't necessarily mean selling products online, but also includes lead generation which leads to sales. Companies that sell mortgages, insurances, and other non-tangible products sell through offline funnels and those offline conversions must be tracked to improve marketing channels. Some offline conversions include tracking phone calls, leads that led to sales, and offline quotes generated from online leads.
Sales that occur through the offline channels cannot be tracked directly, but they are cross-examined with online leads to determine conversions. The process of determining lead quality is critical to a lead generation strategy, and focusing on leads that become orders is the way to improve ROI. How do you know which leads drove sales, and how do you track them? The answer is offline conversion tracking.
What is Google Offline Conversion Tracking?
Google offline conversion tracking is a tool offered through Google Ads that will allow advertisers to import conversion data collected from third-party systems such as CRM, ERP, and Order Management systems into Google Ads. The process works by collecting online leads with the Gclid. The Google Gclid can be auto-tagged if enabled in your Google Ads account. When a user submits a form from a click generated from Google Ads, your website form handler will capture the lead with the Gclid.
Salesreps will use the leads captured in the lead generation process to follow up with the prospects to generate quotations and sales orders. Upon successfully closing a quote, an order is created in the company's CRM or Order Management System. By cross-examining customer data with leads captured in the prior process, we can generate a CSV file with order data and Gclid append to it. You can then import the sales data into Google Ads, and we complete the offline conversion tracking process. Google offline conversion tracking matches Gclid to conversion within the 90-day cycle, and anything beyond this cycle will not be converted. Upon successfully importing offline conversion data, you may opt-in to use Google's smart bidding tool to further optimize your Google Ads.
What is Facebook Offline Conversion Tracking?
Similar to Google, Facebook also provides an offline conversion import tool that will allow you to track offline conversions. Before starting a campaign, you may create an offline event within "Event Manager" and associate it with your ad account. You may upload the offline conversion data into the Event Manager, or use Offline Conversion API to automatically push conversions to Facebook.
What are the benefits of using offline conversion tracking?
The purpose of collecting conversion data is to determine the ads that convert from non-converting ads. By focusing on ads that perform and improving non-performing ads with split testing, your business will continue to improve conversion rates across all channels. By utilizing Google's offline conversion tracking tool, your business will have the ability to analyze the following:
Offline conversion tracking will allow tracking phone calls, quotes, and orders tracing back to online leads generated from Google Ads click. By analyzing clicks to ads, you will have a detailed view of keywords that drove traffic to your website.
You can determine the quality of leads generated from specific ads and ad groups. Knowing the performance of each ad campaign, your business can improve ROI by increasing budget on successful campaigns, and split testing underperforming campaigns for future improvements.
By understanding the performance of each ad, you can examine the audiences and demographics you've used in your ad configuration to better understand your audiences.
How do you set up Google Offline Conversion Tracking?
To use the Google Offline Conversion tool, you'll have to log in to your Google Ads account and configure the following:
Enable auto-tagging on your Google Ads account so that Gclid is auto-tagged to your ads.
Capture leads with Gclid on your website.
Generate CSV file with conversion data with matching gclids. Some CRMs such as Salesforce allow auto importing offline conversion data.
The lead to offline conversion must occur within 90 days for the Google Offline Conversion tool to recognize the conversion.
The import data should include Gclid, Conversion name (i.e. Sale, Quote, or Store Visit), Conversion Time, Conversion Value (optional), and Currency (optional). The conversion name must be configured in your Google Ads, and the data must match the name configured in your Google Ads. Otherwise, the import will fail.
Conclusion
For businesses that use online leads to offline sales, Google Offline Conversion Tracking is an essential tool that can be used to measure offline sales to online ads. By tracking offline conversions, advertisers have a better understanding of their ad performances and use this data to further improve their marketing strategies.
Leave a comment
All comments are moderated. Spammy and bot submitted comments are deleted. Please submit the comments that are helpful to others, and we'll approve your comments. A comment that includes outbound link will only be approved if the content is relevant to the topic, and has some value to our readers.