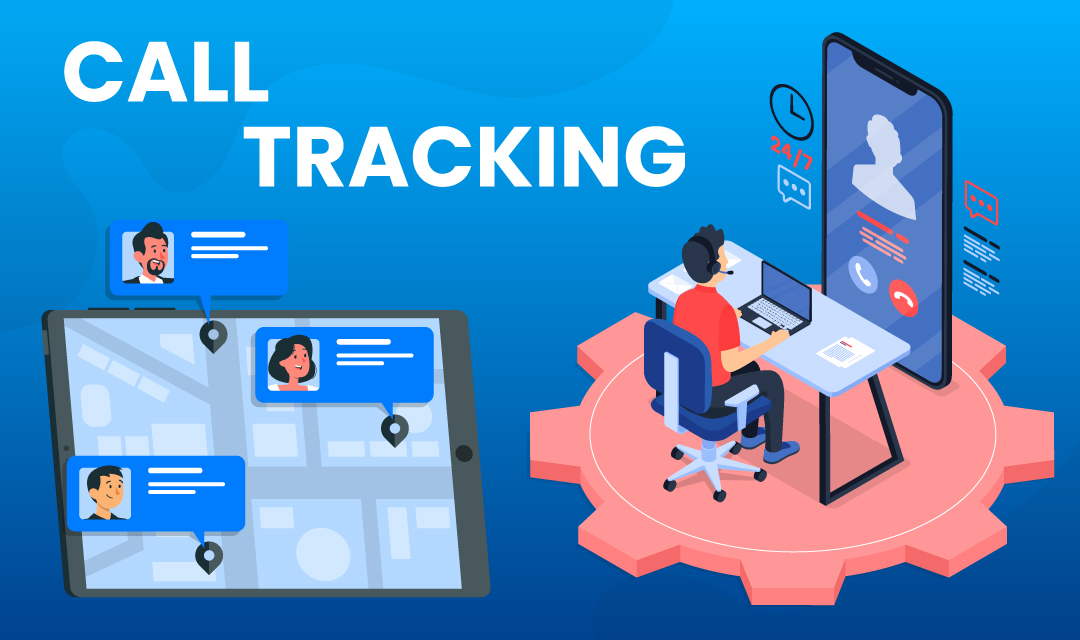 In the traditional method of learning how consumers reach a business, salespeople used to ask "How did you find us?" question. This is a rudimentary way of finding out the source of a phone call, and the collection of each calls to generate a detailed report is hard to come by if there are a large number of sales reps receiving calls.
What is call tracking?
Much like online marketing, telephone leads need to be tracked to determine how consumers found your business and what advertisement channel drove the call. Call tracking is the process of matching a call to the marketing channel that led the call. By measuring the performance of offline phone calls, you can determine the ROI of each marketing channel and improve your future marketing plans.
How does call tracking work?
A call tracking is completed by assigning a vanity phone number to each marketing campaign, and the call is forwarded to the main number. A modern online advertisement leading to phone calls uses dynamic number insertion (DNI) by assigning a unique vanity phone number to a unique Ad source. Similarly, you may assign a static number to a specific campaign such as Google Ads or Facebook Ads and track them vi static call tracking. A consumer finds a phone number from an online advertisement, dials the number, and the call tracking software forwards the call to the main business number. The call tracking software not only count calls to each ad source, but also keep track of demographic data (location of an incoming call), duration of a call, and even record the conversations.
What is a dynamic number insertion (DNI)? DNI is a call tracking feature that ties a unique marketing campaign to a vanity number, and dynamically displaying a phone number corresponding to the source of ad traffic.
What are the benefits of call tracking?
The main driver for tracking calls to marketing campaigns is to improve future marketing plans. By suspending campaigns that don't convert, increasing the budget on campaigns that perform, and also improve future campaigns by analyzing what worked and what didn't. The following are some of the benefits of tracking calls.
Attributing inbound phone calls to ad campaigns to measure ROI of each marketing campaigns.
Analyze which keywords, creatives and channels led to successful campaigns, and improve future marketing strategy.
An ability to capture caller's name, phone number, demographic as well as capability to record conversations and transcribe them for later review.
How do you implement call tracking?
There are several software tools that will help you implement call tracking. Before evaluating call tracking software, you'll need to scope out the features and pick the one that meets your criteria. For example, if your organization heavily utilizes a CRM for managing your clients, a CRM integration may be a must-have feature. Similarly, call recording, keyword tracking, and call analytics may be other features that you may want to evaluate. There are both free and commercial tools that you can pick from, and here is a list of the most popular brands.
Hubspot (free)
Callrail
Vonage
Invoca
CallFire
CloudTalk
ActiveDEMAND
and many more...
Although not really a call tracking software, Google Ads provides a conversion tracking tool on call-only ads and ads with calls.
Conclusion
To gather accurate performance reading of your offline business, call tracking is an important metric you can use to measure your marketing campaigns. By employing call tracking software, you can attribute each vanity phone number to a marketing campaign and track the performance of each ad channel. Learning the ROI of each marketing channel will help you identify shortcomings and improve future marketing campaigns.
Share this post
Leave a comment
All comments are moderated. Spammy and bot submitted comments are deleted. Please submit the comments that are helpful to others, and we'll approve your comments. A comment that includes outbound link will only be approved if the content is relevant to the topic, and has some value to our readers.