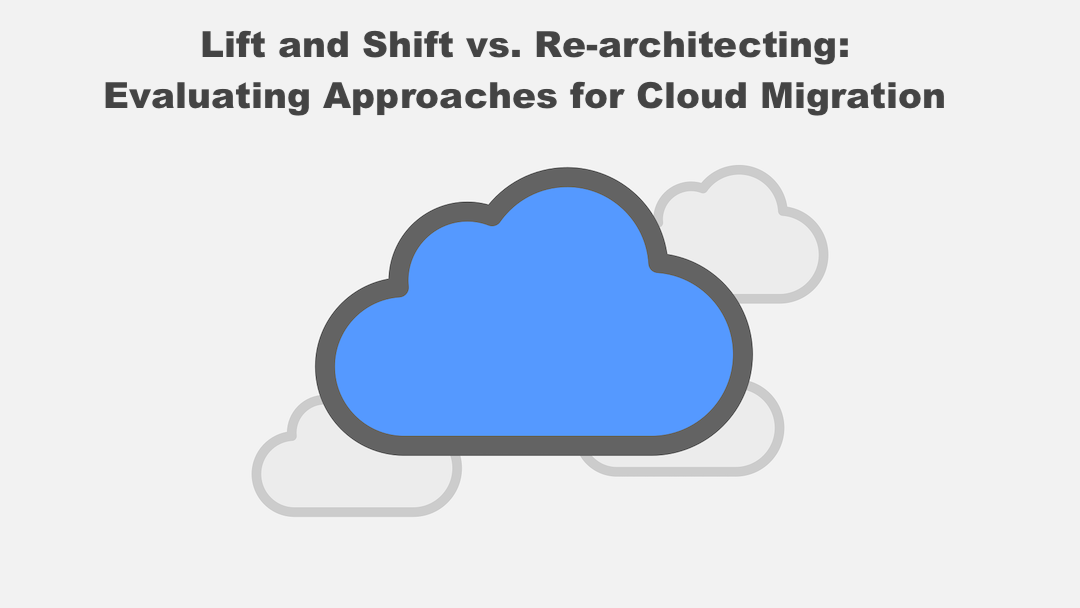 Successful cloud migration can bring significant cost savings and error avoidance to companies that are ready for the move. As you prepare to leap, you must evaluate different approaches for advancing your IT infrastructure into the cloud in a way that best suits your business needs. The two most commonly considered approaches for migrating workloads to the cloud are "lift and shift" or "re-architecting". Lift and shift essentially means moving existing applications with minimal alterations or optimization whereas re-architecting involves altering or replacing applications as part of a longer-term transformation strategy. With each approach offering potential advantages, Learning about them both is key to exploring which type might make sense for your organization's plans and goals while taking all variables into account such as budget, technology stack, timeline, etc... In this post we'll dive deep into these varying strategies; and their effectiveness when executing Cloud Migration Workflows (CMWF) so that you're informed on one of many decisions ahead when plotting outcomes from AWS migrations operations!
Understanding the Basics of Cloud Migration
As more and more companies make the move to cloud computing, understanding the basics of cloud migration is becoming increasingly important. One key aspect of migration is re-architecting, or restructuring applications to better fit a cloud environment. This process involves assessing the existing architecture and identifying which components need to be changed to fully capitalize on the cloud's scalability, elasticity, and other benefits. By mastering the fundamentals of cloud migration, companies can achieve a smooth and successful transition to the cloud, unlocking new opportunities for growth and innovation along the way.
Pros and Cons of Lift and Shift
When it comes to data migration, there are different approaches you can take. One of these approaches is the Lift and Shift method. This method involves moving your applications and data as-is from one environment to another. The main advantage of this approach is that it can be quick and easy to implement, especially if you're moving to a cloud-based environment. However, there are also some drawbacks to consider. For instance, if your existing applications aren't optimized for the new environment, you may not see the expected performance gains. Additionally, you may miss out on important optimizations that could be achieved through a more comprehensive migration process. Ultimately, the decision to use Lift and Shift will depend on your specific needs and constraints. It's important to weigh the pros and cons carefully before making a final decision.
Pros and Cons of Re-architecting
Legacy systems have long been the backbone of many businesses. While these systems have served their purpose, they can become a barrier to growth and innovation. That's where re-architecting comes into play. By modernizing and streamlining legacy systems, businesses can gain flexibility and increase efficiency. However, the process of re-architecting is often complex and costly. It requires significant investments in time and resources and can disrupt daily operations. Despite these challenges, many companies find the benefits of re-architecting to be worth the effort. By carefully evaluating the pros and cons, businesses can make informed decisions about the future of their technology infrastructure.
Which Approach is Best for Your Business Needs
As a business owner, finding the right approach to meet your unique needs can be a daunting task. Whether you are looking to improve processes, boost productivity, or increase revenue, choosing a strategy that aligns with your goals is crucial. With numerous options available, it can be tough to determine which approach is best for your business. One such option to consider is leveraging cloud migration consulting services, especially if you're planning to transition your business operations to the cloud. These experts can help you assess your current infrastructure and guide you through the migration process, ensuring a smooth transition that aligns with your objectives. However, taking a proactive approach and carefully evaluating your options, including cloud migration consulting services, can help you make an informed decision. By investing time and effort into finding the right approach, you can set your business up for success and achieve the results you desire.
Key Considerations When Choosing a Cloud Migration Plan
Moving your data to the cloud can be a big decision, and choosing the right migration plan is crucial. There are several factors to consider, from cost and security to scalability and compliance. Depending on your organization's needs and priorities, different plans might be ideal for you. For instance, a lift-and-shift migration could be the cheapest and quickest solution, but it may not allow for significant optimization of your cloud infrastructure. On the other hand, a re-architecting approach might bring significant long-term benefits, but it can require more resources and careful planning. Ultimately, you want to find a plan that balances your goals with the level of effort and budgets your organization can commit to.
Estimating Cost Savings with Cloud Migration
Cloud migration has been a buzzword for the past few years and for good reason. With cloud migration, organizations can achieve a wide range of benefits, including cost savings. But how do you estimate cost savings with cloud migration? The answer is not straightforward. Different factors come into play, such as the type of workload you're moving, your current infrastructure, the cloud provider you choose, and more. However, with careful planning, you can estimate cost savings accurately. By analyzing your current costs and comparing them to projected cloud costs, you can get a rough idea of how much money you can save. This information is invaluable when making a cost-benefit analysis and determining if cloud migration is the right choice for your organization.
Final Thoughts
Ultimately, cloud migration makes a lot of sense for today's digital businesses. We've discussed the basics of cloud migration and how to break down the two methods – Lift and Shift and Re-architecting – depending on your business needs. By taking the time to consider key criteria such as data privacy, security requirements, technical infrastructure, and cost-effectiveness, you can set yourself up for success. Natural segues are also important when planning your Workflow to avoid any hiccups in the transition process. As you evaluate these sometimes competing factors, weigh each choice carefully every step of the way. With a comprehensive plan and open communication lines between yourself and teams working on the project, it will be possible to save cost effectively with your Cloud Migration strategy!
Leave a comment
All comments are moderated. Spammy and bot submitted comments are deleted. Please submit the comments that are helpful to others, and we'll approve your comments. A comment that includes outbound link will only be approved if the content is relevant to the topic, and has some value to our readers.