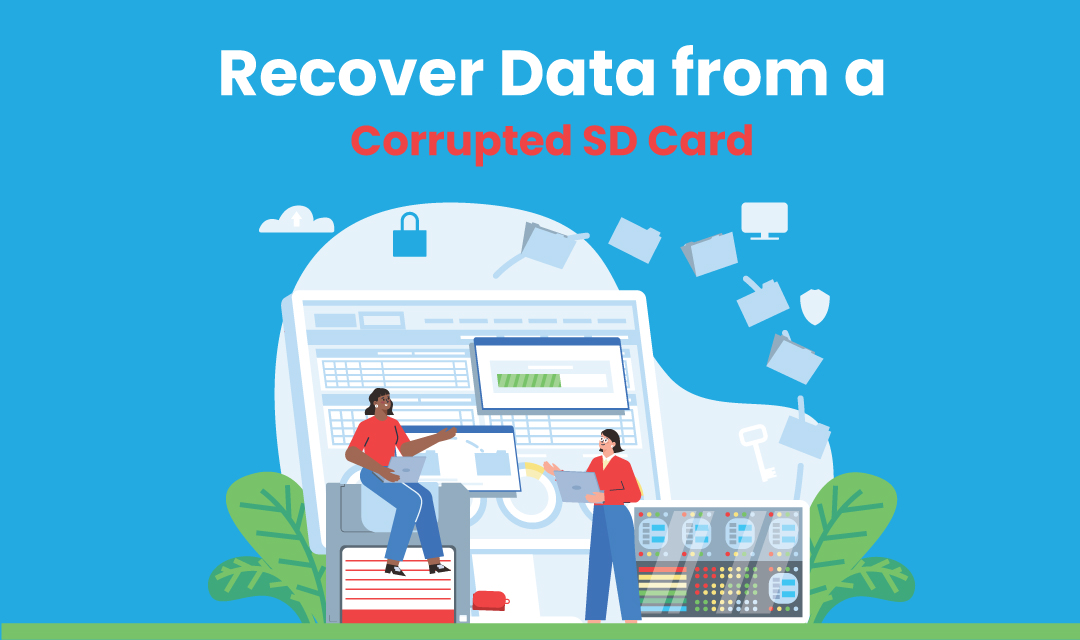 Almost everyone has a smartphone and regularly uses its features to do everyday chores. An SD card is a valuable commodity used with smartphones, digital cameras, dashcams, and almost every digital device we use every day. The SD cards are used to store our favorite pictures, documents, videos, audio, and other important files. However, we often experience technical issues with SD cards and lose all of the data stored in them. A corrupted SD card often creates lots of problems.
It is easy to recover lost data from a corrupted SD card if you know how to do it. There are many data recovery software available in the market that will help you recover lost data from hardware failures. One of the easiest ways to recover data from a corrupted SD card is by using a software tool. Before we discuss software tools, we will thoroughly discuss some of the common reasons why SD cards fail.
SD Card Failures
There are many reasons why an SD card may fail to perform. It may be due to card corruption, bad sectors, or improperly seated cards. Let's discuss why an SD card may fail:
1. Physical Damages
One common reason for SD card failure is physical damage. We unconsciously damage an SD card while inserting or removing it from the devices. We often insert an SD card upside-down, or in the wrong direction and it could potentially damage the physical media and cause media failure.
2. File System Corruption
Another common reason for a failed SD card is file system corruption. The filesystem corruption can be repaired by reformatting the media, but it will destroy data stored in its media. For this reason, the media must be repaired with a software tool instead of wiping out the corrupted file system.
3. Improperly inserted SD cards
We often insert the SD card improperly, and the device cannot read the data. This type of issue can be remedied by re-inserting or reseating the SD card securely into the smart device.
4. Virus or Malware Infections
Many SD card users often infected with viruses and malware and often lead to SD card failures. These viruses and malware infections bring unnecessary damage to the SD card in some cases. It often creates the problem of having to recover deleted files from pc.
5. Interruption while SD Card Formatting
Another but rare reason for the SD card failure is interruption while formatting an SD card. The SD cards are most often delivered with formatted media, but oftentimes users decide to format the media at will, and interruption during the formatting will cause media failure.
6. Accumulating Bad Sectors in SD Card
As with any hardware media, SD cards also accumulate bad sectors over time. Excessive accumulation of bad sectors will cause SD card corruption and will cause media failures over time.
Corrupted SD Card can be recovered with a software tool
More often than not corrupted SD cards can be recovered with a help of a software tool such as the Wondershare Recoverit. The software tool allows you to easily recover all of your data, documents, pictures, videos, and other important files back to their original form. This software will not only recover files safely and securely but also repair the SD card to be used again. There are some of the steps that you will have to carry out to bring your lost data from your corrupted SD card. Here are some essential steps that need to be performed.
1. Select Your Corrupted SD Card
To recover your all data with the help of Recoverit, you will have to select your corrupted SD card so that the app can start its processes to bring all the things back to your smartphone or computer.
2. Scanning The Corrupted SD Card
After selecting the corrupted SD card, the software tool will scan the corrupted SD card. By doing this, Recoverit will automatically scan all the data that you have stored on your SD card.
3. Preview And Recover Data From SD Card
Lastly, the software lets you preview and recover the lost data from the SD card. The software does all the groundwork to bring back your data upon completing the recovery steps.
Closing Words
We depend on SD card storage for storing important everyday data, and losing them due to SD card failure is very frustrating. By using a software tool like Recoverit, you can restore the corrupted SD card and bring back those lost files. It is also a best practice to make a backup of your files from every media regularly to protect from unforeseen hardware failures.
Share this post
Leave a comment
All comments are moderated. Spammy and bot submitted comments are deleted. Please submit the comments that are helpful to others, and we'll approve your comments. A comment that includes outbound link will only be approved if the content is relevant to the topic, and has some value to our readers.