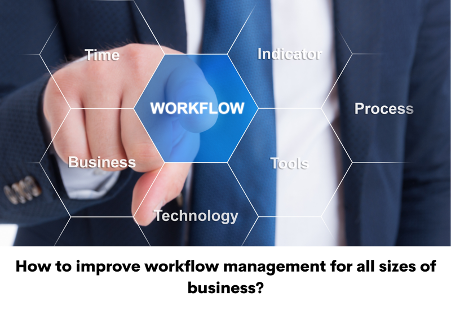 Whether small or large, any business must prioritize workflow management. Better control over any number and size of workflows will directly contribute to a company's success. The benefits will certainly justify the time and resources invested. Improving and adapting your workflow management keeps you updated on resourceful strategies to implement. In this article, we'll explore essential strategies and tools to help you improve workflow management in your business.
Understanding Workflow Management Software
Effective workflow management is a determinant of any business's success. It boosts companies' productivity and enhances customer satisfaction. However, no one has the time and resources to manually manage workflows as it can be tedious and less rewarding. This is where the help of workflow management software will be helpful.
Workflow management software is a powerful tool that helps businesses manage any number of workflows. It helps them automate and manage any task or project in the intended workflow. It will serve as a centralized platform for any workflows and will make sure they are efficiently done on time.
Benefits of Using Automated Workflow Software
Automated workflow software, also known as workflow management software, offers numerous benefits to its users. These benefits are:
Reduced errors: Working alongside automated software will help you minimize errors by reducing the need for manual management. There will be an increase in accuracy and quality since the automated system will be less prone to errors.
Better workflow: The software helps streamline the process taken through the tasks and manage them. On-time completion and quality product delivery will prevent any delays.
Improved collaboration: Working on this automation platform will allow any entities of a workflow to collaborate effectively. This will increase productivity and better communication as it serves as a centralized platform.
Enhanced customer satisfaction: With your workflows managed through automation workflow software, customer satisfaction will increase. Tasks will be completed efficiently and on time which guarantees a better customer experience.
Types of Workflow management platforms
You will find many variants of workflow management platforms for different business purposes and criteria. Many of them are easily accessible and simple to use. The common types of workflow management platforms available are:
Cloud-based: This type of automation workflow software is characterized by being hosted on the cloud and accessed from anywhere. They are preferred due to their scalable, flexible, and easy integration features.
On-premise: This type of workflow management service automation platform is installed on a company's workspace. They are internally managed which gives them better security and control. It has its drawback with the necessity of large resources needed for maintenance.
Industry-specific: This software is specifically designed for a certain field and can work only for it. The features included in this software target the specific industry and provide better functionality.
How to Pick the Best Workflow Management Platform
Now that you have a better understanding of what automated workflow software is and its benefits. With many platforms claiming they're the best for you to invest your time and resources, it might be hard to navigate through. You should know the determinant factors that make the software the best and make your decision. These factors are:
Business size: The size of a company is a major determinant factor. You should pick software that caters to your business size and number of employees. Choose software that is adaptable to your business.
Industry: There is software that is specific to certain fields and businesses. Make sure to look for software that brings industry-specific features and functionality to your business.
Budget: Working with software shouldn't be expensive. It needs to be budget-friendly as you want to reduce the time and resources exhausted by manual management.
Workflow-targeted: This might not sound as crucial as the rest but is an important factor. There might be specific workflows and tasks that need better management. If so, look for software that helps you in these fields.
Best Features to Look for in a Workflow Management Platform
The software you decided to integrate with your workspace and company needs to have features that make investing in them worthwhile. Of these features and functionalities to look for:
Automated workflow: Among the many features a workflow management software can have, automated workflow is a major one. A workflow management platform needs to be automated to help businesses save time and resources wasted through manual management. When the software is automated, businesses can expect an efficient streamlined process that is done on time with high quality.
Customized digital form software: The management software should come with customizable forms that allow easy integration. It helps in categorizing workflows to be created that meet specific needs. This will also lead to information collection in an efficient way by companies.
Reporting and analytics: Having reporting and analytics in software helps businesses know their strengths and weaknesses. This will prompt them to improve on their lacking areas and enhance their strengths. With better knowledge of the tasks and resources, impactful and informed decisions can be implemented.
Integration with other platforms: The workflow management platform you picked should be easy to integrate with other tools. Easy integration will help better communicate with many tools and software to better productivity of a company. It will also help move further away from manual management by reducing the process done with different tools and software.
Easy accessibility: The software should be easy to access from anywhere at any time. Mostly, cloud-based software is the one with this feature. Remote businesses should opt for software that works efficiently as expected regarding location.
Tips on Improving Workflow Management with Workflow Management Software
As mentioned repeatedly above, workflow management tools help in the management of any size business. They can help you better productivity, increase the efficiency of workflows, improve customer satisfaction, and streamline processes. Alongside the many strategies you will find to improve your workflow management, implement the following tips:
Automate repetitive tasks: By automating repetitive tasks, you can save time and effort by reducing tiresome tasks. This will increase efficiency and reduce errors. Automation is recommended for tasks and workflow that are tedious to do manually such as data entry.
Track progress: Through the record and analysis feature of the software, you should track the progress of a workflow. You can see which tasks are taking too much time, areas in need of improvisation, and many more. It can also provide valuable insight regarding everything.
Better collaboration: Enhanced collaboration between tools and employees will bring more profit and success to your company. This will create better communication which is vital for a streamlined process.
Enhance user experience: You should have customer satisfaction at the center of your goals to be achieved. Timely responses and quick issue resolution are among a few things that can be done for enhancing user experience.
Conclusion
Better workflow management is a crucial part that needs to be addressed to achieve success. To do this, working alongside a workflow management tool will reduce any hassle caused by manual management. To reap the benefits of working with automated workflow software, you should know what factors to focus on. Implementing the above-mentioned tips will be one guarantee to improve workflow management for all-size businesses.
Share this post
Leave a comment
All comments are moderated. Spammy and bot submitted comments are deleted. Please submit the comments that are helpful to others, and we'll approve your comments. A comment that includes outbound link will only be approved if the content is relevant to the topic, and has some value to our readers.