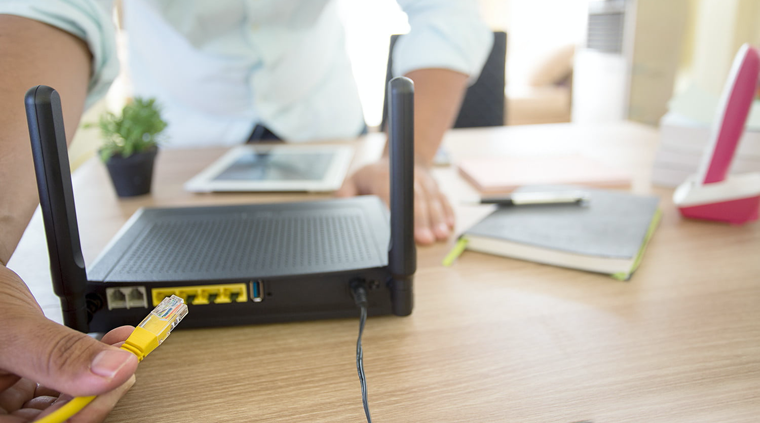 What is one of the first things we look for in a new place, what we need every day? Wi-Fi. We do so many things online: keep in touch with our friends and relatives, watch movies and even work. So any Wi-Fi problems may cause inconveniences, and the sooner you fix them, the better.
Howly experts know how to solve any tech problems and have shared with us several simple solutions to the Wi-Fi connection problems you may likely encounter. The cause of Wi-Fi problems can be a misconfiguration in router settings, driver issues, or interferences.
Make sure your Wi-Fi is on
Before you begin any troubleshooting, check if your Wi-Fi is turned on. You can check it in the status bar of your device. On some devices, the network switch is so small that you may not notice that it is not activated. Therefore, you may need to update your Wi-Fi network settings and reconnect to your network.
Turn your router off and on again
As simple as it sounds, many problems can be fixed with a simple reboot of the router. You can first try to do this on the device from which you are trying to access the web. However, in case the problems with the connection don't disappear, you should reboot the router and rejoin your Wi-Fi network.
Just like on a computer, you can fix the Wi-Fi issues on your router by rebooting it. It is suggested to wait at least 10 seconds after reboot before turning the router on again. You also need to check if all cables are firmly inserted and the system settings of the router. If necessary, reset and reconfigure the settings of the router.
Forget your Wi-Fi network
If you can't join the Wi-Fi network you need or you get an error when you enter your password even though it's correct, try forgetting your network and then reconnecting to it.
You can reconnect to your network by following these steps on Windows:
In Settings, go to "Wi-Fi network" and choose "Wi-Fi".
Select "Forget this network". A window will pop up asking you to confirm your action.
Go back to Settings and choose "Wi-Fi".
Select your network. You will connect to it after entering your password.
A MAC and Linux machines will have a similar interface in the Wi-Fi network settings.
Reset router settings
In many cases, your Wi-Fi won't work because of an issue in router settings. You will need to reset them to fix your Wi-Fi connection.
Most routers have a tiny reset button located on the rear or bottom of the router. You may use a pin to push the reset button for 20~30 seconds, and most routers will reset to factory default. Be careful when using this feature because the hard reset will forget all the settings of the router, including the network data and your Internet provider settings.
If you can't find a reset button, you may use the admin panel to soft reset the router.
Type in the address of the router in the address bar of the browser. The web address differs by vendor, but the most common address is http://192.168.0.1 or http://192.168.1.1.
You'll need a username and password to enter the router's admin panel, and it may be located on a sticker affixed to the router. If not, you'll have to look at the manual or search Google for the default username and password pair of the branded router. You can change your username and password to prevent unauthorized access to your home network.
Locate the "Reset to factory settings" in the menu, and click on it. It may take up to a minute to reset and reboot the router.
Fix driver issues
It may happen that your drivers get corrupted by a third-party program or improper installation. In this case, you will need to go to your router manufacturer's page and download the drivers again. The easiest way to find out which device you are using is in Device Manager:
Enter "Device Manager" in the search window and open the program.
You will find your WLAN router in the "Network adapters" list.
You will also see new drivers if you right-click on the adapter and select "Update Drivers..." from the dropdown menu.
Check Wi-Fi Range
Wi-Fi problems often arise due to the small radius of the signal or reinforced concrete walls in new buildings, which strongly shield the signal of the router. Thus, it becomes so weak that it cannot pass through two or more walls. To fix this problem, you can either install a WLAN repeater or move the router to another location. The preferable place for the router is in the center of the home and on some kind of elevation. It shouldn't be placed under a table or cabinet.
Avoid Interference
Your Wi-Fi network may be blocked by sources of interference from various electrical appliances. In this case, you must turn them off or, better yet, place them somewhere else. In large residential buildings, interference with a Wi-Fi network can even occur due to too many users using the same Internet channel. In this case, you adapt router settings to switch to another channel. Additionally, changing the frequency from 2.4 GHz to 5 GHz (or vice versa) may eliminate interference, provided that the router and the equipment you are using are compatible and support both bands.
Check your MAC security mechanism
If your Wi-Fi password is correct and your hardware is compatible, but the connection still isn't working, it's probably because of a MAC filter. But what exactly is this?
The MAC address is 48 bits long and is assigned to each network adapter. So, to further upgrade your network security, you need to allow the router to connect devices only with certain MAC addresses. If you have a new device and the MAC filter is active, then the connection will fail. You can fix the problem simply by disabling the filter or by entering a new MAC address in the allowed list.
Conclusion
We use the Internet for many leisure and work tasks every day. Therefore, we need a stable connection to effectively perform our tasks. However, you may encounter Wi-Fi problems that will make you lose a connection to the network. The steps described above are some simple solutions you can try yourself to fix your Wi-Fi connection.
Leave a comment
All comments are moderated. Spammy and bot submitted comments are deleted. Please submit the comments that are helpful to others, and we'll approve your comments. A comment that includes outbound link will only be approved if the content is relevant to the topic, and has some value to our readers.