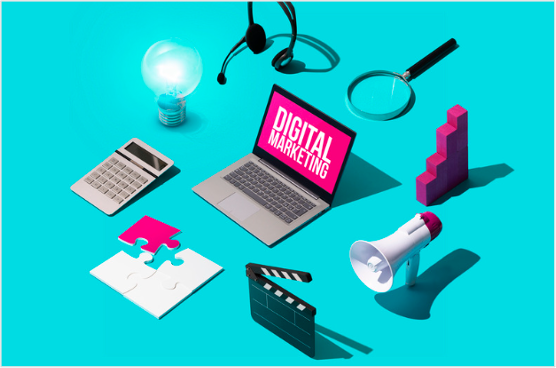 Having a digital marketing strategy is essential for any business that wants to succeed in today's digital world. A well-planned digital marketing strategy allows you to reach your target audience through various digital channels such as social media, search engines, email, etc. This increases your chances of converting leads into customers.
Digital marketing is also a cost-effective way to promote your business as compared to traditional marketing methods. You can reach a larger audience with a smaller budget. That's why we should carry out a digital marketing strategy for our business.
What is a digital marketing strategy
A digital marketing strategy is a plan of action that outlines how a business or organization will use digital channels, such as social media, email, search engines, and websites, to achieve its marketing goals.
The main goal of a digital marketing strategy is to increase brand awareness, generate leads, drive traffic, and ultimately increase revenue for the business.
How to develop a digital marketing strategy
To create different marketing plan strategies, I always recommend going to a professional or having previous knowledge to work in different areas. I will now explain each of the following points in detail.
1. Define your objectives
When setting an objective for your business, whether it's increasing sales, generating more web traffic, or getting more subscribers for your newsletter, it must be SMART:
Specific: Your objective must be clear and concise, establishing what you want to achieve. For example, a specific objective could be to increase sales by 10% in the next eight months for your young fashion e-commerce.
Measurable: You must have a tool or method to analyze the progress of your objective. This is the only way to know if you're on the right track or not. For instance, to increase website traffic, you could use tools like Google Analytics, SEMrush, or AHREF to evaluate different metrics.
Achievable: Set a realistic goal for your situation. Creating false expectations will only lead to frustration and may cause you to abandon the project.
Relevant: You must ask yourself if achieving that objective is worth it and if it will help your company's growth. Your time and resources are limited, and you can only afford to spend them on something that will benefit your business.
Time-bound: Specify a deadline to achieve your objective. This way, you'll avoid postponing it and forgetting about it.
2. Know and analyze your target audience
When considering any online or offline marketing strategy, you must always be clear about the type of audience you're targeting. This section will determine the rest of the steps you'll take later, such as the type of media you choose, how you'll communicate, and how to attract clients.
Knowing your target audience or buyer persona well will make your actions more impactful. If you offer products or services, you may need to create several ideal clients, as different customer profiles may require different approaches.
3. Make your value proposition clear
You have to leave the description of your product or service embodied in a document in a way that makes it clear how what you sell helps to solve the problems of others or to satisfy their needs.
It is a good method to clarify the benefits and weaknesses of what you offer to apply a successful offer in relation to your competition. In the value proposition, you must consider the target audience you have established in the previous step.
4. Investigate your direct and indirect competition
A responsibility of a digital marketing professional is also to analyze what actions and tactics your competitors are already using. It is an effective way to gather information and gather ideas to adapt them to your business model later.
It is important to identify those points that are being carried out but also to point out those actions that are not being carried out and that you could implement. What is relevant at this point is to improve the actions and adapt them, if possible, never copy since it may be effective for your competitor but not for you.
5. Identify what type of tools you will need
Depending on the objectives you want to achieve, it will be important to consider what type of resources you have available to take advantage of them. You also have to discover what tools you would need to acquire in order to carry out a good strategy. If you are going to implement the video marketing strategies, make sure you have chosen the right video editor.
Another valuable point to consider is to know the limits of your business well, either at an economic level, in order to have the tools or the personnel that can manage them.
6. Prepare a report on your current internet presence
If you already have an online presence, it's important to create a document detailing the impact you currently have on your digital media so you can compare it with that of your competitors. By analyzing this section, you will be able to identify opportunities or trends within your sector. This report will help you clearly understand your current situation on the Internet. Once you have prepared it, I recommend that you carry out a SWOT analysis, so you can identify the following:
Strengths of your company
Weaknesses of your business
Opportunities that you can identify in the market
Industry threats
SWOT analysis of a social media plan
7. Select your channels
Once you have completed all the previous steps, it will be easier to identify the appropriate digital media to start implementing your marketing strategy. These channels may include social networks, your website's blog, a landing page, newsletters, podcasts, etc. For example, If you want to choose Facebook, then create a Facebook business page for your business. Add your brand name, upload a profile and cover photo, and define your bio.
8. Analyze, research, and create your content
Depending on the medium you have chosen to impact your audience, conducting research on your competition and performing an internal audit will help you overcome writer's block and allow you to determine what content is appropriate for your audience.
Here, you will discover what type of consumer information is attractive and interesting to your target audience, allowing you to capture their attention and introduce them into your sales funnel. Remember that the content must be tailored to the chosen medium and personalized for the buyer personas created.
9. Plan the content
Create a calendar that outlines how much and what type of content you will publish, depending on the time of year. It's important to identify key dates throughout the year that you can leverage for your strategy. For example, if you have an online electronics store, dates like Black Friday and Cyber Monday may be of interest to you. Taking this information into account, you will be able to better organize your content based on the time of year.
10. Measure your evolution
By creating the SMART objective, you will be able to identify which aspects you must improve or correct to successfully reach the goal.
If you have an 8-month goal, for example, you create mini-monthly goals and analyze them month by month. In this way, if you do not reach your proposed goal, it indicates that your strategy has to be reviewed and identify which points need to be reviewed. Thanks to their metrics or KPIs, the professional tools you have chosen will help you measure your project's evolution.
Conclusion
This article provides a step-by-step guide to creating a digital marketing strategy for businesses of all sizes. It emphasizes the importance of conducting research and analysis before developing a plan, as well as setting SMART goals and identifying target audiences. The guide also covers various digital marketing channels and how to measure success through data analysis. If you like the post, please share it with your friends.
Share this post
Leave a comment
All comments are moderated. Spammy and bot submitted comments are deleted. Please submit the comments that are helpful to others, and we'll approve your comments. A comment that includes outbound link will only be approved if the content is relevant to the topic, and has some value to our readers.