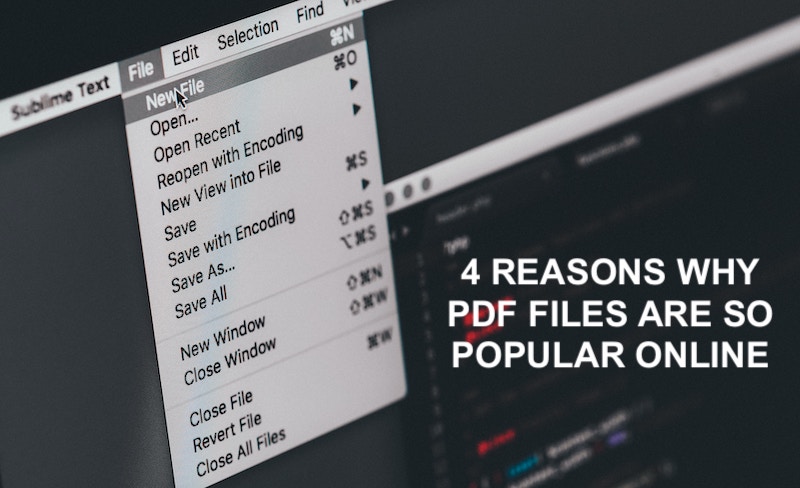 Portable Document Format (PDF) files have become increasingly popular over the years. Introduced by Adobe Systems in the early 90s, this file format has become a standard for sharing documents online.
PDFs are widely used because they are easy to create, view, and share on any device without complex software. They can contain text, images, or even interactive elements like forms and hyperlinks.
Here are four reasons PDF files are so popular online and four tips for working with them effectively.
Reasons Why PDFs are Popular Online
1. Universality
PDF files are globally accepted. That means you can open them on any device with a PDF reader, from smartphones and tablets to desktop computers and laptops.
Regardless of the gadget you use to open PDF files, they retain their quality and formatting. That is why they are an ideal option for documents that need to be shared with a broad audience, such as contracts, reports, and manuals.
2. Security
PDF files offer various security features, protecting your documents against unauthorized access, printing, or copying. For instance, you can add a password to a PDF file to prevent others from opening it without permission.
In addition, you can also protect your PDF documents by encryption. This security feature allows you to convert the contents of your files into a coded format, which can only be decoded with a specific key.
3. Compact Size
PDF files are usually smaller in size compared to other file formats, making them ideal for sharing and storing. That is particularly beneficial when dealing with large documents, as it makes it quicker to upload and download them.
In addition, if you have huge PDF files, you can further compress them while keeping their readability and quality.
4. Easy to Create and Edit
Creating and editing PDF files is a breeze, thanks to the vast array of online software options. Using the software, you can convert other file formats to PDF, merge multiple documents into a single file, add annotations, and even create interactive forms. The versatility and user-friendliness of PDF editing tools contribute to their widespread popularity.
Tips for Working with PDF Files
1. Convert Other File Types to PDF
Preserving the appearance and formatting of your documents when sharing them with others is vital. To achieve this, consider converting your files from multiple formats, such as Word, Excel, or PowerPoint, into PDF files. Fortunately, various tools are available to help you do this for free.
For example, to convert an Excel spreadsheet to a PDF for free, a tool like PDF Simpli can help. This can be necessary if you share vital documents, such as financial reports or a budget spreadsheet, with others.
2. Compress Your Files for Easier Sharing
PDF files can sometimes be quite large, especially when they contain images or complex formatting. As a result, it can become complicated when sharing them via email or other platforms with file size limitations.
Fortunately, you can tackle the challenges of large PDF files by compressing them using online PDF compressors. These tools help reduce the file size without compromising the overall quality of the document.
3. Merge and Organize Your PDF Files
When working with multiple PDF files, it's essential to keep them organized and easily accessible. One way to do this is by merging related PDFs into a single file.
Numerous online and offline tools, including Adobe Acrobat Pro, allows you to combine multiple files into one. Additionally, you can use these tools to rearrange or delete pages within a PDF file, making it easier to navigate through your documents.
4. Use a PDF Reader with Advanced Features
While basic PDF readers can get the job done, an advanced PDF reader can significantly enhance your experience. These readers offer a range of features, including annotation, highlighting, digital signatures, and form filling. Some popular advanced PDF readers include Adobe Acrobat Reader DC, Foxit Reader, and Nitro Reader.
Conclusion
PDF is a widely used file format for creating and sharing documents for professional and business purposes. It offers compatibility across devices, operating systems, and software, password protection and encryption for security, maintains the original formatting of the document, and can be optimized for the web to reduce file size. PDFs can also be made searchable, allowing users to easily find specific information within a document. PDFs provide a reliable and secure way to share documents while maintaining their original formatting, making them a popular choice for professional and business use.
Leave a comment
All comments are moderated. Spammy and bot submitted comments are deleted. Please submit the comments that are helpful to others, and we'll approve your comments. A comment that includes outbound link will only be approved if the content is relevant to the topic, and has some value to our readers.