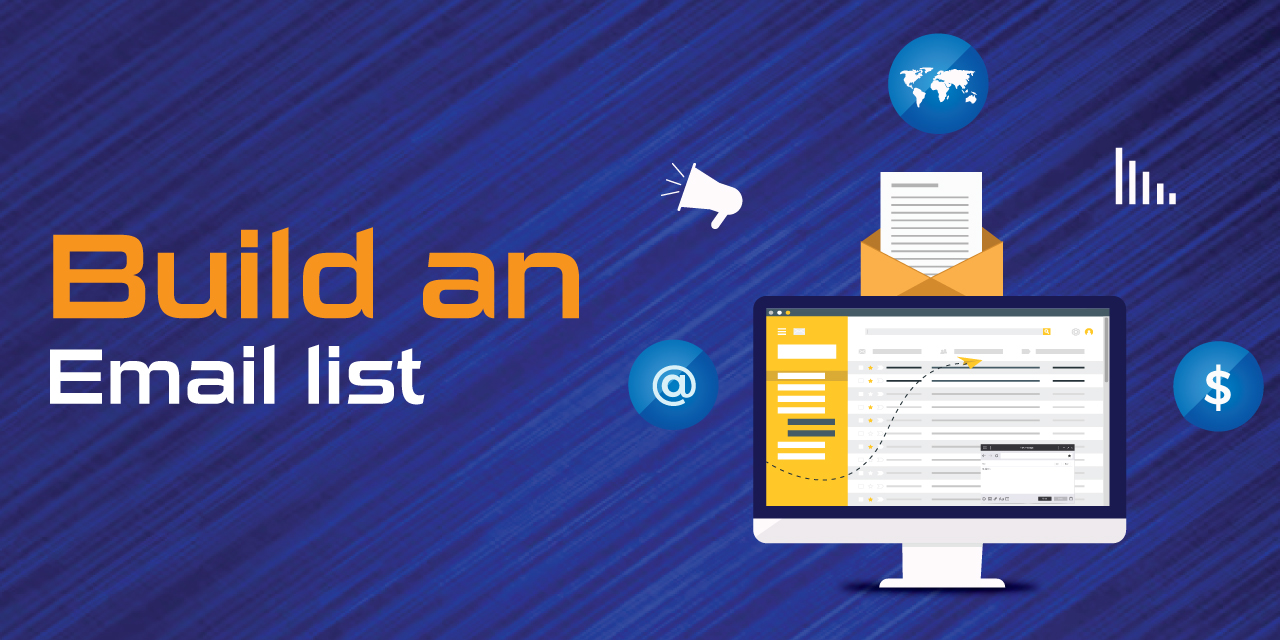 Email marketing provides a direct and cost-effective means of communication with your audience, builds brand awareness, and allows you to send personalized messages to your users. It enables you to provide valuable content to your users for engagement and relationship building, leading to customer loyalty and increased sales. With measurable results and data-driven insights, email marketing allows you to optimize campaigns and automate processes for scalability.
Email marketing begins with building a mailing list, and this article provides valuable insight into how you can build your email list effectively. Email list is a powerful tool for businesses to drive growth, revenue, and long-term customer relationships.
What is an email list?
An email list refers to a collection of email addresses belonging to individuals who have willingly opted in to receive communications from a particular business. It is a valuable asset for email marketing campaigns as it represents a group of people who have expressed interest in receiving updates, promotions, or other content via email.
An email list can vary in size and composition, ranging from a small group of a few dozen subscribers to a large database of thousands or even millions of email addresses. It serves as a direct channel of communication, allowing businesses and individuals to reach their subscribers directly in their email boxes.
Email lists are typically built by encouraging website visitors, customers, or interested individuals to provide their email addresses through opt-in forms, subscription forms, lead magnets, or other signup forms. Once someone joins an email list, they become part of the recipient group for future email campaigns, newsletters, product updates, or other types of communication sent by the business.
Email lists are managed using email marketing software, SaaS providers, or customer relationship management (CRM) platforms, which allow list owners to organize and segment their subscribers, create and send targeted email campaigns, and track metrics such as open rates, click-through rates, and conversions.
Having a well-maintained and engaged email list is essential for effective email marketing, as it enables businesses and individuals to deliver personalized and relevant content to a receptive audience, build relationships, drive engagement, and ultimately achieve their marketing goals. The average ROI for email marketing is $36 for every $1 spent, while PPC advertisement yields an ROI of $2 for every $1 spent.
How to build an email list?
Building an email list involves several steps to attract and capture the email addresses of individuals who are interested in your offerings. To build a quality email list, you'll have to offer something valuable to your website visitors. Here's a summary of how to build an email list:
1. Define your target audience
Determine who your ideal audience is including their demographics and interests, and it is the first step in building an email list. This will guide your list-building efforts and help you tailor your content to their preferences. The target audience who is made up of subscribers who are interested in your offing is more likely to open your email, click on the links, and convert to buying customers.
When building an email list, you may also want to segment your list based on their interest, demographics, and other criteria. Segmenting your list will allow you to send more customized and targeted emails, which will improve opens, clicks, and conversions.
2. Create valuable content
Develop high-quality content, such as blog posts, guides, videos, or newsletters, that aligns with your target audience's interests. Offer content that provides value and addresses their pain points, motivating them to subscribe to your email list to learn more.
3. Utilize opt-in forms
Place opt-in forms strategically on your website, landing pages, or blog posts to capture email addresses. Use compelling copy and clear calls-to-action (CTAs) that emphasize the benefits of subscribing. Consider using various types of forms, such as welcome or exit pop-ups, slide-ins, squeeze pages, or embedded forms, to capture attention. The opt-in forms should be clear and concise, and make it easy for people to sign up to your mailing list.
4. Offer incentives
Provide incentives to encourage visitors to subscribe. This could be in the form of a lead magnet, such as an e-book, giveaways, discount code, referral program, or exclusive content. Utilize gamification to apply game playing to your popups to encourage engagement by offering rewards through quizzes, surveys, spin-to-win, and scratch cards. Incentives make the value of joining your email list more enticing.
5. Leverage social media
You may want to pitch an email newsletter on your social media accounts. Share links to your opt-in forms, create engaging posts highlighting the benefits of subscribing and encourage followers to join your email list for exclusive updates or offers.
6. Guest blogging and collaborations
Write guest blog posts on reputable websites like iplocation.net, or collaborate with influencers in your niche. Include links to your opt-in forms within the content or author bio to capture the attention of new audiences and drive them to subscribe.
7. Host webinars or events
Organize webinars, online workshops, or live events on topics of interest to your target audience. Require attendees to provide their email addresses during registration to access the event, allowing you to grow your list while providing valuable content.
8. Optimize landing pages
Create dedicated squeeze pages with a clear focus on capturing email addresses. Optimize these pages with persuasive copy, eye-catching visuals, and streamlined forms to maximize conversions. Sending traffic to your landing pages will incur Pay-per-Click advertisement budget, so use A/B Split Testing to improve your ROI.
9. Networking and partnerships
Attend industry events, conferences, or networking sessions to connect with potential subscribers and industry professionals. Collaborate with complementary businesses or influencers to cross-promote each other's email lists, expanding your reach.
10. Engage with your audience
Interact with your audience through social media, blog comments, or email replies. Show genuine interest and provide value, encouraging them to become loyal subscribers and advocates for your brand.
Additional Tips on Building and Maintaining an email list
Building an email list is not easy, but it will become a valuable asset to your company if done correctly. Email list does not come easy, but diligence will pay off. Here are a few additional tips on building and maintaining your email list.
Make sure your signup form is clear, concise, and mobile-friendly.
Offer exclusive content and incentives to subscribers.
Personalize your emails by segmenting your list.
Never buy an email list as purchased email list is not clean and likely ruin your reputation as subscribers never opt-in to your list.
Don't spam your subscribers with an excessive number of emails.
Choose an email marketing platform to manage your list, and run email campaigns.
Conclusion
Email marketing plays a crucial role in growing your business and establishing communication channels with your users. There are many ways to build an email list, and they include website pop-ups, signup forms, lead capture forms, giveaways, and gamification. Building an email list does not happen overnight, and it takes time and effort to attract subscribers who are interested in your offerings.
You always have to obtain consent and comply with relevant privacy regulations when building an email list.
Leave a comment
All comments are moderated. Spammy and bot submitted comments are deleted. Please submit the comments that are helpful to others, and we'll approve your comments. A comment that includes outbound link will only be approved if the content is relevant to the topic, and has some value to our readers.