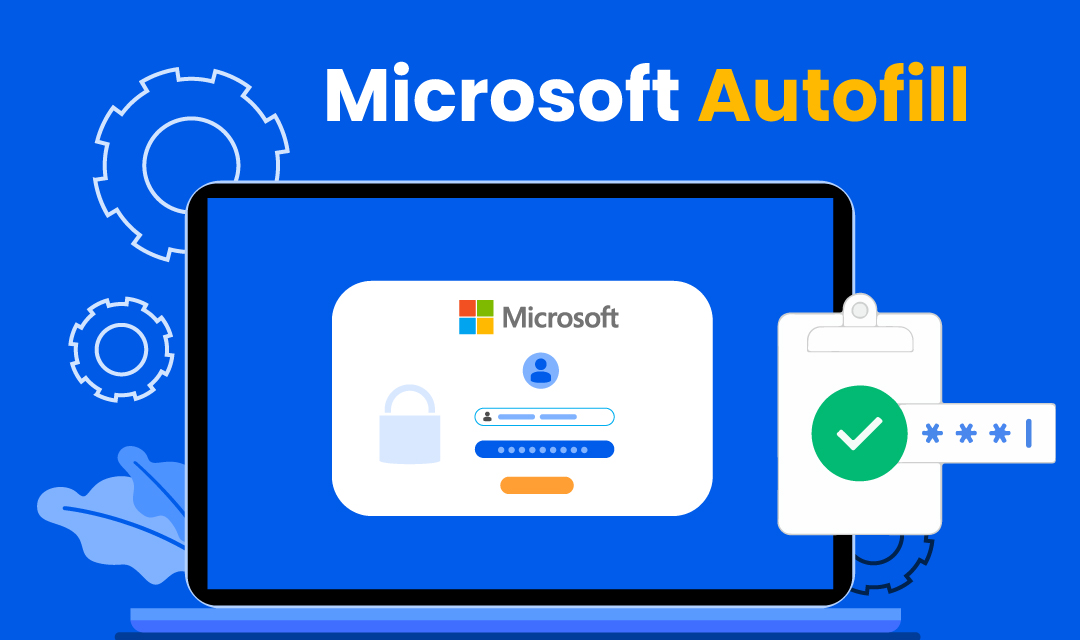 Microsoft lagging behind Google and Apple on browser war, and also fell behind on the password manager debut. Microsoft finally completed its password manager beta testing, and officially released Autofill password manager that utilizes Microsoft Authenticator. This is good news for Edge users, but Chrome users on the Mac, Windows, iOS, and Android can also benefit from it. We all know creating strong passwords for online accounts is a hassle, and remembering them is even worse. More free tools like Autofill will help online users from steering away from using weak passwords and reusing the same password for multiple accounts.
What is Microsoft Autofill?
Autofill is the Microsoft password manager available as part of the Microsoft Authenticator app on iOS and Android, and it can be used with Microsoft Edge or Google Chrome to autofill user passwords. Autofill integrates natively with Edge, and supports Chrome browser with a chrome extension which you can download and install. Microsoft promoted the use of online Microsoft accounts on their Windows Operating systems (much like Apple's iTunes account for iOS and macOS users), and many Windows users may already have Microsoft accounts. Both Microsoft account and Microsoft Authenticator are free to use so there is no cost associated with using MS Autofill.
Passwords stored in Edge browsers are automatically synced with your Microsoft account if you have Autofill enabled on your Microsoft Authenticator app. The passwords are encrypted and stored on your computer and are also uploaded to the Microsoft cloud. If you use Chrome with Autofill extension, the process is the same.
How do you use Autofill?
Once you enable Autofill on your Microsoft Authenticator, you may begin using Autofill features offered by the Microsoft password manager. When you create an online account for the first time, Autofill or Microsoft Authenticator will prompt you to save your password. Whether you use Edge, Chrome, or Smartphone app, Autofill will save your passwords and auto-populate them when you return to the same website or an app. You do not have to remember your lengthy password anymore, Autofill will do the dirty work for you.
You may also edit or delete online passwords on Edge or Chrome extension or through the Authenticator. As a late starter, Autofill also allows you to import existing passwords from some of the popular third-party password managers, Chrome, or from a CSV file. It is easy to get started as you have multiple ways to import your passwords.
What are the benefits and drawbacks of Autofill?
Much like the Google Password Manager and Apple iCloud Keychain, Microsoft autofill is a great entry-level password manager that you can utilize at free of charge. If you're on the Windows platform and use Android devices, Autofill may be a good solution for you. The following are some of the features and limitations of Autofill:
Microsoft Autofill works with only Edge and Chrome browsers and does not support Firefox, Safari, or Opera browsers. If you're on the Apple ecosystem, you may either have to use Chromium Edge or Chrome browser.
Passwords are stored in your local computer, and synced to the Cloud within your Microsoft account via Microsoft Authenticator. It's just another app that you have to use with your smartphone.
Autofill currently stores passwords only, and do not store credit card numbers, addresses, or any other personal data you may want to manage.
With Microsoft Authenticator, Autofill not only auto-populates web forms but also auto-fills smartphone apps.
Conclusion
Autofill is the new password manager offered by Microsoft, which is available on Chromium Edge and Chrome on iOS, Android, macOS, and Windows. Your passwords are stored with Edge, Chrome and are also synced with your Microsoft account for safeguarding your hard-to-remember passwords. If you're using either the Chrome or Edge browsers, and are not currently using a third-party password manager, Autofill is a product that you can definitely utilize to manage your passwords.
Leave a comment
All comments are moderated. Spammy and bot submitted comments are deleted. Please submit the comments that are helpful to others, and we'll approve your comments. A comment that includes outbound link will only be approved if the content is relevant to the topic, and has some value to our readers.