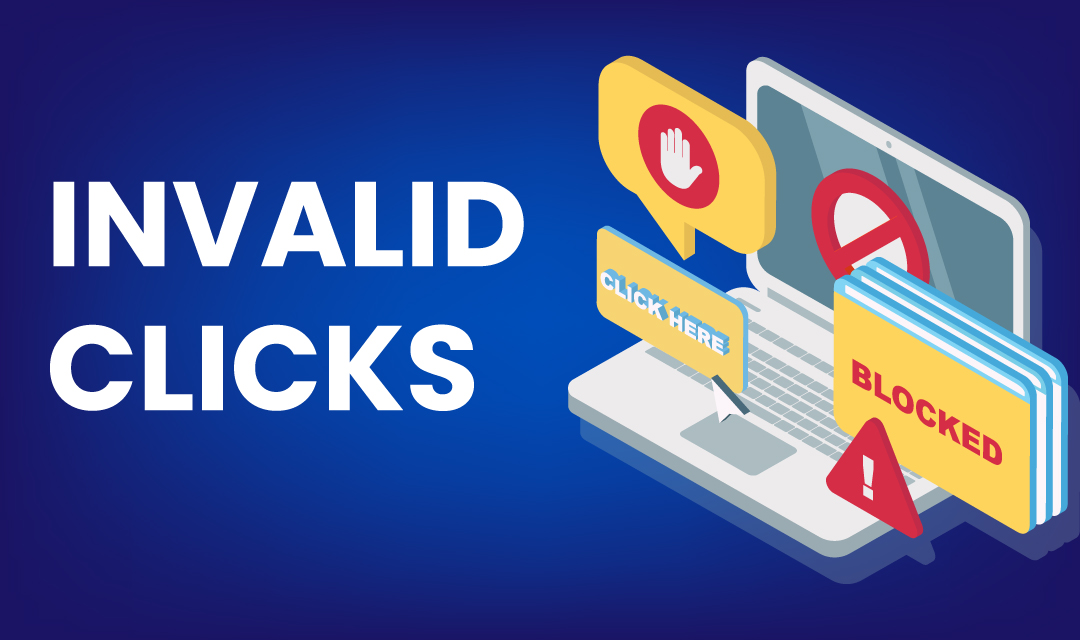 Click frauds and invalid clicks have common characteristics in which clicks are categorized as unintentional, automated, and duplicate clicks that do not result in conversions. The invalid clicks are clicks that are determined to be fraud by Google's eye and are deducted from the advertiser's credit.
What is Click Fraud?
A click fraud is an act of intentionally inflating clicks to harm competitors, or reward publishers illegally and maliciously on a PPC (Pay-per-Click) ad. Ad networks such as Google, Bing, and Facebook detect Click Frauds, and credit those clicks to advertisers (or deduct from publishers) when fraudulent clicks are detected but no detection system is 100% foolproof. Click fraud may come from click bots or humans depending on how fraud is carried out.
What is invalid clicks?
An invalid click is an ad click detected by Google as irregular, unintentional, and not genuine. Whether the clicks are clicked by malicious bots or determined to be suspicious, Google filters them as invalid clicks even if they are not (false-positives). Google places an advanced detection system in place to examine each ad click and places an automatic filter to exclude ad clicks so that advertisers are not charged for invalid clicks. Some examples of invalid clicks detected by Google may include (1) manual clicks by the site owner hosting the ad, (2) repeated clicks (including double clicks), or (3) clicks from automated bots or software.
Google does not provide invalid click reports, or detection algorithms to allow you (or third-party) to analyze the number of invalid clicks that occurred on your website. This is to protect the integrity of their detection system so that fraudsters cannot circumvent Google's detection system.
How to detect invalid clicks as an advertiser?
All ad networks implement some sort of detection system in place to filter invalid clicks. However, not all fraudulent clicks may be detected and some advertisers use their own DIY (Do-It-Yourself) method to detect them. By detecting suspicious clicks and reporting them to Ad Networks can save money on click fraud. To determine fraudulent clicks, advertisers must capture IP address, user agent, UTM parameters (or Gclid), and timestamp when the click occurred. By examining repeated clicks from the same IP address, and IP location (city, region, and country), the user agent along with the timestamp will help identify possible click frauds.
How to fight against invalid clicks as a publisher?
Adsense publishers receive an estimated earnings report based on the current user activities on a daily basis. At the end of the billing cycle, Google finalizes the earnings by adjusting delayed processing of records, rounding discrepancies, and invalid impressions and clicks detected by its system. Google has been announcing that they are cracking down on invalid clicks extensively, and have done it in the year 2020. A significant number of Adsense publishers were hit very hard in 2020 for invalid clicks, and their earnings were reduced by as much as 50% or 60%. The troubling part was that there was no clear explanation of how Google detected invalid clicks and how publishers can remedy their site to fix it. The worst thing that can happen to you for invalid clicks is being banned from your Adsense account. You can only communicate with Google via email, and you may not get much help from Google on invalid clicks as they are not supposed to disclose how they detect them.
As a publisher, you need to look out for invalid traffic from malicious bots and low-cost traffic from either you bought or exchanged. If you purchase traffic from a third-party network or exchange traffic with other websites (or networks), you may be at risk of being a victim of invalid traffic. The people who are arriving at your website have no intention to read your content (or click on ads) but have totally different objective of drawing traffic to their own website.
If your site offers (free) lookup service of some sort, an automated bot may be querying your lookup service to obtain the data they need and discard all other content including ad impressions. You may want to publish terms of service and modify the output format regularly to discourage programmers to pull data from your content site. Also, offering an API as a service to offload those bot queries will help reduce invalid clicks.
Conclusion
As an advertiser, most of the invalid click detection and credit will be done for you by your Ad Network or Google. You can also perform a DIY method to detect invalid clicks, and report to your Ad Network for additional credit if you have the internal resources to conduct detection.
If you're a publisher, you can fight against invalid clicks by reviewing each of the 4 invalid click definitions from Google and remedy each of the possible reasons. If you can't figure out why you're still seeing invalid clicks after remedying Google's suggestions, you may opt to join a new Ad Network to explore options other than Google Adsense.
Leave a comment
All comments are moderated. Spammy and bot submitted comments are deleted. Please submit the comments that are helpful to others, and we'll approve your comments. A comment that includes outbound link will only be approved if the content is relevant to the topic, and has some value to our readers.