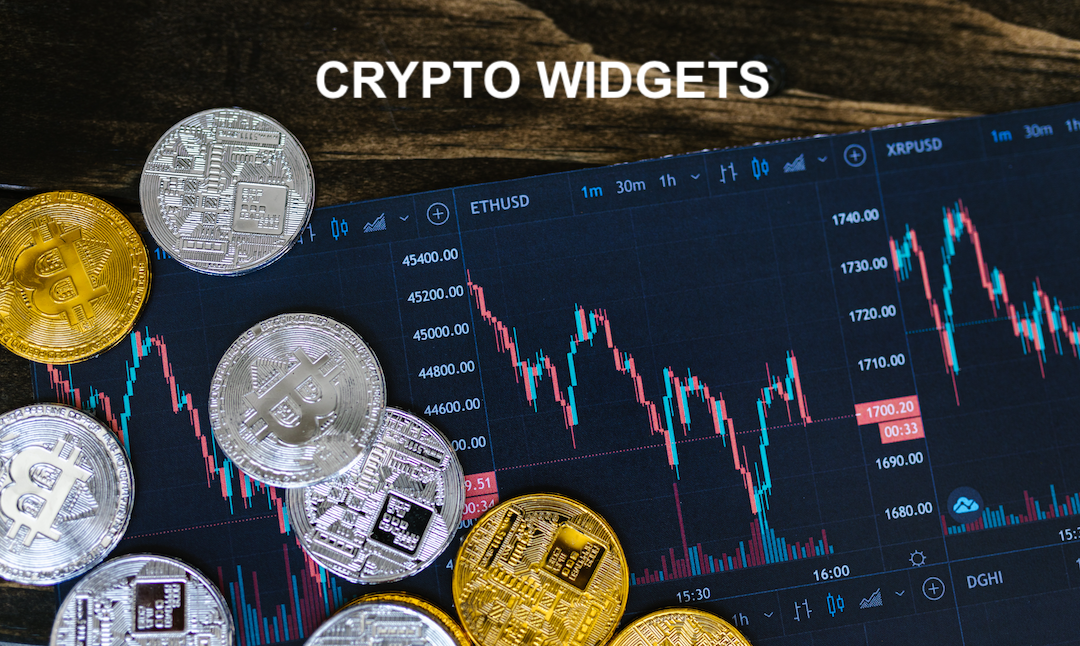 Digital currencies are the gold of this technological age, with more and more people investing in different coins. Beyond investing, many users are seeking ways to make crypto trading effective and easy for them, and that is where crypto widgets come in.
Crypto website widgets are trackers that help crypto enthusiasts, and investors monitor the situation in the cryptocurrency market in real time. More so, these widgets let you do the monitoring right on your PC and Mac. Also, you get several amazing settings when the widget signals that a currency's price has attained a predetermined level. They also signal when your chosen cryptocurrency has fallen to the bar, and it's time to drain it.
With a crypto website widget, you can easily drop a crypto widget into any website with a single code line. We've compiled some of the top crypto widgets for Windows 11 to help users invest in Bitcoin and trade or donate any cryptocurrency. Please note that this list does not include all the crypto widgets for Windows 11. Instead, they are the most essential ones that anyone who trades crypto should have.
1. TradingView
TradingView lets you get powerful charts and seamlessly incorporate real-time financial crypto quotes into your website. With this widget, you get an advanced real-time chart widget that you can personalize with different customization options. Also, you get a crypto heatmap widget that provides a bird's eye view of crypto.
You get information about the type of digital coin, its market cap, its most recent performance, and lots more. This widget can help you stay informed on trades as they go, guiding your trading decisions and helping you maximize more profits. As a beginner in the cryptocurrency space, this is a must-have widget on your device as it gives you a trading edge over others.
2. Mammon
Mammon offers over seven hundred digital coins with crypto prices in over thirty fiat currencies. This Windows 11-compatible widget offers a customizable menu bar view alongside many settings. You can leverage the reminder feature of this widget to set a goal and notifications to let you know when you've reached your goal.
Meanwhile, if you intend to invest in different coins or you already have, the widget helps you check what's left in your pocket. Knowing what is left in your crypto wallet lets you decide what coin to invest in at the right time. There is no better time to get the Mammon widget for your Windows 11 than now because, as the popular saying goes, tomorrow may be too late to get this widget and enjoy all its amazing features.
3. BitTab
BitTab is a popular, non-intrusive cryptocurrency widget for Windows with a simple yet intuitive design. The widget alerts you on the ever-changing prices in the cryptocurrency market right on your Windows 11. It offers over 4,000 coins at over 40 prices of the most popular crypto exchange platforms. Meanwhile, the widget is not intrusive; it hangs above your taskbar after installation and only updates the crypto prices you set.
Additionally, the ticker gives you price alerts for important coins, and you can use BitTab for arbitrage trading if you're fast. It also has built-in calculators and converters and allows for personalization – you can customize it to fit your desktop design.
4. Moonitor
Moonitor allows you to display cryptocurrency markets on your desktop as a basic widget or an extensive cryptocurrency chart. Once you install this widget, you will get real-time crypto price updates derived from Binance and Bittrex data. Additionally, you can keep track of your convertible currencies with Moonitor; it shows you the real-time worth of your crypto holdings.
We particularly love Moonitor because it is compatible with many platforms, including Windows 11. However, it is a premium widget; it only allows a free trial with limited access to cryptocurrencies and real-time market updates. The free version lets you track five investments with real-time updates and view up to eight coins. However, paying the subscription grants you access to many currencies and cryptocurrency investing options, and you can install it on three devices.
5. Crypto Price
Crypto Price is one of the best crypto widgets available on Windows and Mac and is updated every five seconds. This customizable, open-source ticker widget lets you track almost any digital coin with one of the most traded fiat currencies. However, the greatest thing about the widget is its simplified approach to the desktop cryptocurrency widget.
Crypto Price offers an excellent open-source experience, and the frequent updates promise even better options in the future. This means you must stay tuned for any recent updates to this widget to get the most out of it.
6. Rainmeter
Rainmeter widget is a free crypto ticker that provides a slightly different look at the crypto widget for PCs. With it, you can include specific customizable desktop elements and track system hardware information, including RAM and CPU usage. One outstanding feature of this crypto website widget is that it offers many customizable tools. However, it offers different cryptocurrency widgets, and the type of widget you choose determines how much customization you can do.
With Rainmeter, you can change colors, add digital coins, add trading periods, data, and daily charts, and compare conversion rates, among other things. Three top widgets Rainmeter offers include R3-Studio, Gadgets additions, and a cryptocurrency tracker.
7. Widget Wizard
If you use Windows 11 and are thinking of a crypto wizard that will make your crypto journey easier and more effective, then you should look no further than Widget Wizard. It stands out from other options for the many customizable features that it offers to users. It works with several digital currencies, from the more popular options to the less popular ones.
Widget Wizard makes it possible to arrange your tools to make it easy to trade. If you want something simple and effective, choose this widget for your device.
8. Cryptocurrency Price Tracker - Rainmeter Skin
Rainmeter Skin is the Cryptocurrency Price Tracker version for Windows; it lets you add a single price crypto widget on your Windows 11. The ticker displays hourly, daily, and weekly changes in percentage, icon, current market cap rating, and short name. You can install this widget using Rainmeter and then configure the widget setting; the installation information is available on the Price Tracker website. Also, Cryptocurrency Price Tracker for Windows 11 is free and open source.
9. Microsoft's CryptoTracker
CryptoTracker is a simple but powerful cryptocurrency portfolio widget with beautiful and customizable charts for price and volume. Worthy of note is that this tracker works well for several digital currencies, and it is your best bet if you want to track performance and stay updated with the latest news.
With this widget, you can get hourly, daily, weekly, and monthly updates on events in the cryptocurrency market. It is supported on Windows 11 with a refreshed UI, automatic chart notations with purchase alerts and dates, import and export portfolio backups, and more.
Final Thoughts
Choose from any of these nine Windows 11 cryptocurrency widgets if you want a comprehensive cryptocurrency ticker for your PC. Most of them are free, while those that are paid offer a free trial to help you decide if it's worth your money. As such, you can try a few on your desktop first to determine which one meets your requirements.
Share this post
Leave a comment
All comments are moderated. Spammy and bot submitted comments are deleted. Please submit the comments that are helpful to others, and we'll approve your comments. A comment that includes outbound link will only be approved if the content is relevant to the topic, and has some value to our readers.