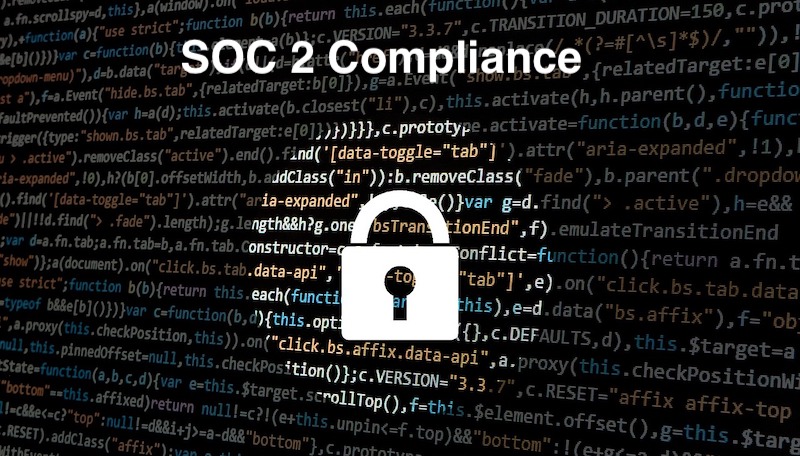 With more organizations and individuals relying on the Internet to do business, more hackers and cyber threats boom to take advantage of vulnerabilities that exist in software. Many organizations rely on third-party vendors to store sensitive data and use Software-as-a-Service (SaaS) to conduct day-to-day business. Security-conscious customers demand to know the security of service providers' data storage and the procedures used to access their data as well as the confidentiality of how they handle customers' data. This is where SOC 2 audit comes into play.
What is SOC 2?
SOC 2 (Service Organization Control 2) is an auditing standard developed by the American Institute of Certified Public Accountants (AICPA) to evaluate the controls of service organizations. The standard is used to assess 5 service principles including security, availability, processing integrity, confidentiality, and privacy of a service organization's systems and data. It is often used by businesses that provide cloud computing, SaaS, and other outsourcing services.
SOC 2 audits have become increasingly important as more businesses rely on third-party service providers to process sensitive data and as data breaches and cybersecurity threats have become more common. By obtaining a SOC 2 report, service organizations can demonstrate their commitment to security and compliance, and differentiate themselves from competitors who may not have undergone a similar audit.
Why do you need SOC 2?
There are several reasons why a service organization may need to obtain a SOC 2 report:
Customer and stakeholder expectations: Many customers and stakeholders of service organizations expect their providers to have appropriate security and privacy controls in place to protect their data and systems. A SOC 2 report can help demonstrate that the service provider has implemented these controls effectively.
Regulatory requirements: Some industries and jurisdictions require service providers to demonstrate compliance with certain regulations or standards. A SOC 2 report can help service providers meet these requirements.
Competitive differentiation: By obtaining a SOC 2 report, a service provider can differentiate itself from competitors who may not have undergone a similar audit. This can be especially important in industries where security and privacy are major concerns for customers.
Risk management: A SOC 2 report can help service providers identify and mitigate risks related to security and privacy, which can help prevent data breaches and other cybersecurity incidents.
A SOC 2 report can provide assurance to customers and stakeholders that a service provider has implemented adequate controls to protect their data and systems, and can help the service organization manage risk and meet regulatory requirements.
What is SOC 2 Compliance?
SOC 2 compliance refers to a service organization's adherence to the SOC 2 framework. To be SOC 2 compliant, a service organization must undergo a SOC 2 audit by an independent auditor who assesses the organization's controls against the SOC 2 criteria. The auditor will then provide a SOC 2 report that describes the organization's controls and their effectiveness in meeting the criteria.
SOC 2 compliance is important for service organizations that handle sensitive data, such as financial information or personal data, as it provides assurance to customers and stakeholders that the organization has implemented appropriate controls to protect their data and systems.
Conclusion
Maintaining SOC 2 compliance is an ongoing process, as service organizations must continually monitor and improve their controls to meet changing threats and risks. Service organizations typically undergo SOC 2 audits annually to maintain their compliance.
Leave a comment
All comments are moderated. Spammy and bot submitted comments are deleted. Please submit the comments that are helpful to others, and we'll approve your comments. A comment that includes outbound link will only be approved if the content is relevant to the topic, and has some value to our readers.