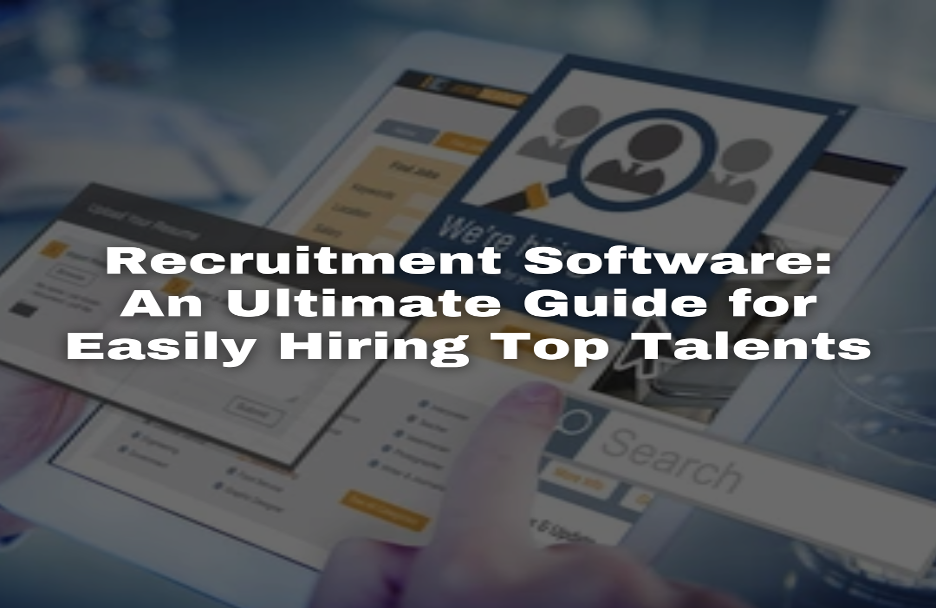 Do you need help finding the right person for a vacant position in your company? Some candidates are qualified but suddenly do not continue the process. Nowadays, finding a skilled and experienced person for work is hard. But getting a skilled candidate is impossible; other companies are just ahead of you to get them.
That's one of the reasons why recruitment software was created. Because of this software, many companies can efficiently hire talented applicants.
If you want an answer to your problem, continue reading. This article will fully explain how you can get talented applicants using recruitment software.
What Is Recruitment Software?
Recruitment software optimizes hiring processes. From finding the applicant to sending the letter, this software does it. Sometimes these tools are called applicant tracking software even though they are different because recruitment software is more capable and covers only the application software for the entire hiring application process.
Recruitment software is used to source candidates, screen resumes, select shortlists, interview applicants, and collaborate with hiring managers. Due to the smooth application process, the company's hiring process becomes easy.
Functions Of Recruiting Software
Some or all of the following can be done with most recruiting software:
Automate Tasks
Better automation is one of the best advantages that this software can do. Your company's hiring process is faster compared to other organizations.
Recruitment software will take over the burden of scheduling interviews, communicating, or moving through each hiring process step instead of candidates and organizations spending a lot of time on it.
This software gives you a greater chance of getting the right person for the vacant position. This is because applicants with confident, proficient skills can save time at a company with a fast hiring process. That's why you're ahead of others when you have this applicant software.
Finding And Attracting Candidates
Recruitment software often includes features to help organizations attract candidates (such as job postings or careers pages). One of its advantages is being a multiposting tool where the system can post many job ads to find applicants. Because of this, millions of people can be reached by your post. So there is a greater chance that you will get the right candidate for the available position.
Evaluating Candidates
The recruitment software has prepared built-in questions for the applicants, and it is for the video interview and technical assessment exam. The system gives the list of questions to the applicants. All they have to do is complete the entire evaluation process, videos, and exams.
Due to the AI algorithm of the software, it can check which of the applicants has the highest score. Because of this advancement, there is a greater chance that you will get the most worthy of being part of the company.
Reporting
A recruiting software program can generate accurate hiring reports. Therefore, organizations can see what works and what doesn't in their hiring process. Some systems offer basic reports, while others offer more complex ones.
Powering Up Recruitment
Carefully chosen integrations generally improve the hiring process. Software integrations with job boards, background check providers, HRIS systems, and others can assist organizations in evaluating candidates besides those mentioned above.
Software Features
Talent acquisition and recruiting teams look for several features in recruiting software. Still, SaaS, integration, and mobile capabilities are the most important.
There are a few other features that stand out as must-haves for recruiting software:
Branded career portal
Social recruiting
Texts to candidates
EEOC complaint
Free trial or version
Benefits of Using Recruiting Software
Allows Recruiters To Identify More Qualified Candidates
One of the most essential things an applicant software should do is find qualified, talented candidates. Because of the AI algorithm evaluation that this software can do, you will be happy with the candidates you get.
Keep Track Of Job Applicants
Ensure that you consider each candidate when filling open job positions. The system automatically updates any action taken on a candidate, along with all your notes, to ensure you recognize everyone. Moving applicants through the hiring process online ensures that all applications are recovered.
Time Saved Performing Repetitive Tasks
Because of the help that the application software can do, there is no need to struggle with time-consuming tasks that only have repetitive processes. This is because all the fill-out forms for the candidate are in the software, which makes the application process more manageable.
Centralized Communication
With recruiter software, you can centralize all your communications on a single platform. Rather than sending emails externally and internally, recruitment software consolidates all communication into a single platform. This view enables other recruiters to see precisely where candidates stand in their pipeline and what needs to be done to expedite the process.
Secure Sensitive Data
You gain access to highly private information about each candidate during the hiring process. You can use recruitment software to ensure they are all stored in a single, secure, and encrypted location that only you and your team can access.
Final Thoughts
Congratulations, because you reached this part. Now you know what recruitment software is worth to a company. You also understand why you can't get talented applicants because you must adapt to technological changes.
Now the decision is up to you if you continue with the traditional way of the hiring process or if you want to be ahead of others using this software. You will always remember that a company will only prosper if the workers do their job.
FAQs
1. How Many Companies Are Using Recruitment Software?
According to the study done by Jobscan, it came out in the result that 98% of the 500 Fortune companies use an applicant tracking system in their recruitment process. Then 66% of large companies have adapted to this technology, while 35% of small companies have.
2. Why Do Businesses Use Recruitment Software?
This software is almost a complete hiring process package because it can automate manual processes and do the entire process effectively and efficiently. With the help of this software, the number of candidates hired by recruiters improved by 78%.
3. How Much Is Recruitment Software?
There is no exact price for recruitment software because it depends on what software product you buy. The feature included in the software can also add to this consideration.
4. In What Ways Does Recruiting Software Help Recruiters?
Human resource professionals and hiring managers use recruiting software to manage the entire employee lifecycle, from candidate identification to onboarding.
5. How Does Recruitment Software Become Effective?
By removing the need to host jobs manually, post jobs to job boards and media sites, create jobs using common data elements, solicit referrals, communicate with candidates, and create targeted campaigns, software recruiting can help recruiters save time.
Leave a comment
All comments are moderated. Spammy and bot submitted comments are deleted. Please submit the comments that are helpful to others, and we'll approve your comments. A comment that includes outbound link will only be approved if the content is relevant to the topic, and has some value to our readers.