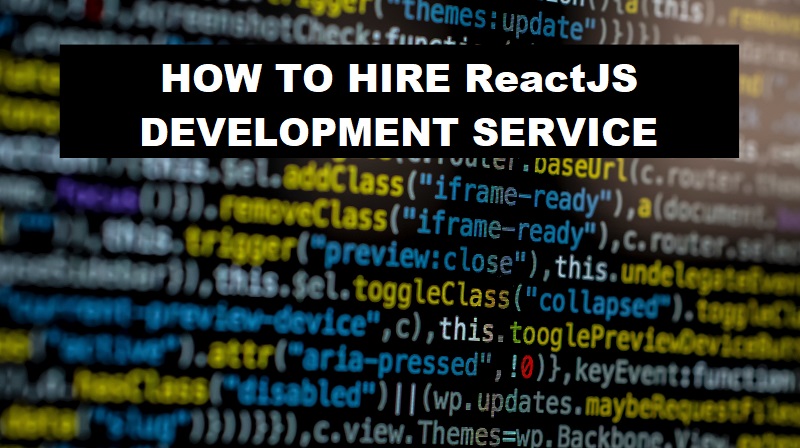 ReactJS is becoming increasingly popular as a solution for businesses looking to create dynamic and user-friendly web applications. Its ability to build modular and reusable UIs has made it a vital component of today's web development process.
As a result, it becomes essential to hire reactjs development services which are reliable enough to make your project a success. In this comprehensive guide, we will provide a step-by-step approach that will assist in finding the perfect ReactJS development team for your business.
1. Understand Your Project Requirements
You should know exactly what you need before you start looking for ReactJS development services. This involves:
Outline the Objectives of the Project
Establish the project's major objectives. Does it serve the public or is it an internal application? Which features and functions are most important to you? With a clearly defined project scope, prospective developers will be able to submit more precise proposals.
List down must-have features
Figure out what functions and capabilities are absolutely necessary for your app to succeed. Focus on finding a team that specializes in delivering these features by giving them a high priority.
Establish a budget
Try to put together a rough estimate of how much money you can put toward your ReactJS development project. Remember that your budget will affect the quality of the work and the degree of expertise of the developers you can hire.
Determine a timeline
Make sure that your project timeframe is reasonable by factoring in time for both development and testing. This will help you keep on schedule so that you have time to check for errors and make any necessary adjustments.
2. Research and Identify Potential Service Providers
Now that you know exactly what you need for your project, you can begin looking for ReactJS development companies. How? Read on!
Browse online directories
You can begin your investigation by consulting authoritative web resources like Clutch, GoodFirms, and UpCity. These sites compile reputable service providers and present them alongside user ratings and testimonials.
3. Look at Freelancing Websites
Toptal, Freelancer, and Upwork are excellent resources to hire reactjs developers who are experienced in their domains. Search through developer profiles, gain insight from previous customers, and create a list of preferred candidates.
Seek recommendations
Get in touch with your professional contacts and inquire about referral opportunities. This is a useful strategy for discovering reliable service providers with a history of satisfying customers with their results.
4. Evaluate Shortlisted Candidates
In order to find and recruit the most qualified ReactJS developers for your project, you must first narrow down your list of service providers using objective criteria.
Review portfolios
Examine each applicant's portfolio thoroughly to learn about their background, skills, and previous work. If you can, look for related projects and take notes on how the challenges were handled.
Assess technical skills
Examine the developers' level of technical expertise. You can assess their competence by talking about the specifics of your project with them, hearing their ideas on how to tackle problems, and seeing if they can carry them through.
Check references
Get in touch with the clients of the prospects you've chosen and inquire about their experiences working with them. You can learn about the developer's work ethic, communication abilities, and punctuality from this.
Consider communication skills
You should hire reactjs development services who can comprehend your needs and successfully execute them. Project delays and poor quality outcomes are often the results of poor communication.
5. Request Proposals and Compare Quotes
Now that you've got a short list of service providers to choose from, it's time to get bids.
Request a Proposal
Ask your shortlisted ReactJS development service providers to submit a detailed proposal outlining their approach to your project. Tasks, a timetable, a development strategy, and an estimate of the associated expenses should all be included.
Compare quotes
When you have received the proposals, compare them to find the one that will provide you with the most bang for your buck. Think about the person's background, technical knowledge, their recommended solution, and how much it will cost. Though it may be tempting to go with the lowest bid, doing so could end up costing you in the end.
6. Conduct Interviews and Technical Assessments
Schedule interviews with the finalist development teams to learn more about their skill sets and make sure they are a suitable fit for your project before making a final decision.
Conduct interviews
Set up meetings with the development groups so that you can question them about their ideas, track records, and technical know-how. Take this chance to address any questions or concerns you have and to make sure they fully grasp the scope of the project.
Assess technical skills
Discuss your project's complications and possible solutions with the team during the interview to evaluate their ReactJS development skills.
Check soft skills
Consider the team's communication, problem-solving, and collaboration skills. These soft skills are essential to guaranteeing the success of your undertaking.
7. Select the Best ReactJS Development Team
The evaluation results should have given you enough data to choose the most qualified ReactJS development team for your company's needs.
Review the gathered information
Examine the proposals, quotes, interview notes, and technical evaluations that were gathered during the review process again. You'll be better able to hire reactjs development services after reading this.
Consider the overall value
When deciding on a development team, it's important to strike a balance between price, experience, skill level, and team culture. Don't skimp on quality to cut expenditures; doing so could damage the outcome of your project.
Sign a contract
To safeguard your interests and guarantee a smooth working relationship, sign a contract that describes the scope of work, deliverables, deadlines, payment conditions, and any other necessary clauses.
8. Monitor and Communicate During the Development
Make sure your ideas are being carried out accurately by being involved in the project even after it has begun development.
Monitor progress
Request updates frequently, participate in meetings to review progress and look over completed deliverables to keep tabs on your project's development.
Communicate expectations
Make sure the development team knows and complies with your specifications and expectations from the beginning of the project.
Provide feedback
Give the team you're working with helpful criticism so they may improve the work they've done for you.
Conclusion
Always remember the importance of selecting a service provider who shares your company's values and has successfully completed projects like yours in the past. The appropriate ReactJS development services company can help you take your business to the next level and accomplish your digital transformation objectives.
Share this post
Leave a comment
All comments are moderated. Spammy and bot submitted comments are deleted. Please submit the comments that are helpful to others, and we'll approve your comments. A comment that includes outbound link will only be approved if the content is relevant to the topic, and has some value to our readers.