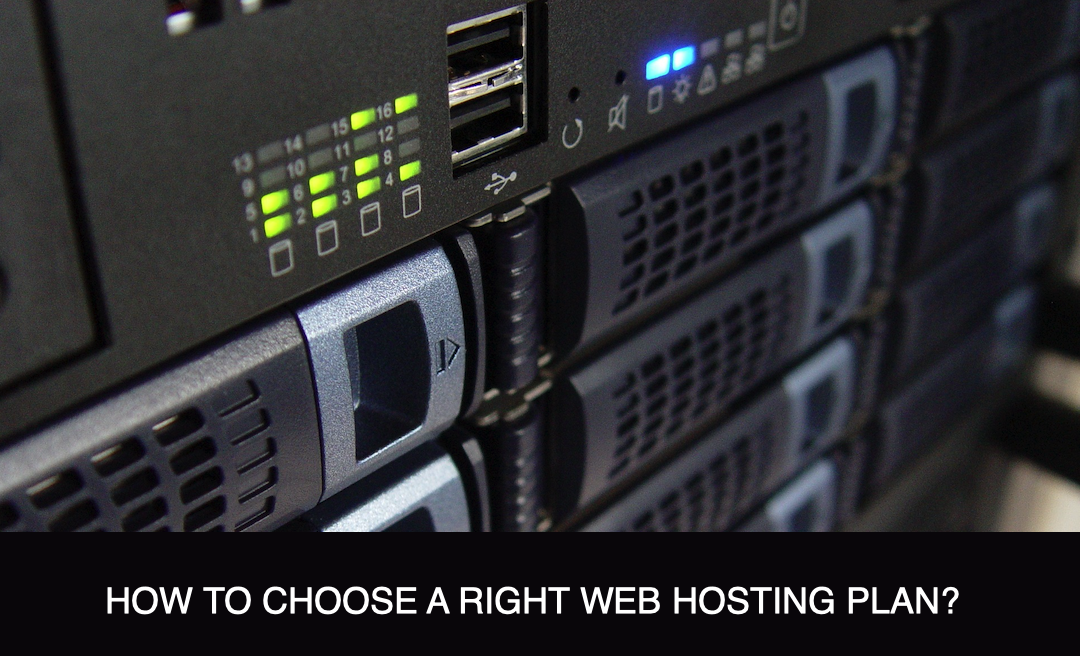 Did you know that there are a whopping 1.13 billion websites on the internet today? That is a huge amount! and guess what? web hosting is much bigger than that. Each website needs reliable web hosting to function properly.
Each web hosting platform offers various perks. So on that tangent, if you are a new website owner, you've come to the right place. You need to know absolutely everything about web hosting and how to choose the best web hosting company that covers a-z of your website.
Diving Into the World of Web Hosting Options
The importance of choosing the right web hosting cannot be forced enough. Your hosting provider stores all your website files on their servers and delivers them to your visitors when they visit your website.
To be honest, there are so many options available that can overwhelm you easily. So, how do you select the one aligned with your goals and technical requirements?
First, you need to know about the hosting type which can significantly reduce your operating cost. Once you have chosen the best one for your website, you pretty much complete the process. So, let us take a look at different hosting types.
Why Is Hosting Needed?
All the things that need for your website to run properly and deliver it to your visitor are basically controlled by web hosting. Whatever the metrics, like page speed, uptime, security, and even infrastructure overall health, is all maintained and controlled by the web hosting.
So, if you want your website to properly display the information to your visitors, then having web hosting is probably a good choice. Here is the web hosting market share report for 2023.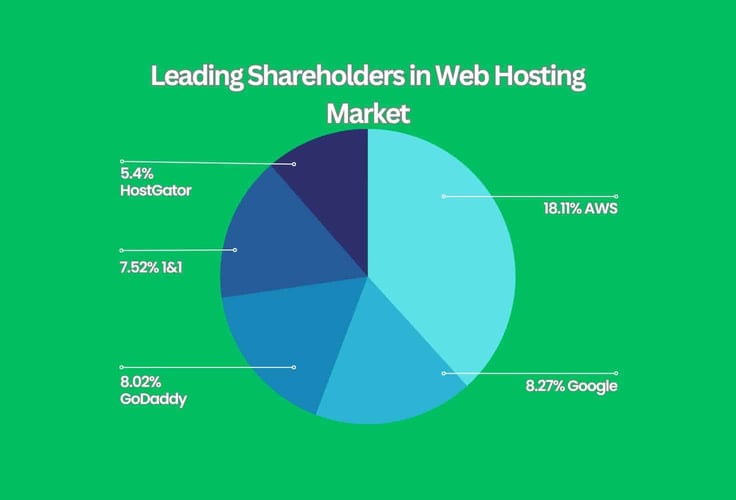 Source: hostingadvice.com
1. Shared Hosting: The Entry-Level Choice
Accounting for approximately 37% of the total web hosting market share, shared hosting offers an affordable and beginner-friendly solution. With this, your website shares server resources like RAM, storage space, and bandwidth with other sites hosted on the same server.
Benefits:
Cost-effective pricing starts as low as $2-10/month.
Simplified setup and management ideal for first-time users.
Access to beginner-friendly tools, scripts, and applications.
Limitations:
Limited resources are shared with hundreds of other sites.
Potential for reduced performance and downtime during traffic spikes.
Lack of customization and control over software/settings.
Shared hosting works best for new websites with low-to-moderate traffic volumes and basic requirements. But as your site grows, migrating to VPS or dedicated hosting becomes necessary.
As said, shared hosting is cheap. To have a better understanding, take a look at the bar graph that shows the average cost of hosting services.
2. VPS Hosting: The Middle Ground
As the name suggests, VPS or Virtual Private Server hosting provides a middle ground between shared and dedicated options. It rents you a partitioned section of a physical server that works like a separate virtual server.
Benefits:
More control and customization of software, settings, and configurations.
Improved performance and stability compared to shared hosting.
Ability to scale resources like RAM, bandwidth, etc. as needed.
Limitations:
More expensive than shared hosting, starting at around $30/month.
Still susceptible to performance issues during very high traffic.
Requires moderate technical expertise to manage VPS.
With projected revenues of $8 billion by 2023, VPS is rapidly emerging as the go-to choice for small-medium sites that have outgrown shared hosting.
3. Dedicated Server Hosting: Complete Control
With dedicated server hosting, you rent an entire physical server for your exclusive use. This offers maximum performance, control, and customization for resource-intensive websites.
Benefits:
Full root access and admin control over the server.
No resource limitations even during traffic spikes.
Extremely fast speeds and maximum uptime.
Limitations:
The most expensive option, starting around $100/month.
Requires advanced technical expertise.
Overkill for smaller, low-traffic sites.
Dedicated servers are ideal for large enterprises, e-commerce stores, SaaS apps, gaming portals, and other high-traffic websites with complex requirements.
4. Cloud Hosting: The Buzzword of the Tech Industry
Cloud hosting leverages a network of remote servers hosted over the internet rather than a single physical server. Resources can be allocated or removed on demand to accommodate traffic fluctuations.
Benefits:
Flexible scalability to handle sudden traffic spikes.
Pay-as-you-go pricing is based on exact usage.
High uptime and strong disaster recovery provisions.
Limitations:
Requires understanding of cloud infrastructure to maximize benefits.
Limited control and customization compared to dedicated servers.
Dependent on internet connection quality.
With its innate scalability and flexibility, the cloud is being rapidly adopted to host modern web apps, e-commerce stores, and more.
5. Managed Hosting – Let the Experts Handle It
With managed hosting, the service provider takes care of deploying, maintaining, securing, and optimizing your hosting infrastructure. You simply focus on your website while they handle the grunt work.
Benefits:
Time savings from technical tasks being handled by experts.
Enhanced performance, speed, and security provisions.
Support for updates, troubleshooting, and emergency mitigation.
Limitations:
More expensive than unmanaged VPS and dedicated plans.
Less control over server-side configurations.
Quality varies between different providers.
Managed hosting offers an ideal solution for medium-large sites that seek high performance and security without the management headache.
6. Colocation: Renting Space for Your Server
With colocation hosting, you rent physical space for your server in a facility that provides redundant power, cooling, security, and network bandwidth.
Benefits:
Access to high-speed, low-latency network connections.
Physical security provisions for your own server hardware.
Cost savings compared to buying your own infrastructure.
Limitations:
Responsibility for purchasing and maintaining your own servers.
Technical skills needed for management and maintenance.
Limited scalability compared to cloud hosting..
Colocation allows businesses to reap the benefits of owning dedicated servers while reducing infrastructure costs.
Deciding the Best Fit for Your Needs
With an overview of the popular web hosting solutions, how do you choose the right one for your specific website? Here are some key factors to consider:
Type of website: Shared hosting works for blogs/small sites while e-commerce stores need VPS/dedicated plans for optimal performance.
Traffic expectations: Websites expecting huge spikes need scalable cloud or dedicated hosting with abundant resources.
Hosting budget: Limitations on a budget may necessitate starting with shared hosting initially.
In-house expertise: Managed hosting reduces website maintenance workload considerably.
Security needs: Banking and financial sites require robust security provisions.
Frequently Asked Questions
1. How do I determine the expected traffic for my website?
Conduct keyword research to estimate search volume. Evaluate current traffic if migrating an existing site. Factor in projections for business growth over the next few years.
2. Are there any hidden costs associated with web hosting services?
Some shared hosting plans have hidden renewal fees. Others charge extra for add-ons like dedicated IPs and SSL certificates. Carefully read terms to avoid surprises.
3. How does security differ across hosting types?
Shared hosting offers baseline security. Managed and cloud hosting integrates robust security provisions. With VPS/dedicated servers, you're responsible for security.
Conclusion
Choosing the right web hosting provider can make or break your online presence. Conduct thorough research instead of blindly opting for the cheapest plan. Evaluate all options based on your website goals, technical needs, and capabilities.
This ensures you select a web hosting solution that delivers the performance, reliability, and security vital for success.
Leave a comment
All comments are moderated. Spammy and bot submitted comments are deleted. Please submit the comments that are helpful to others, and we'll approve your comments. A comment that includes outbound link will only be approved if the content is relevant to the topic, and has some value to our readers.