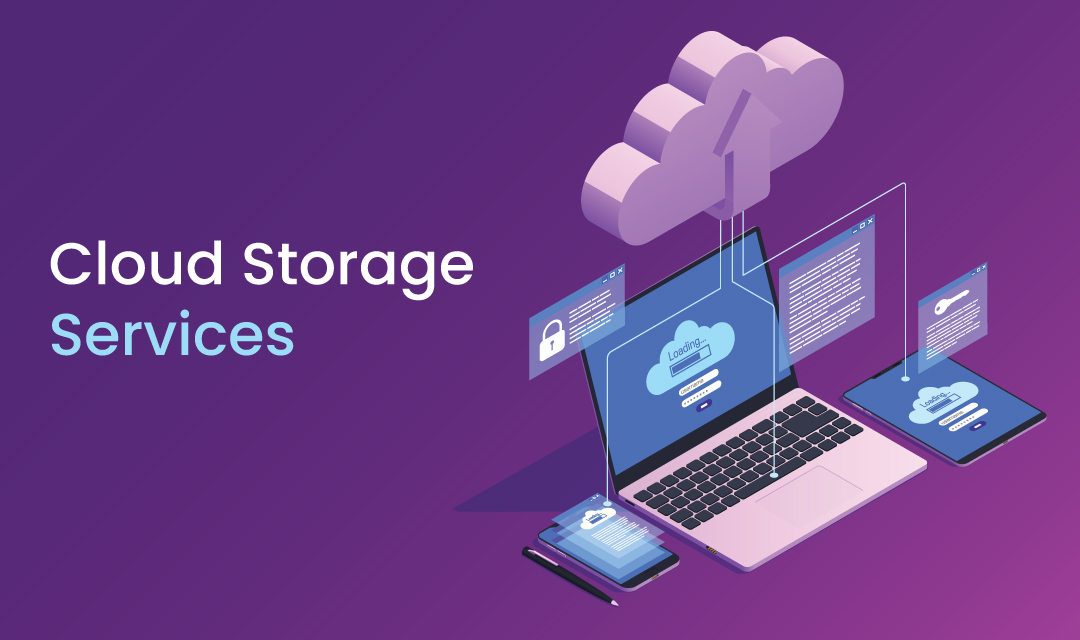 For the last several decades, we have been using local hard disks or Network Attached Storage (NAS) drives to store our data. The photos we accumulated over the years, videos we created on special events (or YouTube), and documents we use on a daily basis are critical data we cannot lose. The advantages of using local drive over cloud storage are that it is fast (10X faster), cheaper (per megabyte), large capacity (1TB+), and available locally (portable and private). The disadvantages of using local hard drives are reliability (corruption and crash) and local (physical damage, fire, thunder). The average lifespan of physical hard drives is anywhere from 3 to 5 years, and they will need to be replaced for reliable backup. To circumvent reliability issues, one may choose to use a NAS drive with RAID 1 mirroring instead. Video content creators such as YouTubers may want to use NAS drive along with cloud storage to utilize the best of both worlds.
What is a cloud storage service?
Before we discuss cloud storage services, lets define what cloud is. The cloud is generally referring to the Internet or anything that can be accessed remotely online. The servers, network drives, and applications offered over the Internet are referred to as "cloud", and the services offered through the cloud are called cloud services. The cloud storage service as the name suggests is providing storage to users online without having to attach a physical hard (or network) drive to your machine. It should be noted that cloud storage is different than the backup service, and it is strictly called an online drive which you can use to save files in the cloud.
The advantages of using cloud drives include (1) reliability, (2) accessibility, and (3) sync with local drives. The biggest benefit of using a cloud drive is the reliability that you can depend on. The disadvantages include (1) speed (10X slower than local HDD), (2) cost per megabyte (expensive), and (3) privacy. It also depends on your Internet, and will not be accessible without the Internet.
What are the best cloud storage services?
To compare apples to apples, we will only compare cloud storage services and do not include cloud backup services. Some providers offer both storage and backup services, but we'll only be comparing storage service and not backup.
There are more than a dozen contenders, but we've narrowed our list to 5. The big names like Google, Microsoft, and Apple that are tightly integrated with Android and iOS devices are included. In terms of the quality of storage services, the big names offer reliable, robust, and reputable services that cannot be compared with physical storage. All cloud storage services can be accessed with a (1) browser, (2) desktop app, and (3) mobile app. The main difference is the usability and how intuitive they are.
1. Google Drive
Google Drive is a natural choice for Gmail and GSuite users who already has Google accounts. As Android is part of Google OS, Google Drive is tightly integrated with Android devices. The best part of using Google Drive is that it allows you to store an unlimited number of photos with the Google Photos mobile app (to be ended on 6/1/2021).
Google Drive is also available on non-Google platforms such as the macOS and iOS. You may download and install desktop application and mobile app on Apple devices, and use a drag-and-drop interface to copy files in and out of Google Drive.
Free Storage: 15GB per Google account
Devices: Windows, macOS, Android, and iOS
Perks: Google Drive is tied to your Google account, and has access to all Google apps such as Google Docs, Sheets, Slides, Calendar and Gmail.
Individual Plans: 100GB $19.99/yr (or $1.99/mo), 200GB $29.99/yr (or $2.99/mo)
Family Plans: 2TB $99.99/yr (or $9.99/mo)
2. Microsoft OneDrive
Microsoft OneDrive is a part of Microsoft 365 suite, which offers 1TB of cloud storage with the Office 365 applications such as Word, Excel, PowerPoint, and Outlook. It also integrated tightly with OneNote, a Microsoft Note application available on desktop and mobile. If you're already invested in the Microsoft platform such as Windows and Outlook, the Onedrive will be an excellent addition to your infrastructure whether you use it for home or business.
OneDrive is also available on non-Microsoft platforms such as the macOS and iOS. It is also possible to share files with non-OneDrive users via a custom link. You may also edit files directly online without downloading and editing a local copy of the file. The largest file you can upload to OneDrive is 250GB.
Free Storage: 5GB
Devices: Windows, macOS, Android, and iOS
Perks: Part of Microsoft 365 Office Suite which includes Microsoft Word, Excel, PowerPoint, OneNote, OneDrive, Outlook and Teams
Home Packages: Personal (1 user w/ 1TB of storage) $69.99/yr (or $6.99/mo), Family (6 users with 1TB per person) $99.99/yr (or $9.99/mo)
Business Packages: Basic $60/user/yr, Standard $150/user/yr, Premium $240/user/yr
3. Apple iCloud
Apple iCloud is a natural choice for people who are already invested in Apple ecosystem. The iCloud is the best choice for iPhone and macOS users as it plays very well with Apple devices. However, iCloud may not be the best cloud storage solution for non-Apple users as it is not tightly integrated with Android or Windows devices.
The best part of using iCloud is that it is naturally integrated with macOS and iOS, and files are automatically synced and backed up (if enabled). Like Google Drive, your Apple device settings, mobile apps installed, and other Apple-specific configurations are automatically saved in your iCloud as part of the Apple service. If you're using Apple devices, you already have an iCloud account through the iTunes setup process when you activate your Apple devices. You will also use iCloud to store Notes, Pages, and Numbers documents so the contents are synced across all your devices. If you're using Apple devices, iCloud will be your best choice for your storage services.
Free Storage: 5GB for Apple Users (1GB for non-Apple users)
Devices: Windows (limited), macOS, and iOS
Perks: Part of Apple's cloud solution tightly integrated with iOS and macOS devices.
Individual Plans: 50GB $0.99/mo, 200GB $2.99/mo
Family Plans: 2TB $9.99/mo
4. DropBox
DropBox is the first cloud storage service offered with 2GB of free storage. As it is the very first, there are so many people using the service even though the free tier is very limited in today's standard. This is the most popular online storage service offered to date, and it is supported on any platform you may use including Linux, Kindle, and Blackberry on top of the standard platforms like Windows, macOS, Android, and iOS.
Free Storage: 2GB
Devices: Windows, macOS, Android, iOS, Linux and Blackberry
Perks: Works on every platform, and most user friendly storage solution available.
Individual Plans: Personal (1-user) 2TB $9.99/mo, Family (6-users) 2TB $16.99/mo
Business Plans: Basic $60/user/yr, Standard $150/user/yr, Premium $240/user/yr
5. Amazon Drive
Amazon Drive is a cloud storage service offered by Amazon. It is designed to offer Amazon Prime members unlimited full-resolution photo storage, and 5GB of video storage at no added cost but it can be extended for other storage services. As Amazon drive is not as intuitive or tightly integrated with Windows, macOS, Android, and iOS devices, it may not be the best storage service for individuals.
Free Storage: 5GB (Amazon Prime members)
Devices: Windows, Android, macOS, and iOS
Perks: Free unlimited full-resolution storage for Amazon Prime members.
Individual Plans: 100GB $19.99/yr, 5TB $59.99/yr
Conclusion
There are more than a dozen cloud storage services available from reputable providers. Of the dozen, we've selected the 5 biggest brands in the cloud storage market and they include Google Drive, Microsoft OneDrive, Apple iCloud, DropBox, and Amazon Drive. If you are invested in the Apple ecosystem, Apple's iCloud service would be the best choice. For Windows and Android, you may choose Google Drive or OneDrive and you can't go wrong. If you're an Amazon Prime member, you already have Amazon Drive available for free. For an all-around storage solution, DropBox may be the best alternative.
Share this post
Leave a comment
All comments are moderated. Spammy and bot submitted comments are deleted. Please submit the comments that are helpful to others, and we'll approve your comments. A comment that includes outbound link will only be approved if the content is relevant to the topic, and has some value to our readers.