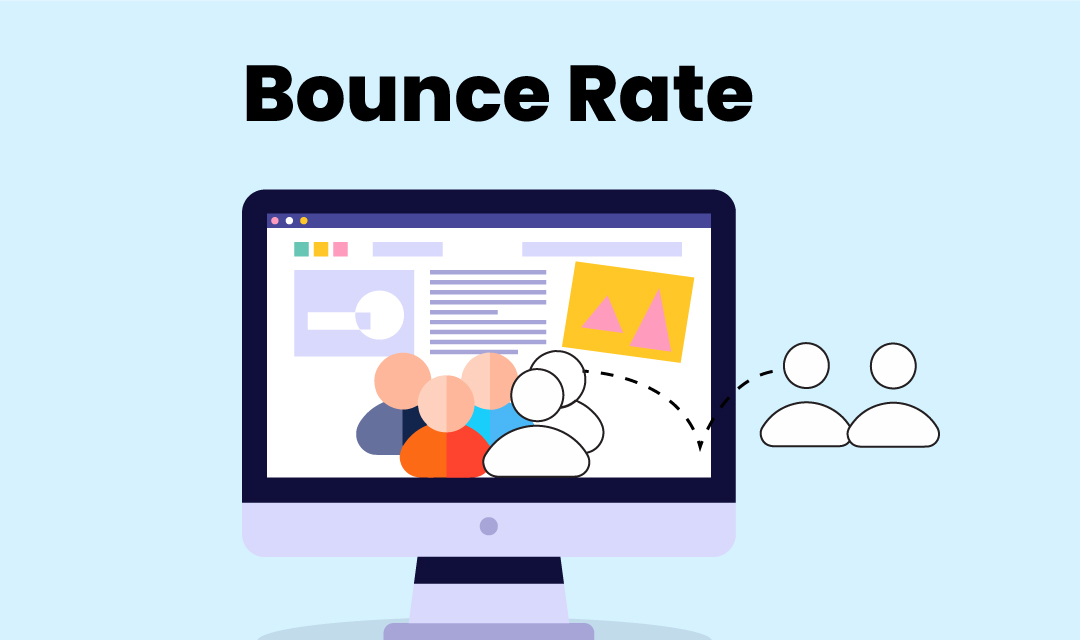 Bounce rate is a metric used to measure the percentage of visitors leaving your website after only 1-page view and nothing on the website. If a visitor lands on a web page and bounces back with no additional engagement after viewing the landing page, you have a bounce rate of 100% for that visit. By improving the quality of your website, you can lower your bounce rate and increase pages per session.
Questions and Answers on Bounce Rate
What is a good conversion rate?

The goal is to maintain a bounce rate below 40%. If the rate exceeds 60%, the site definitely needs improvement as bounce rate could potentially hurt your SEO effort. Unusually high (over 90%) or unusually low (below 20%) bounce rates are caused by incorrectly installed tracking code.
What causes a high bounce rate?

You have a 100% bounce rate if everyone visiting your website leaves the website after viewing only 1-page. You have a high bounce rate if (1) the landing webpage is low quality, (2) visitor has no interest in other parts of the website, or (3) visitor found the information they need and no further action is needed.
How is bounce rate calculated?

Bounce rate is calculated by the number of 1-page visits divided by the total number of visits (sessions). For example, let's assume that you had 3 visitors. The first visitor viewed 2 pages before exit, and the second visitor viewed 3 pages, while the third visitor bounced after only 1-page view. In this scenario, your bounce rate is 33%.
Does bounce rate affect your SEO?

Google doesn't disclose its ranking algorithm, so we really don't know whether the bounce rate affects your search engine rankings. Many marketers believe bounce rate does affect your SEO and having a high bounce rate is not a good sign, so we need to strive to lower your bounce rate.
How do you imporve your bounce rate?
Bounce rates less than 40% is great, but having a bounce rate above 60% should be concerned. As a webmaster, your goal is to keep your visitors on the website as long as possible and have them engage whether they subscribe to a newsletter, click on a link, or make a purchase. There may be a few reasons why your website's bounce rate is too high. Please use the following guidelines to improve your bounce rate.
Improve page load time - A visitor may choose to hit the back button if a page is too slow to load. Improve page load time, and the visitors will stay longer on your website.
Remove distractions - Having too many popup Ads, videos and auto-playing music surely steer your visitors away from your web site.
Optimize your website for mobile - Mobile traffic accounts more than 50% of the web traffic, so making sure your site is mobile-friendly makes the majority of people happy.
Review your bounce rate by traffic source - You may have different bounce rates by traffic source and having a high bounce rate on one traffic source means expectation has not met for that traffic source. Review how you attract visitors, and align their expectation that lead to your web page.
Review your bounce rate by page - Each page may have different bounce rate. Determine pages that have high bounce rate, and try improving them.
Provide related contents - Providing related contents on the page with hyperlinks will help visitors view more pages instead of bouncing out of your website after 1-page view.
Build trust - Buid a customer trust by creating a professional looking website, and fulfill visitor's purpose of landing on your website as well as providing a clear conversion path.
What is exit rate?
Exit rate is determined for each page, and it's the number of exits on the page divided by the total number of sessions that includes the particular page. For example, if you had 3 visitors visited the website homepage, but only 1 visitor exit out of the homepage. In this case, the homepage has a 33% exit rate. Please visit Google on examples of how bounce rate and exit rate are calculated.
Conclusion
The bounce rate provides a clue whether the website live up to visitors' expectations. Having a high bounce rate means the users' engagement is very low, and the quality of the website is low. The goal is to improve your website to maintain a good bounce rate below 40%.
Leave a comment
All comments are moderated. Spammy and bot submitted comments are deleted. Please submit the comments that are helpful to others, and we'll approve your comments. A comment that includes outbound link will only be approved if the content is relevant to the topic, and has some value to our readers.