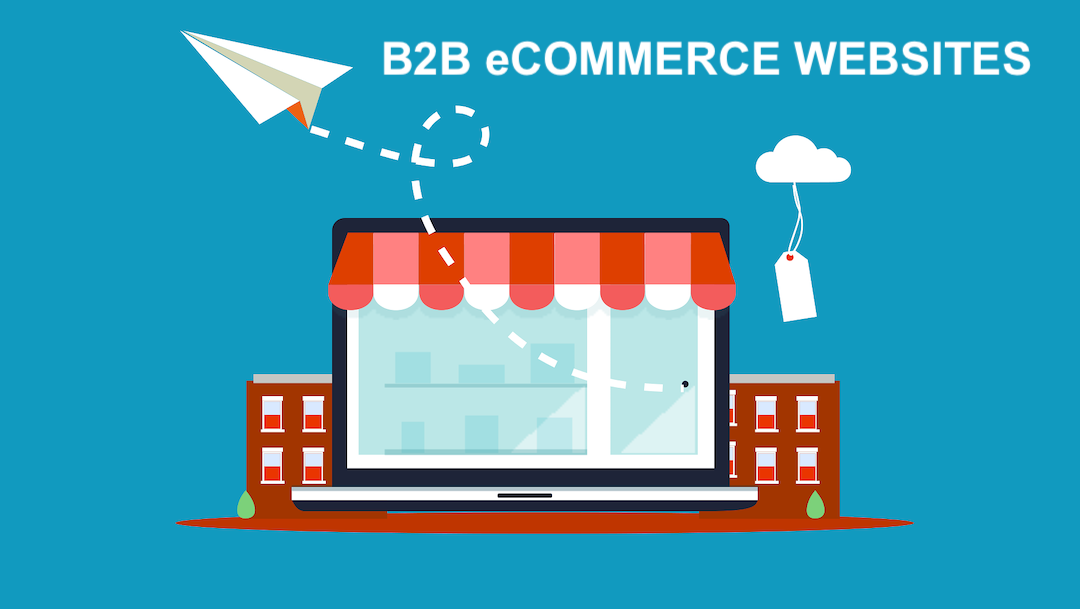 The world witnessed an eCommerce expansion explosion after the pandemic broke out. A surge of individuals shifted toward the dynamic system of online shopping. eCommerce saw a new turn in its operations, and since then it has only grown.
If you take a look at the eCommerce picture it depicts a potential market with soaring figures in terms of industry, market leaders, countries, or digital trends. It has paved an incredible way and created a number of businesses. Coming to eCommerce stats by dividing it into countries, the USA and China stand in the top tier row. While the USA is at number 2, making it a top market in eCommerce.
The USA as a Top Market for eCommerce
The US eCommerce market accounts for $875 billion, and sales have been up to 14.83%. Some of the leading markets working in the USA are eWorldTrade, eBay, Amazon, and Others. These markets have invested over the years in providing consumers, and businesses with an influx of commodities, services, and facilities.
In 2023, the USA saw a high penetration in the market that reached 91.8%. The stats show that more than 311 million Americans have access to online shopping. What makes the USA a high-end market for eCommerce is its prevalence in development and digitalization. They have a well-developed infrastructure with a set of operating systems that manage every involved business entity.
| | |
| --- | --- |
| Annual Online Sales | $2.78 trillion |
| eCommerce Shares of Total Retail Sales | 52% |
| Annual Growth Rate | (CAR 2023-2027) of 11.2%, market volume of US$1,319,00BN |
| Average Revenue Per User (ARPU) | US$3.37lk (expected) |
Source: Statista
In 2023, especially in the second quarter, the share of Commerce's total US sales stood at 15.4% as compared to last year. Specifically, looking at B2B eCommerce, a Forrester report claims that the USA B2B eCommerce will reach 1.8 trillion and account for 17% of sales in the USA by 2023. Since the USA is a top market in eCommerce and is continuously sustaining in the B2B realm, it is fair to invest and proceed in such a market.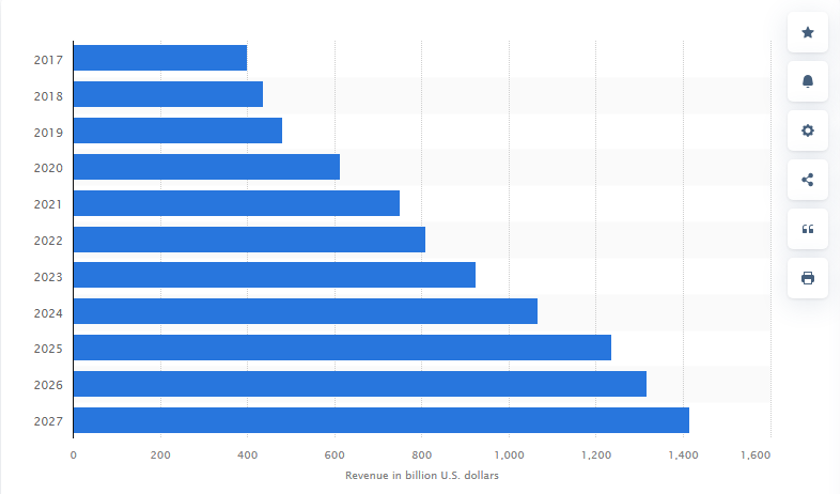 Revenue of the eCommerce industry in the US (2017-2027)
eCommerce is more than a thing, it is about border expansion, borderless business, and creating an international clientele. Whether it is 2023 or 2024, eCommerce is an established industry and is going to be altering in multiple ways. 2203 has already shown how the B2B eCommerce market has grown. Now with 2024 about to land it is a great chance to learn intensely about it.
Let's delve into some highly established eCommerce B2B websites that are credited to be in the top 10 B2B eCommerce websites in the USA for 2024.
Names of 10+ Best B2B eCommerce Websites in The USA for 2024
Rank
Website
Overview
Key Features
Rating
(Out of 5)
1
eWorldTrade
Inclusive B2B platform for borderless trade.
Dedicated directory, business packages, key account manager.
4.8
2
Amazon
Streamlined purchasing process with a wide selection of suppliers.
Benefits for small businesses, smart buying and procurement, extensive network.
4.7
3
Alibaba
Prominent name with a massive supplier network.
Diverse businesses under Alibaba umbrella, affordability, acts as a middleman.
4.6
4
Global Sources
Specializes in B2B buying and selling with transparent transactions.
Free quote request, supplier tools and verification, trade fairs.
4.4
5
eBay
Connects businesses to find new consumers.
Tools and resources for small businesses, Up and Running Program, technology for customer loyalty.
4.5
6
DHGate
Platform for small and medium-sized businesses with a wide range of products.
Multilingual, seasonal deals, buyer's protection.
4.4
7
EC Plaza
Known for trade data intelligence and seamless buying/selling.
Broad spectrum of suppliers and products, One-Stop Trading Network, transparency.
4.4
8
ThomasNet
Comprehensive platform with industry updates and 6 million products.
3-step system for finding suppliers and quotes, instant quote system.
4.3
9
AliExpress
Global marketplace for direct buying and selling.
Customized transactions, multiple currencies and languages, API integration.
4.2
10
Grainger
Serves over 4.5 million customers with a wide network and a focus on credibility.
Seamless buying and selling, sustainability initiatives.
4.2
11
EC21
Verified B2B platform with a focus on international trade.
Well-maintained procurement system, free and premium membership options.
4.1
With the hope of seamless transactions, streamlined processes, and great chances for manufacturers, suppliers, wholesalers, and suppliers here are 10+ B2B eCommerce platforms.
1. eWorldTrade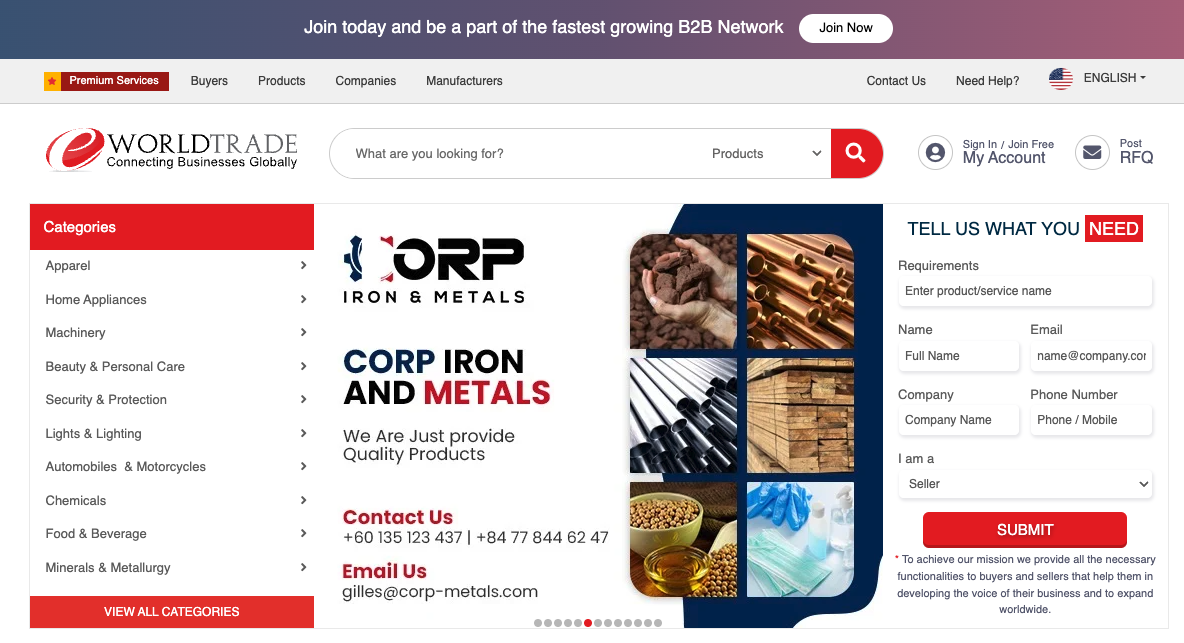 Overview
eWorldTrade is an inclusive online B2B platform catering to millions and billions of businesses. Typically, the platform has been in the line of the best B2B online websites due to its credibility in its functions. eWorldTrade works with a motive to have borderless trade and allow every business to have a chance to participate in eCommerce.
Key Features of the Platform
The platform has a dedicated directory that has been designed for the convenience of manufacturers and sellers.
eWorldTrade has multiple packages created for businesses that have services that are crafted according to the needs of the business.
Members can achieve a key account manager that helps in positioning businesses in the market.
Every profile is integrated with a prominent RFI on their page and also gets a customized display ad to attract traffic to the website.
They have a well-engineered and user-friendly portal system to help buyers and sellers connect.
2. Amazon Business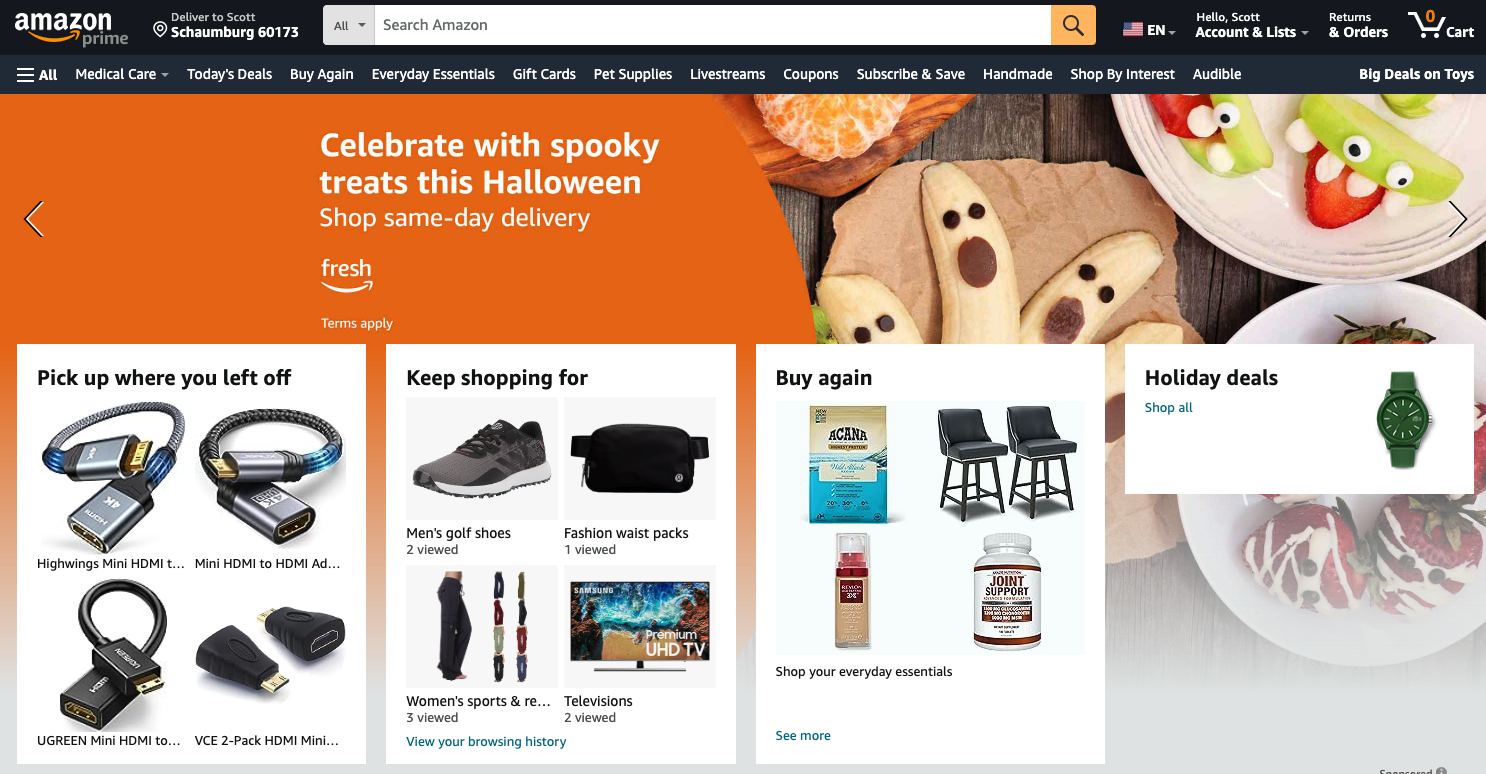 Overview
Adding another prestigious and pure American name to the list, Amazon Business is a top-rated name in the list of B2B websites. The Amazon Business is an extension of Amazon and has been making waves in the realm of online eCommerce B2B websites. The platform was created with the idea of having a streamlined purchasing process. Over 5 million types of businesses are associated with Amazon and have been helping them in becoming smart leaders in business.
Key Features of the Platform
All suppliers are categorically placed with a wide selection.
Small businesses can have multiple benefits by getting Prime Duo, which is designed for small businesses or proprietors.
The platform helps in saving and in a smart buying process where you can purchase and modernize procurement and inventory.
They have an extensive network that is specially designed for B2B buyers and sellers such as product catalogs, to find and get connected easily.
3. Alibaba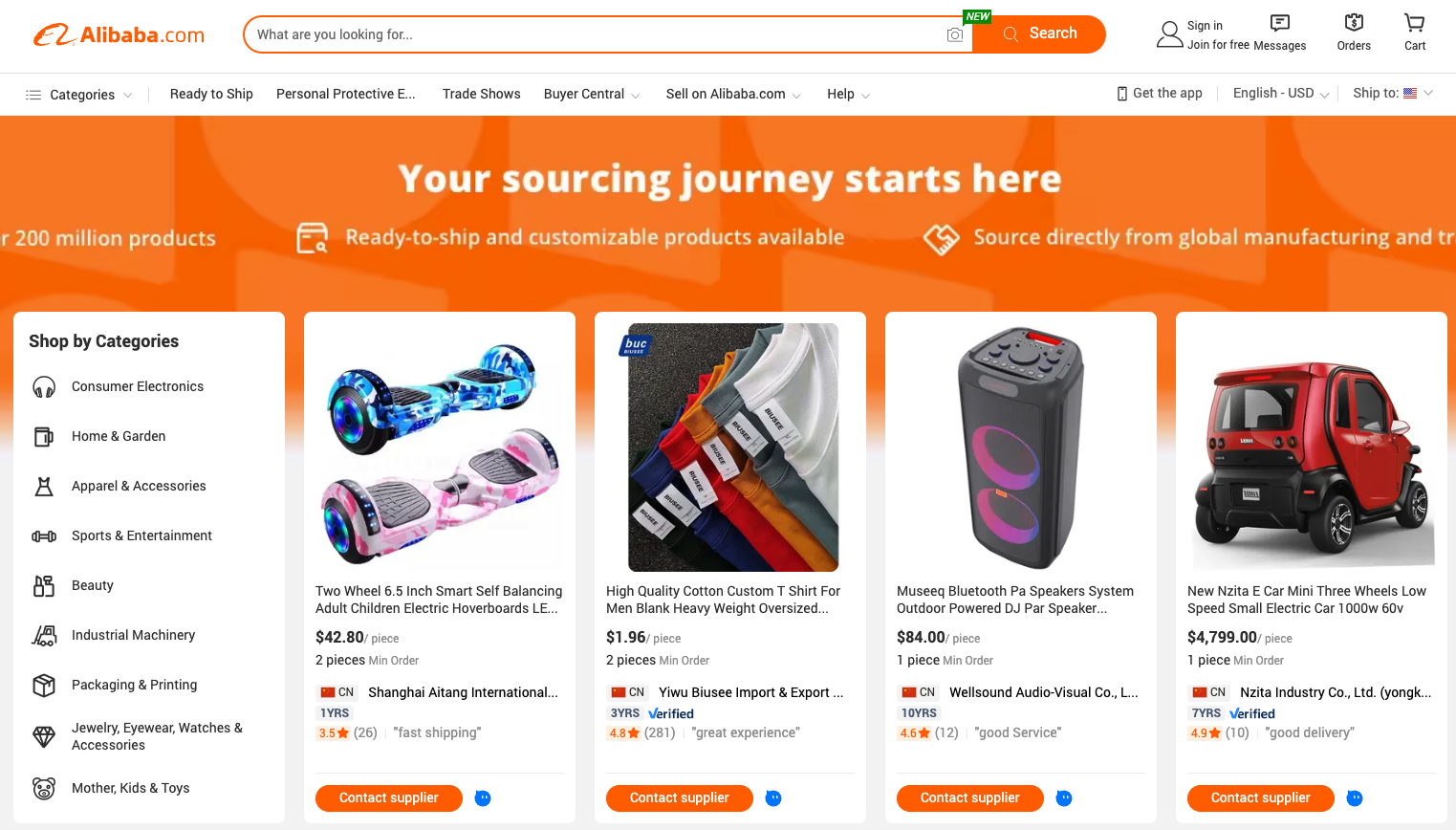 Overview
Among some great names, Alibaba also has a flourished name in the B2B market. The platform has become a prominent name in the USA for B2B buyers and sellers. A million products are available on the website where they are placed under a massive supplier network. It could be a go-to destination for businesses. Catering to small as well as established businesses Alibaba is a credible name.
Key Features of the Platform
Under the name of Alibaba works other businesses known as AliExpress, Youku, South China Morning Post (SCMP), and Alibaba Cloud.
They have a finance group known as Alipay where you can pay, whereas they also have a Pay Later option which is often used by small businesses.
Every buying or selling process is carried out at highly affordable rates where they can be placed directly from the manufacturers.
It also acts as a middleman and has its inventory and warehouse.
4. Global Sources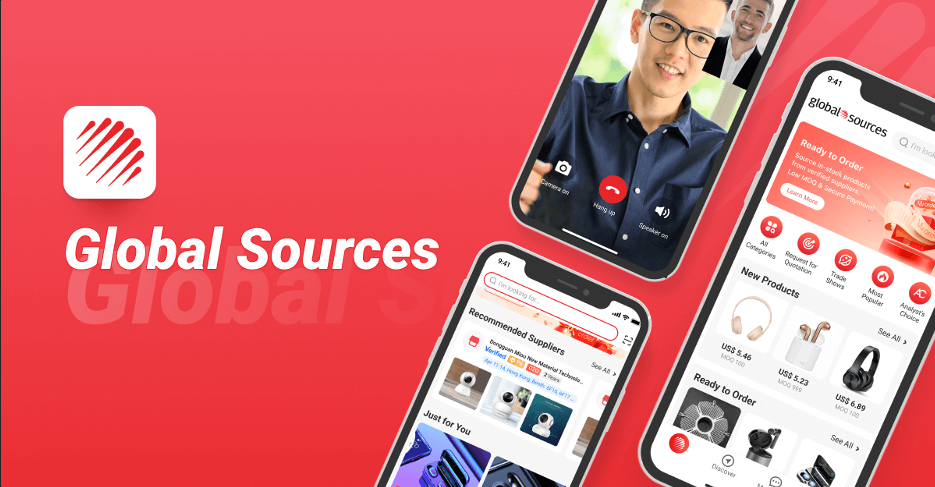 Overview
Prestige is also defined by Global Sources, and due to their positive name in the B2B industry. They are also known as a platform that specializes in B2B buying and selling. Global Sources is an Asian market, but it has spread out and is making a name for manufacturers and suppliers. They follow a verified process of buying and selling to have a transparent transaction.
Key Features of the Platform
Global Sources offers a free quote request that is available on their website so everyone can have what they need.
A separate section is created for suppliers where they have tools, the option to reach qualified buyers, and a verification process to become a supplier.
Global Sources have created an interactive way of connecting businesses by conducting trade fairs where businesses meet face-to-face.
With an intelligent system in filters and search they help connect verified buyers and sellers by creating a tailored solution.
5. eBay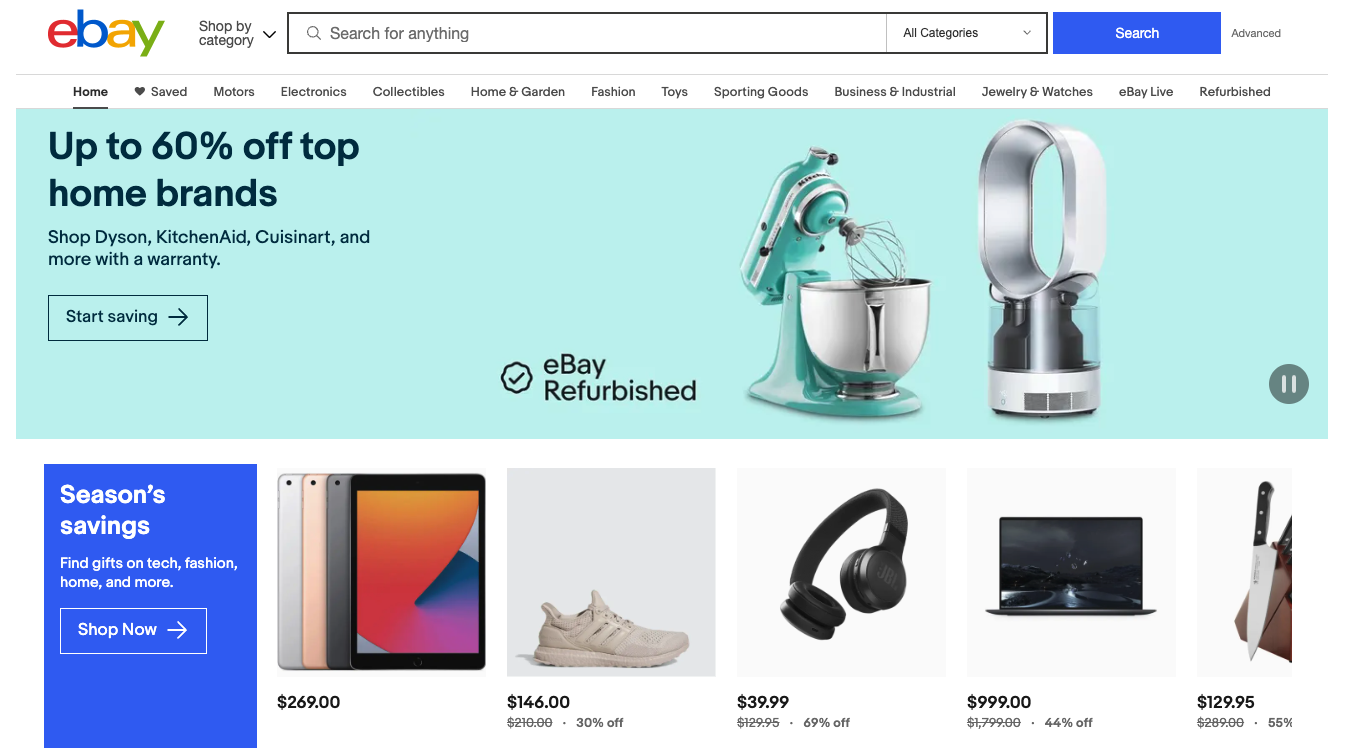 Overview
eBay has expanded as a B2B platform that has been connecting businesses to fulfill their requirements. It is a platform where businesses can grow and find new consumers for their products frequently. With 133 million active buyers it is an essential name to consider for the USA. No matter where you are eBay has a ripple effect in their functionalities.
Key Features of the Platform
To attain a name to global status eBay helps small businesses establish a name with the help of their tools, and resources, and pave the way for a more equitable economy.
Since 2020, they have been running an Up and Running Program assisting small businesses with mentoring and funding. It allows businesses to have a secure inventory as well as update products for future sales.
For enhanced customer loyalty they are embracing technology for buyers and sellers to grow. It encompasses computer vision and natural language processing.
6. DH Gate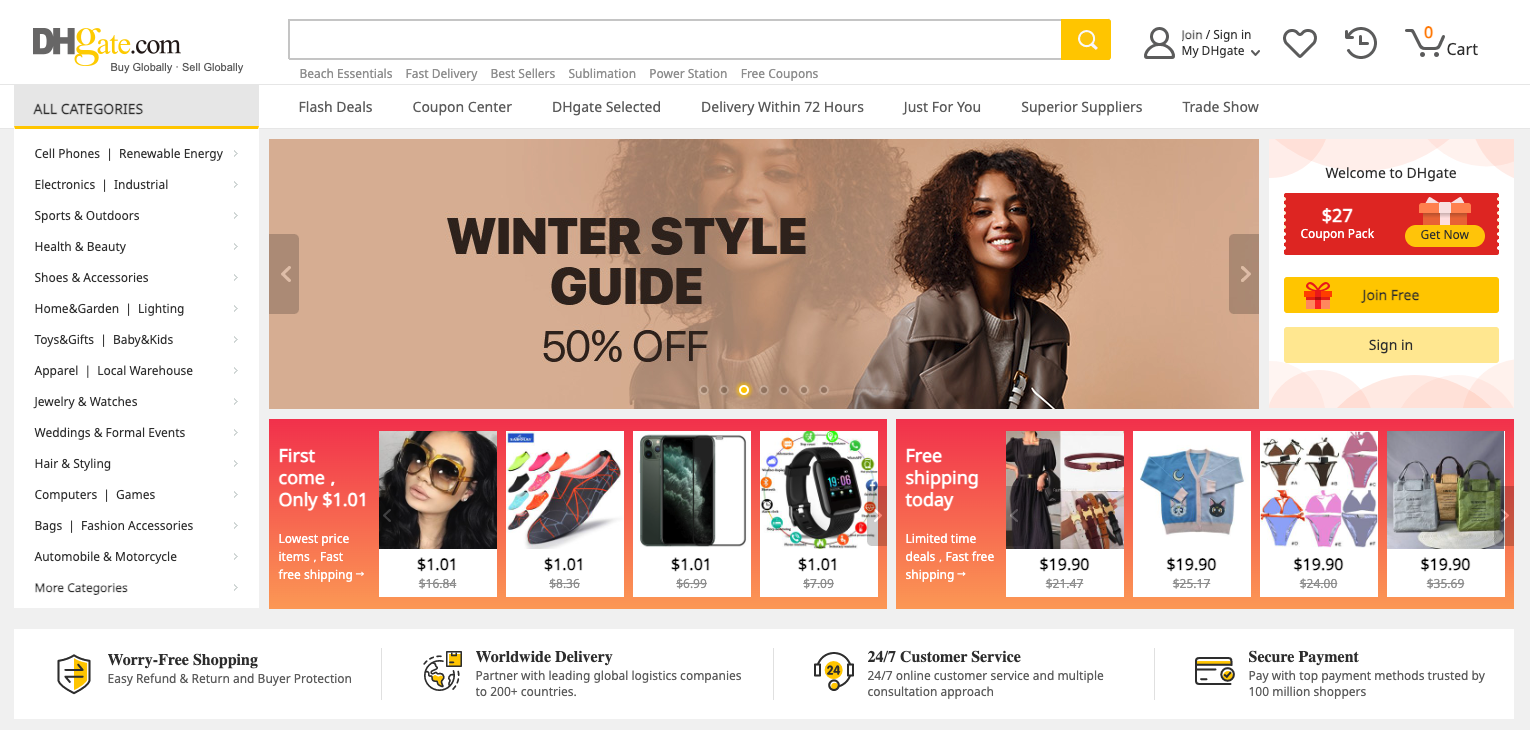 Overview
DHGate has offices in North America and is a decent choice for small and medium-sized businesses. Users who are willing to connect to Chinese suppliers can get associated very easily. They offer a range of products at quite affordable prices. It is a free-to-use platform where pricing depends on the products and services you acquire. The platform is integrated with a buyer's protection program helping businesses in making a strong foot in the market.
Key Features of the Platform
It is a multilingual website where users can convert it into 13 languages.
The platform is more known for electronic supplies, apparel, and home goods.
DHGate comes up with their seasonal deal, and updates with festivals and years.
Serving in a wide industry DHGate is seeking individuals to have an expert approach in setting up business.
7. EC Plaza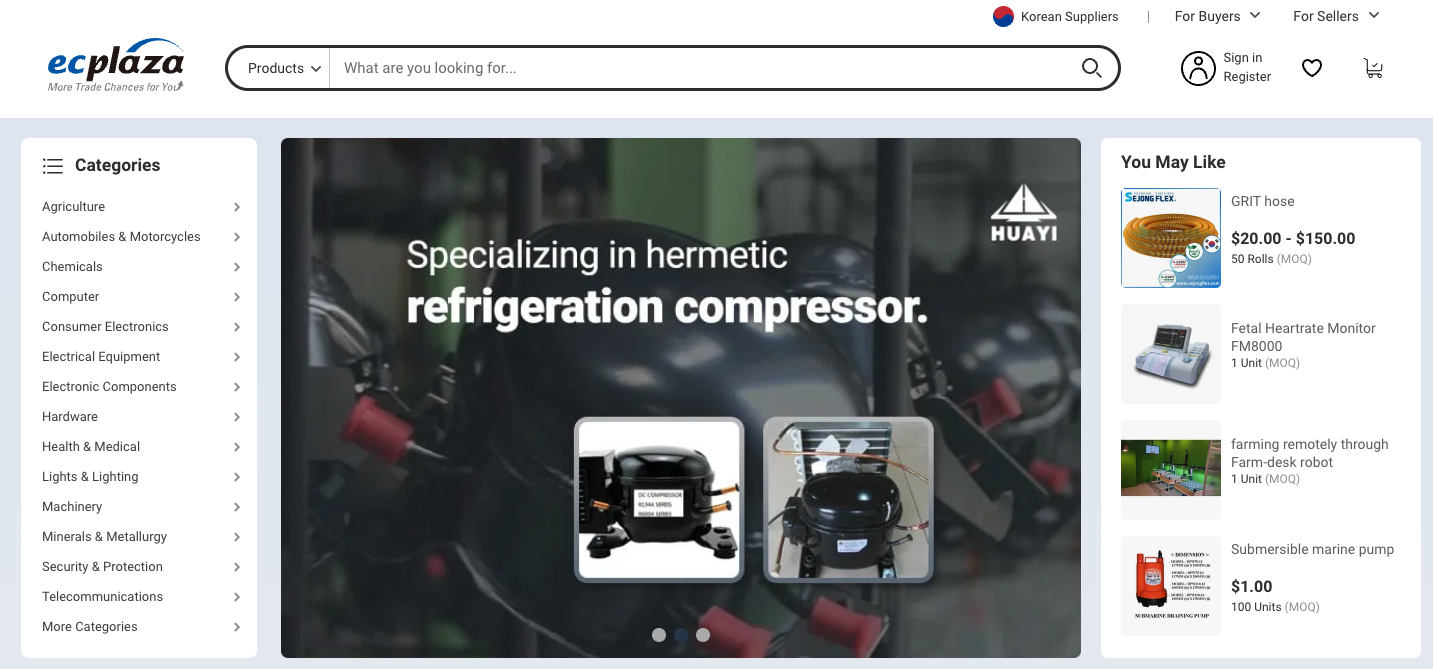 Overview
In the USA, EC Plaza has a strong reputation in trade data intelligence, it is also another B2B platform transforming the eCommerce experience with its seamless buying and selling process. EC Plaza is more than a B2B platform but is also working as a consultancy platform allowing small and medium-sized businesses to have opportunities, cost savings, and convenience. Users can easily connect to buyers and sellers from around the world without having the fear border restrictions.
Key Features of the Platform
Covering a broad spectrum of suppliers, they have a great range of products including machinery, textiles, gadgets, and scrap material.
They have different systems in their wide field of eCommerce where they cater to overseas markets. The team is divided among trade, marketing, and public relations.
They cater to an entire buying or selling circle known as One-Stop Trading Network bringing solutions at every stage of transactions.
8. ThomasNet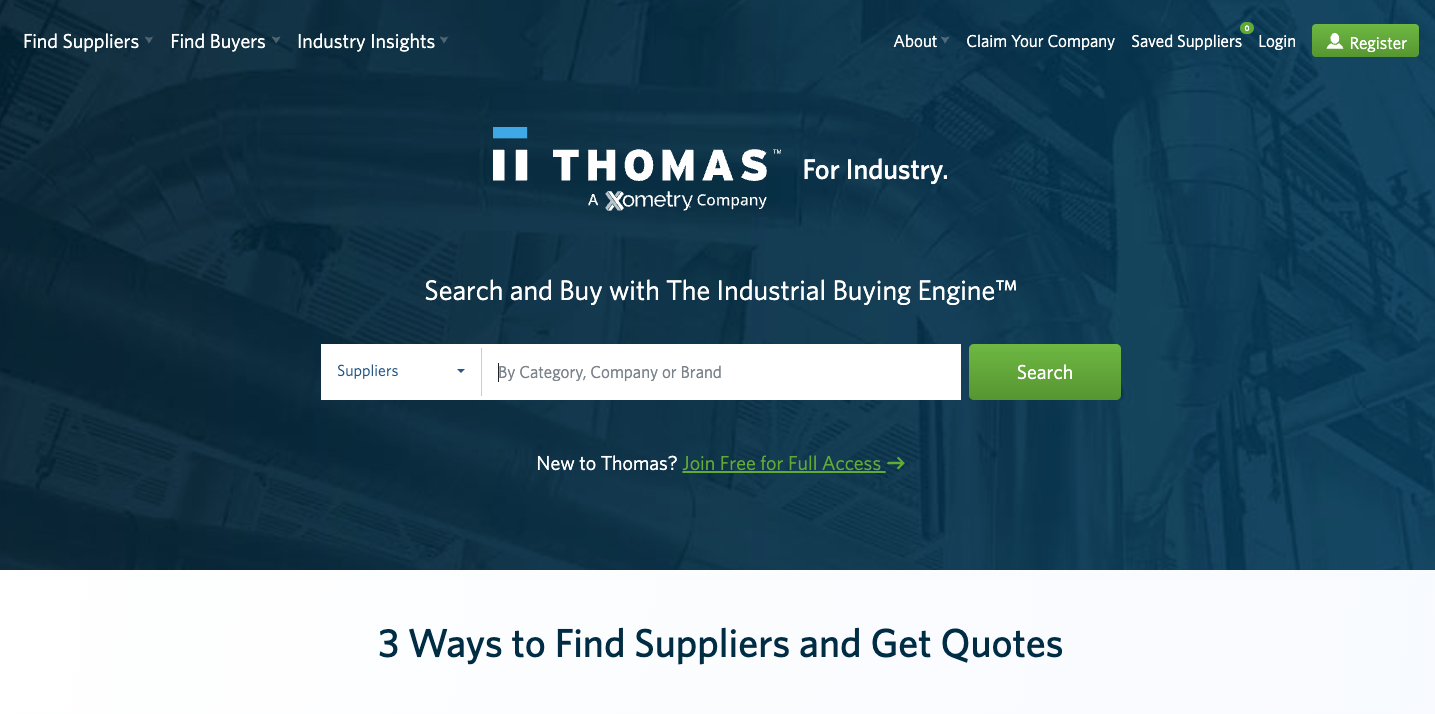 Overview
ThomasNet is recognized as a comprehensive platform in the B2B industry where suppliers and manufacturers focus on sourcing great products under great deals. Working with business insights ThomasNet does not let their consumer fumble in the pit. With tools for suppliers and North America's largest and most active B2B buyers' commercial suppliers, buyers are at a sound platform. ThomasNet knows how to cater to their consumers as they update them with industry updates, and also have a search power of 6 million products.
Key Features of the Platform
They have integrated a 3-step system for finding suppliers and getting quotes.
Their instant quote system follows a system where you upload a CAD model to get a quote within seconds through the CNC machine.
For buyers, have a proper systematic process in connecting, buying, and saving time within the platform.
For suppliers, they provide leads, and quotes, and make a system so all payments are carried out quickly.
9. Ali Express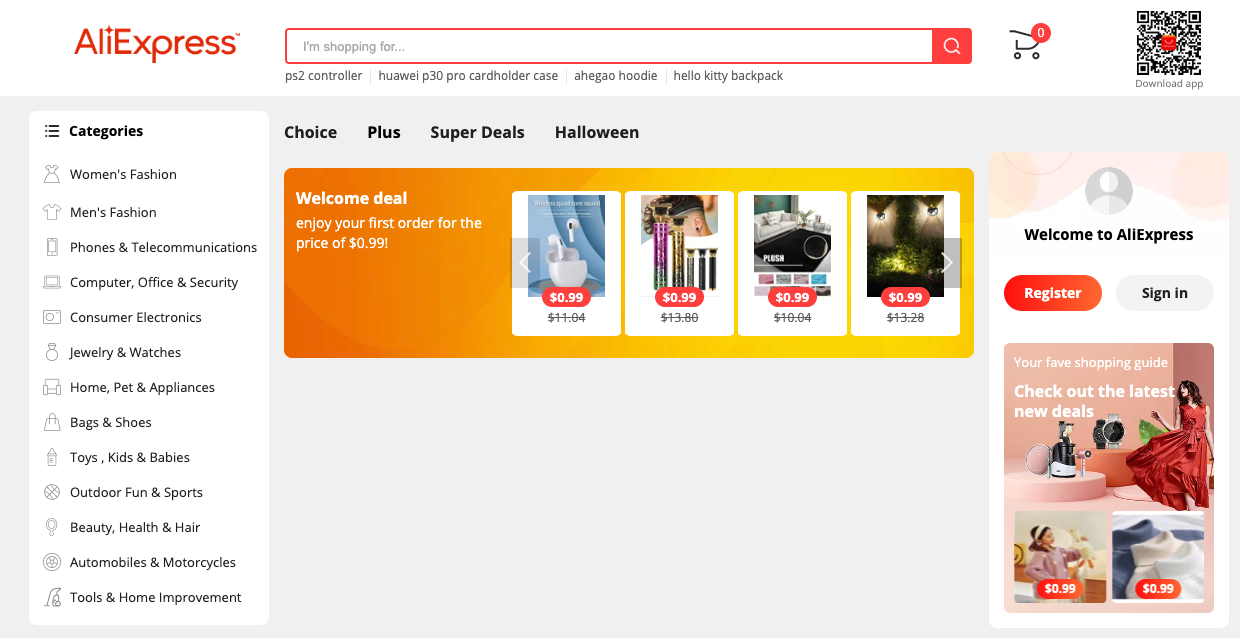 Overview
To add a more polished name to the credible B2B names AliExpress is at its finest. They have been working for 2 decades as a global marketplace targeting consumers in enabling a direct buying and selling process from manufacturers, and distributors in China or from China. The platform is available in more than 10 languages catering to a wider audience. They have a massive network of suppliers and manufacturers, working in the USA.
Key Features of the Platform
They have a customized system for offering transactions by having payment and product quality assurance.
Different tools have been introduced on the platform catering to a wide audience hence creating an RFQ option.
Caring about diversity, they have payment options available in multiple currencies, and auto-translation options in 18 languages.
An API integration system for advanced customizations.
All sellers are catered at the platform whether they are manufacturers, wholesalers, trading companies, or exporters.
Offering an array of services such as Freight International Logistics Services.
10. Grainger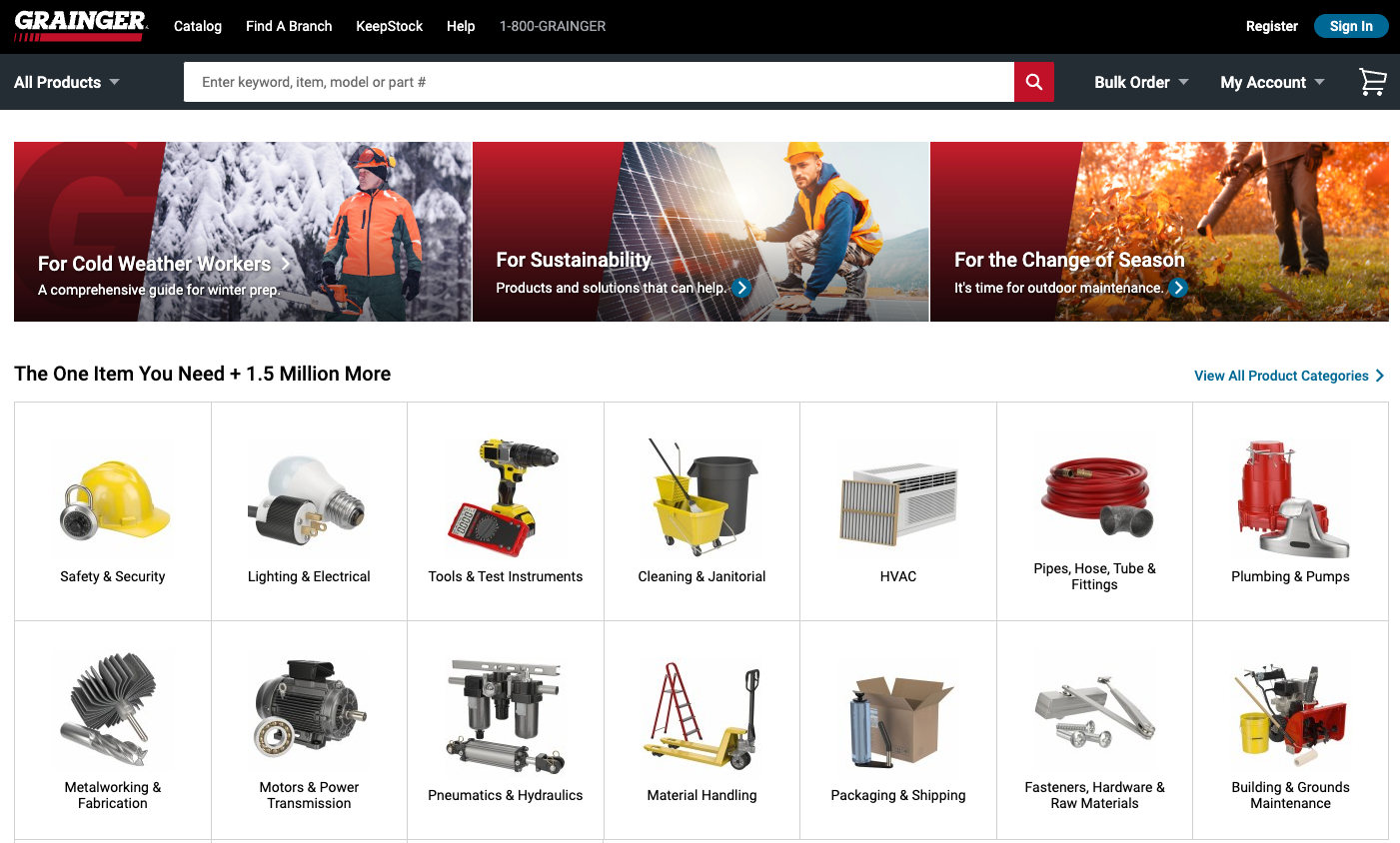 Overview
Primarily working in North America, the UK, and Japan, it is a well-known platform serving to more than 4.5 million customers with a wide network of consumers and active technology. They serve a large group of distributors in food, beverage retail, and other industries. Grainger has created a top reputation with their credibility in online shopping.
Key Features of the Platform
A seamless website for the buying and selling process.
They have over 1.5 million product categories.
They are also working on sustainable methods in shopping.
11. EC21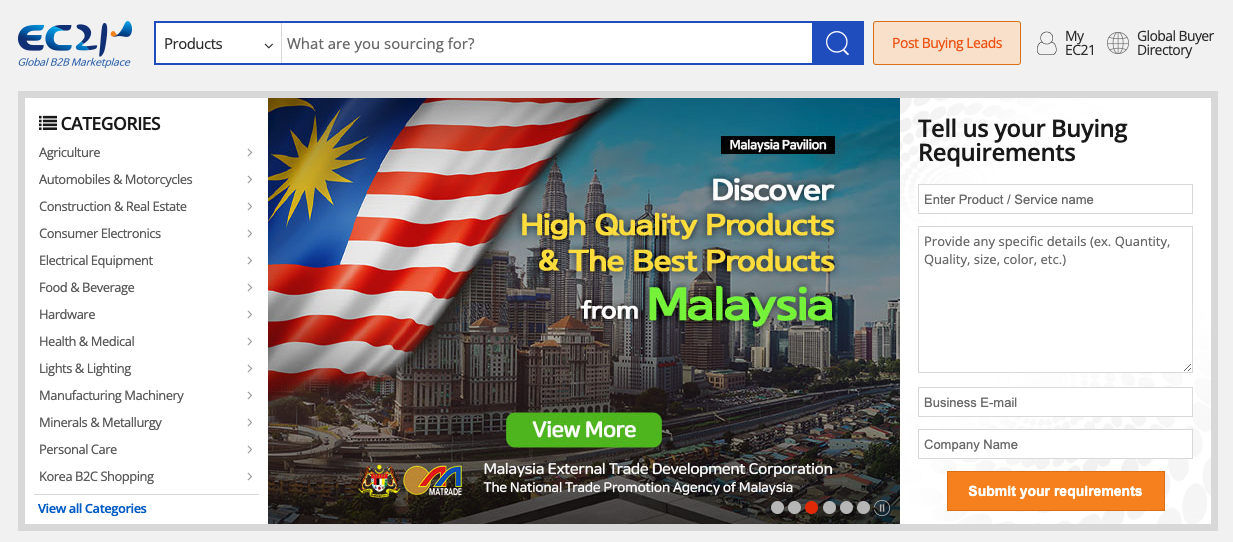 Overview
EC21 is a verified name with a great reputation in the market for the B2B sector. It is also an Asian-centric market. They have expanded their network in the USA, and are working under a great digital rule. It connects buyers and sellers from around the world and focuses on international trade. With so many opportunities for buyers and sellers to create an international network base.
Key Features of the Platform
A very well-maintained and flourished procurement system bringing trade opportunities.
A free registration process further goes by paid premium membership programs.
They have an assisted system for businesses to consult or get an RFQ.
In A Crux
With 2024 and eCommerce making so much buzz, there is a lot of anticipation in what going to happen. While the USA has emerged as a top market in eCommerce, there are many chances for businesses to work in the region and reap the benefits. These top 10+ platforms are a sound solution for business entities in starting, proceeding, or elevating their businesses. If you are a new business looking for a B2B eCommerce platform in 2024 this is what you need.
Share this post
Leave a comment
All comments are moderated. Spammy and bot submitted comments are deleted. Please submit the comments that are helpful to others, and we'll approve your comments. A comment that includes outbound link will only be approved if the content is relevant to the topic, and has some value to our readers.