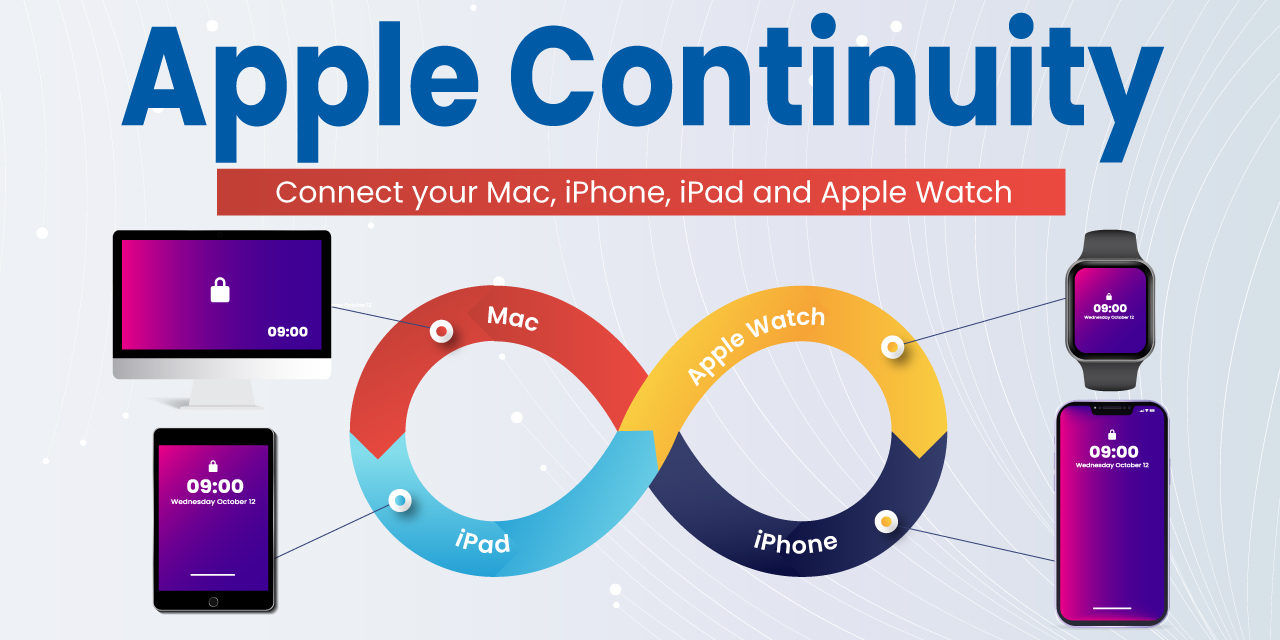 Have you started browsing a webpage on an iPhone, and wish you can continue on your Mac? We use smartphones, tablets, and desktops to connect to the Internet, and often require switching tasks between devices. Apple's continuity feature provides an ability to seamlessly transition tasks between devices. This is one of the reasons why some Apple users are so loyal to the Apple brand, and hesitate to switch to another brand.
Apple has developed an ecosystem that offers seamless integration between iPhone, iPad, and Mac devices. Apple has extended its continuity features into the Apple Watch, Apple TV, HomePod, and Headsets; and it will continue to integrate more devices as it introduces new products. Users can easily sync and share photos, videos, messages, and documents across their Apple devices. This integration creates a sense of continuity and convenience, making it appealing for users to stay within the Apple ecosystem.
Apple Continuity Features
Continuity is a great way to stay productive and connected across your Apple devices. It's a convenient way to share content, work on tasks, and access your information from anywhere you left off. To use Continuity features, you need to sign in to your Apple ID on all of your devices. You also need to make sure that your devices are running the latest software and required hardware. This article dives into the various aspects of Apple Continuity features and how it simplifies our digital lives.
1. Handoff
One of the standout features of Apple Continuity is Handoff. With Handoff, you can start a task on one device and continue it seamlessly on another. Whether you're browsing the web, composing an email, or working on a document, Handoff ensures a smooth handover to another device eliminating the need for manual transfers. Apps that work with Handoff include Safari, Mail, Maps, Reminders, Calendar, Contacts, Pages, Numbers, Keynote, and FaceTime.
Apple Continuity isn't limited to Apple's native apps, and many third-party applications have integrated the Handoff feature into their applications. Third-party apps that ship with iPhone, iPad, and Mac generally support Handoff, and additional apps like MS Office Suite, 1Password, Evernote, and Pocket support Handoff. Whether you're playing a game, taking a note, or browsing the web; the Apple continuity feature allows you to seamlessly transition your task into another device.
2. AirDrop
We often require transferring files from one device to another. Sharing files has never been easier with AirDrop. The AirDrop lets you effortlessly transfer files between your Mac, iPhone, and iPad. Whether it's a photo, a document, or a video, AirDrop simplifies the process, eliminating the need for cables or third-party applications.
3. Universal Clipboard
Imagine copying a text snippet on your iPhone and pasting it into a document on your Mac. That's where Universal Clipboard comes into play. It allows you to copy content on one device and paste it on another, bridging the gap between your devices and making copy-and-paste a breeze. This feature allows you to share a clipboard across your Apple devices like iPhone, iPad, and Mac.
4. Universal Control
Wish you had a keyboard and mouse on your iPad? Universal control lets you control your Mac and iPad with the same mouse and keyboard eliminating the need to have another set of mouse and keyboard pair. This is great for working on projects that span multiple devices.
5. Phone Calls and Messaging
With Apple Continuity, your Apple devices work together to keep you connected. You can make and receive phone calls on your Mac or iPad, even when your iPhone is out of reach. Additionally, you can send and receive messages across devices, ensuring that you never miss an important conversation regardless of which device you're using.
6. Sidecar
Have you ever wanted to use your iPad as your second display for your Mac? Having a secondary display while traveling can boost your productivity on the road. Sidebar lets you use your iPad as a secondary display for your Mac. This is great for presentations, drawing, and other tasks that require more screen space.
7. Continuity Camera
Apple Continuity extends beyond just file transfers and Handoff. With Continuity Camera, you can seamlessly use your iPhone or iPad as a remote camera for your Mac. Capture photos or scan documents on your mobile device and instantly access them on your Mac for editing, sharing, or embedding.
8. Continuity Markup
Continuity markup lets you use your iPhone or iPad to markup documents, photos, and other content on your Mac. You can add sketches, shapes, and other annotations, and your changes will be reflected live on your Mac.
9. Auto Unlock
Auto unlock feature lets you unlock your Mac or iPhone with your Apple Watch. This is a great way to save time and hassle when you're wearing your Apple Watch. You can simply configure your Mac or iPhone to unlock with Apple watch.
10. AirPlay
AirPlay is a wireless streaming technology developed by Apple that allows you to share audio, video, and photos from your Apple devices to another, such as Apple TVs, AirPlay-enabled smart TVs, and speakers. Using the AirPlay feature is easy. You simply open the content you want to share, click on the AirPlay icon, and pick an AirPlay-enabled device from the list that appears.
Integrating Apple TV remote app on the iPhone's Control Center is another example of how easy it is to control Apple TV from your iPhone.
11. Apple Pay with iPhone or Apple Watch
Apple Pay is a mobile payment and digital wallet service developed by Apple. It allows you to make payments in stores, in apps, and on the web using your Apple devices.
Apple Pay on iPhone or Apple Watch is a convenient and secure way to pay for purchases. To use Apple Pay on your Apple device, you must have Apple Watch 3 or later with watchOS 6 or later. You also need to have an iPhone 6 or later with iOS 11 or later.
System Requirements and Compatibility
To take full advantage of Apple Continuity, ensure that your devices meet the system requirements. While the feature set may vary depending on the model of your devices, the integration capabilities remain remarkable.
Privacy and Security Considerations
Privacy and security are paramount in today's digital landscape. Apple has always placed a strong emphasis on safeguarding user data. With Apple Continuity, privacy, and security are maintained throughout the integration process, ensuring your information remains protected.
Conclusion
Apple Continuity revolutionizes the way we interact with our devices. Handoff, Universal Clipboard, Universal Control, phone calls and messaging, AirDrop, AirPlay, Continuity Camera, and Sidecar collectively create an ecosystem that seamlessly integrates Mac, iPhone, and iPad. As we continue to rely on multiple devices, Apple Continuity makes the experience fluid and effortless between all Apple devices. So, embrace the power of continuity and unlock a world of convenience and productivity across your Apple devices.
Since Apple introduced continuity features on Apple devices, other vendors including Google, Microsoft, Logitech, and Samsung are working together to integrate seamless handoff features amongst Android, Windows, and Chromebook devices. Google' Push, Microsoft Your Phone, Google Nearby Share, and Samsung Flow are a few examples of non-Apple Continuity features.
Leave a comment
All comments are moderated. Spammy and bot submitted comments are deleted. Please submit the comments that are helpful to others, and we'll approve your comments. A comment that includes outbound link will only be approved if the content is relevant to the topic, and has some value to our readers.